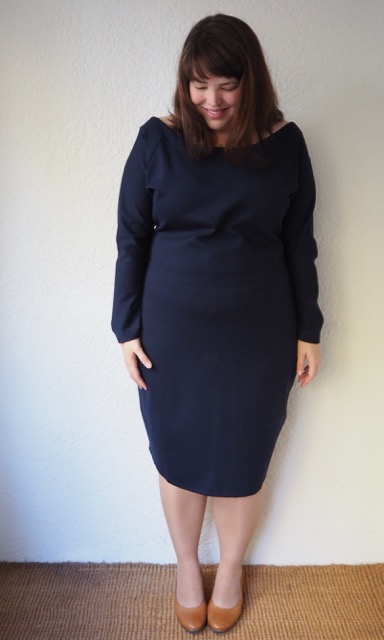 Dress: Hope & Harvest Date Night Dress
Last month when I attended the Curvy Couture Roadshow I got the opportunity to snap up a dress that I'd had my eye on for some time.
Harvest Powell is the designer behind the Australian independent plus-size label "Hope & Harvest", and though she's been around for a while I've never had the chance to try the brand before now. I kept seeing the "Date Night" dress on other plus-size fashion blogs, and thinking how gorgeous it looked, but I suspected that the dress might not have the same va-va-voom effect on my actually-not-that-curvy figure.
When I finally got the chance to try it on in person at the Curvy Couture Marketplace I was pleasantly surprised.
It's a great, clean minimalist style; the kind that's so rare in plus-size fashion where too often more means more. The hips are exaggerated, meaning that the fabric doesn't pull across the tops of my thighs, but the waist and hem are tapered, giving a curvy "tulip" shape. I bought the M, though according to the size chart I could be wearing a size S. The dress has plenty of stretch, and while the fabric's fairly heavy it isn't lined, so for a really clean line I'd probably wear it with a slip (or some shapewear) to make sure my belly button wasn't announcing its presence.
The neckline is a lovely wide boatneck that makes the most out of collarbones, and I can't tell you how delighted I am about the looooooong sleeves. I'm must have extra long arms, because everything seems to end up bracelet length on me.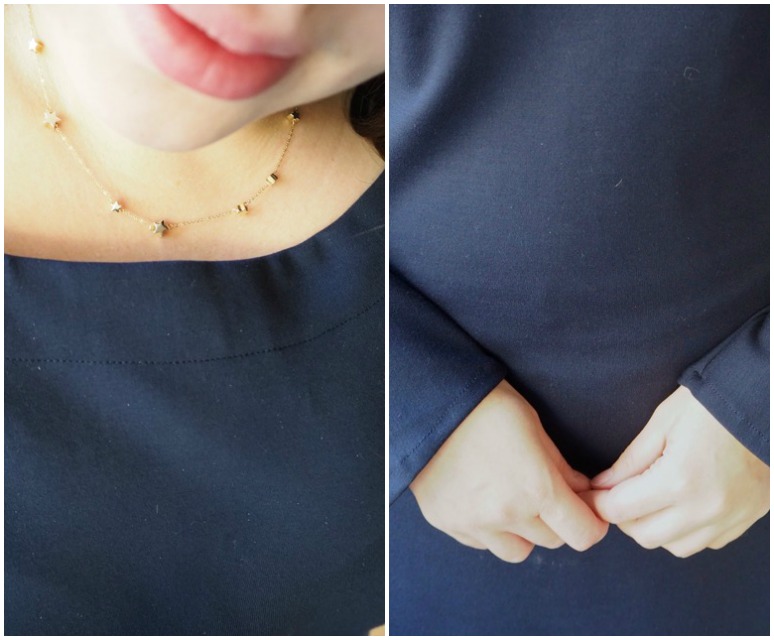 Necklace: Muse 411
So, my Two-Ways Tuesday post is to wear this dress a) unadulterated, as a glamourous date-night dress with super simple accessories, and b) dressed down with a draped cardigan and a belt, which downplays away the provocative shape and sexy collarbones and instead makes it a comfortable outfit that is more appropriate for daywear and in the office.
Cardigan: Eliza Parker
Shoes: Gorman
The tan shoes pick up the tan belt, which I'm wearing high to accentuate the length of my legs. Because of the draped cardigan the empire line that is created doesn't look dated or matronly and it draws attention away from my impressive prow.
Blue-on-blue keeps the look clean, and makes sure the draped cardigan doesn't just look like a coat you've forgotten to take off.
With this length skirt, and with that amount of volume up top nude legs are best so I wore my Sonsee stockings, and a pair of sky-high statement heels.
I can't walk in them, but they do look damn good.
 Anyway – I hope this is a better example of what I have planned for Two-Ways Tuesday. There's only so much you can do to mix-it-up when you're wearing a frock, but I hope this gives you some ideas!