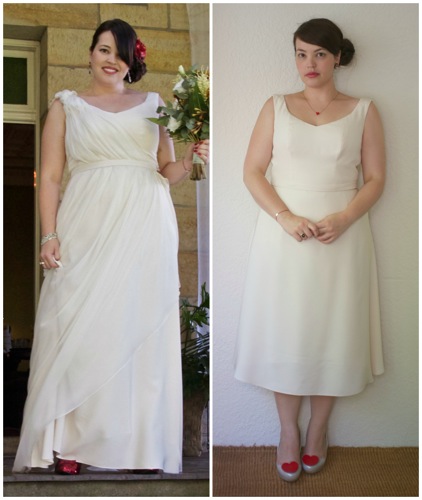 Dress (remixed): Hera Couture
Shoes: Mel (similar here)
I'm not one of those people who thinks that your wedding day is the Most Important Day Of Your Life ™, but even I have to admit that your wedding gown probably is the Most Important Dress Of Your Life.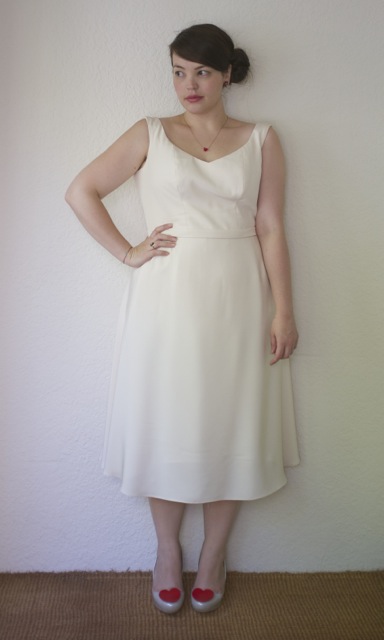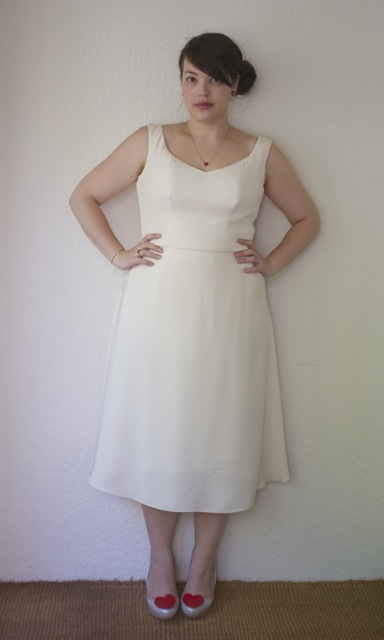 I still remember how I felt the first time I saw the dress I would be married in (Obviously. It wasn't that long ago). I remember the excitement of being fussed over and fitted, the deliberations over colour (bone), train (yes), and whether to wear a red sash or not (not). I remember stepping into the dress on my wedding day, my best friend and sister zipping me up, and how beautiful it made me feel.
Since that day The Dress has been sitting in a garment bag in my wardrobe. It doesn't take up much space; there's no petticoats, no tulle, no boning. Without a body to fill it out it's the limp promise of a gown, the matte sheen of silk and a hint of gossamer chiffon.
I un-zipped the bag once or twice this past year to run my hand over the beautiful fabric, and try and recapture how magical that day in January felt. There's still the hint of my "something borrowed" perfume in the cloth.
I moved into a new apartment last weekend, and when I excavated my wedding gown from the bottom of one of my suitcases I tried to think about what I should do with the dress. Keeping it was ridiculous. I wasn't exactly going to wear it again. But selling it seemed unthinkable; too many happy memories were bound up in its seams.
It's a deceptively simple dress, my wedding gown. Unfussy in its construction, the only adornment comes from the elegant drapery of chiffon that is tacked to the bodice. It was short work to strip this layer off and reveal the bare bones of the dress itself: A simple bodice with a wide v-neckline, an a-line skirt that becomes full circle at the back, a matching waistband in the same, sumptuous matte silk.
It was easy too, to take inches off the bottom and convert the floor length hem to tea length. Dry-cleaning removed the creases from long storage, the last whisper of perfume and the inevitable smudges leftover from a long and joyous day as a bride..
I toyed with the idea of dyeing it, but I think I like the colour. It's fresh, and full of promise.