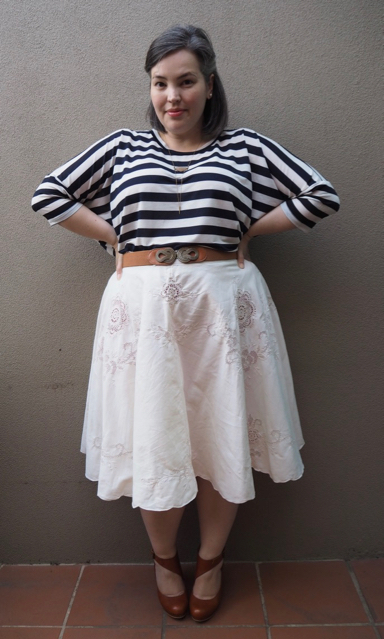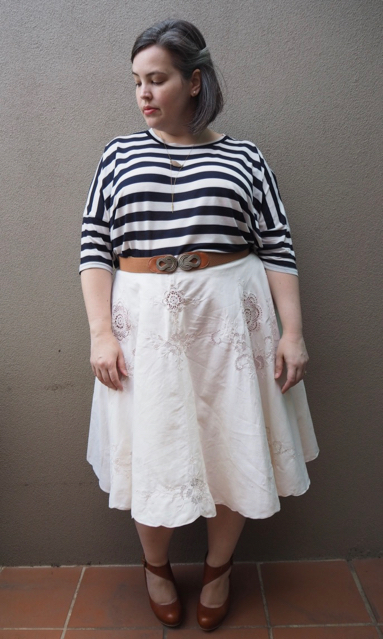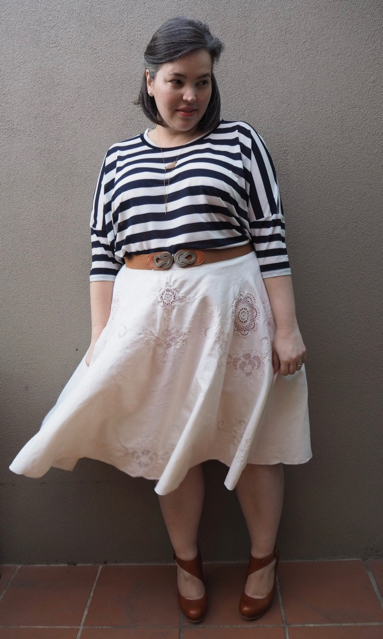 Top: Tirelli
Skirt: DIY Remix
Belt: Modcloth
Shoes: Gorman
Been a while since I did a remix, huh? This is actually a bit of a remix, and bit of a DIY: it's an old embroidered tablecloth that I've re-purposed into skirt.
I found this big circular tablecloth at a trash and treasure market, and really loved the embroidery and scalloped hem. The cotton has that lovely softness that you get with fabrics that have been well-used and, the colour is a pretty apricot-tinged blush.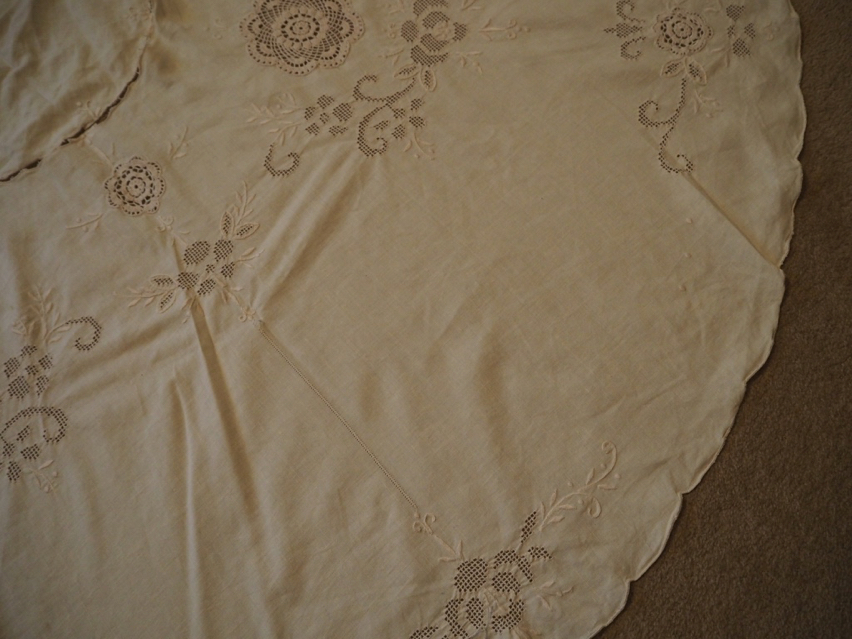 I thought it would be an easy project, and it really is!
To start with, you have to figure out where to cut the hole for your waist. The easiest way to do this is to measure the diameter of your waist (plus maybe an inch for seams) then divide that number by 6.28 (because, math).
Now fold the tablecloth into quarters and measure that number from the point at the top of the pie piece (I used a bit of string at that length to mark where to cut).
Once you've cut the hole for your waist you should cut a line up the back – this is where you'll insert your zipper.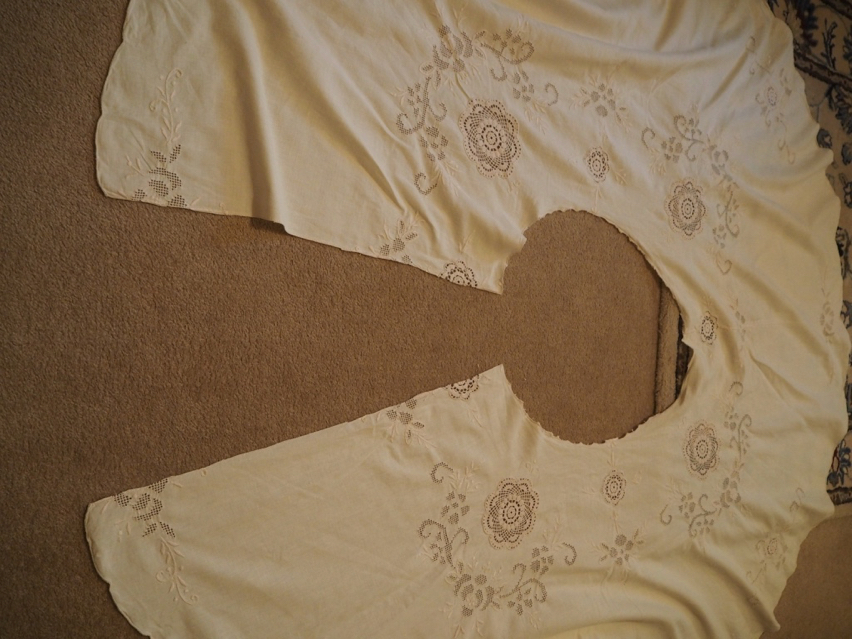 Next, you want to find some fabric that more or less matches the colour of the tablecloth so that you can make a waistband. Cut a long strip about three inches wide, and about an inch longer than your waist measurement.
Apply some interfacing, then fold one long edge up and stitch it into place.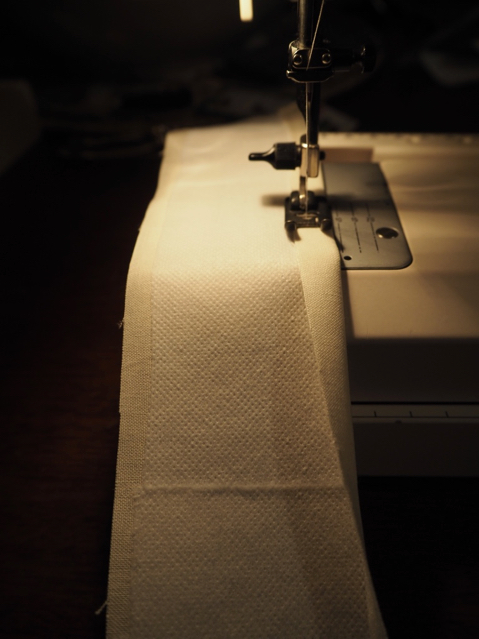 Right sides together, pin the waistband to the waist of the skirt – with the raw edge matching up to the fabric of the skirt – and stitch.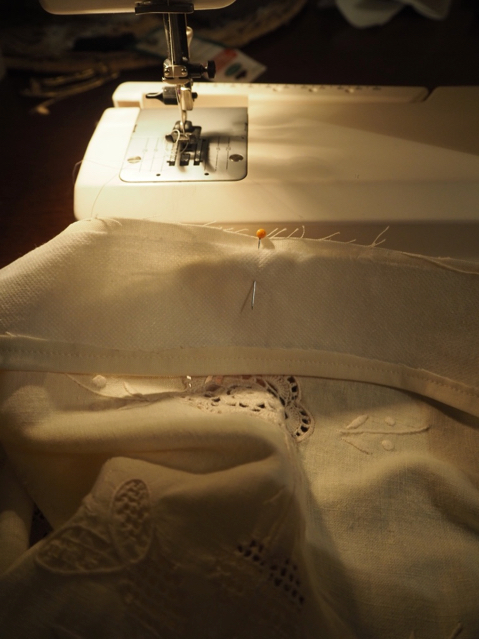 Now insert the zipper, and stitch close the back seam.
I haven't included instructions for this step, since – to be honest – every time I insert a zipper it feels a bit like I'm making it up as I go along. Are there different rules for different kinds of zippers? I'm pretty sure they are. Insert the zipper according to the instructions on the packet, I guess.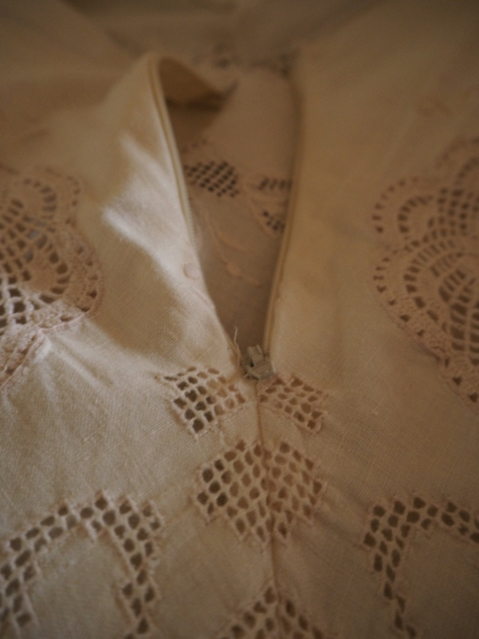 Once your zipper is in, press the raw edge of the skirt waist up into towards the waistband, and fold the finished edge of the waistband over it. Pin it in place, and give it another press, just to make sure you've got a nice clean edge. Does this photo show that? Who knows? It was very late by this point.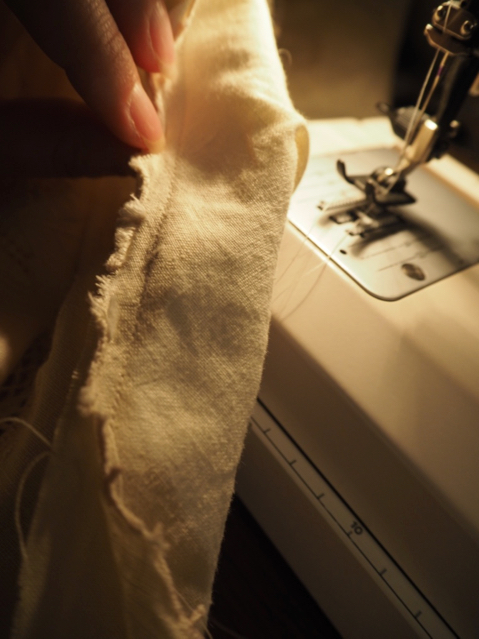 Flip the skirt right side out and sew a line just a smidge over the seam. This should capture the raw edge between the two sides of the folded waistband (I hope this makes sense!)
E voila!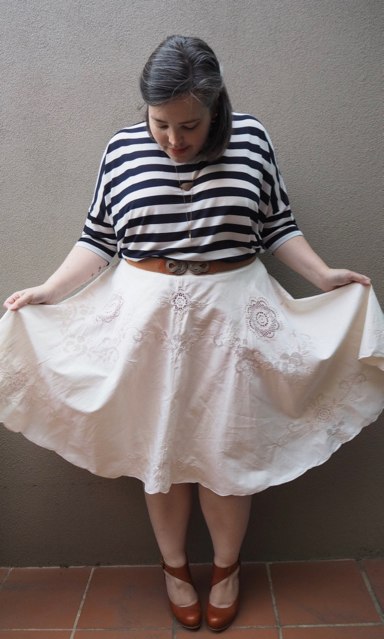 One tablecloth skirt!