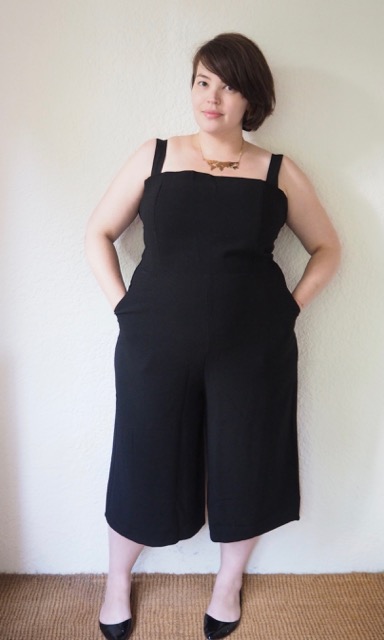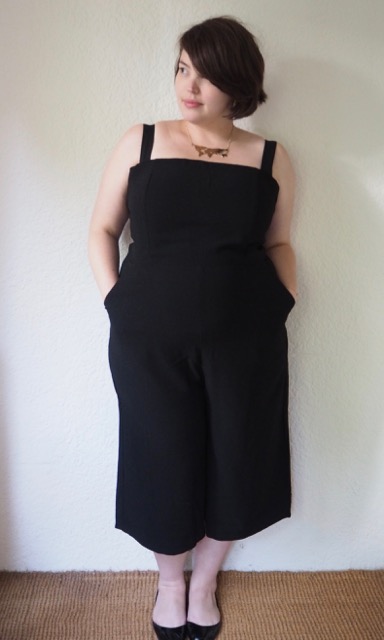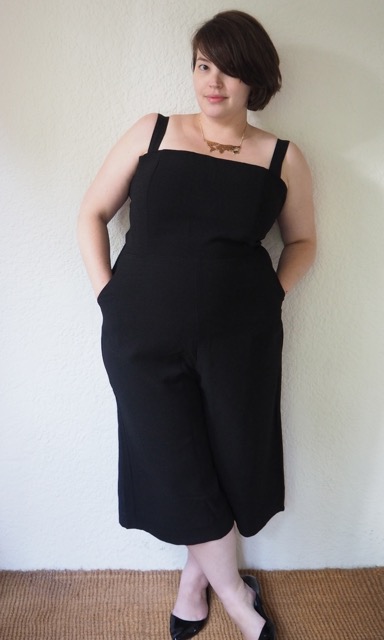 Jumpsuit (remixed): Missguided
I like to think that I'm not really into following trends – or maybe it's just that I find that so few trends actually suit me. Entire seasons will pass me by while I hit "refresh" on the new items button of all my favourite websites without seeing anything that tempts me. It's usually when I start doing a lot of sewing, so it'll probably come as no surprise to discover that the trends of the past season or so have left me a bit cold.
I don't wear jumpsuits, and I DEFINITELY don't wear culottes, so when I saw this culotte jumpsuit at Missguided (though also available through Asos) I was surprised to discover how much I wanted it in my wardrobe.
I remember my first pair of culottes when I was a kid. They were a Christmas present, and I remember being first really pleased with this pretty skirt, then a bit disappointed to discover that they were actually shorts masquerading as a pretty skirt. (Remember, I was the kind of girly-girl whose favourite colour was pink, and who would throw tantrums if Mum tried to dress me in trousers). I don't think I wore them very often to be honest, but I think I've finally cottoned on to their popularity.
This jumpsuit is a dress that I can wear on a hot windy day without worrying that I'm going to flash my shorts up and down the street (I've got a couple of new recommendations on the short front, BTW. Stay tuned). In fact, I don't need to wear shorts underneath it at all. Because LEGS.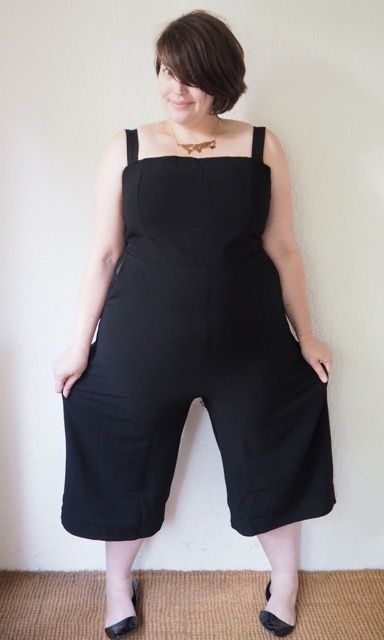 I'll be honest: I still hate culotte pants – they can cut you off at the most unflattering place and unless you're some magical culotte-wearing-genie (and they DO exist, and it's nothing to do with size) they'll invariably make you look a bit dumpy and short legged. But there's something about the streamlined lines of a jumpsuit that kind of works OK.
I've tried jumpsuits before as well. I like the idea of them: all the convenience of a maxi-dress with none of the chafing; but I don't have the height to pull them off and I always seem to end up looking like a Teletubby.
I ended up buying this one from Missguided, and if you decide to follow suit, I'd strongly recommend sticking to the size chart (I ended up having to send my first one back because I couldn't get it zipped up over my boobs) and if you're between sizes, size up. The jumpsuit style isn't forgiving to curvy bellies when it's snug.
The jumpsuit comes with "boning", which are stabby little plastic strips inserted in the bodice to keep the thing up. They're beyond useless, and sharp edged to boot, so I'd recommend doing the same hack that I did and removing them in favour of straps that you can make with a bit of ribbon. (Just make a little incision at the bottom of the lining where they've been inserted and they'll slide right out).
I made sure that straps that I was attaching were in the perfect position to hide my bra-straps, and the whole effect is (IMHO) even nicer than the original.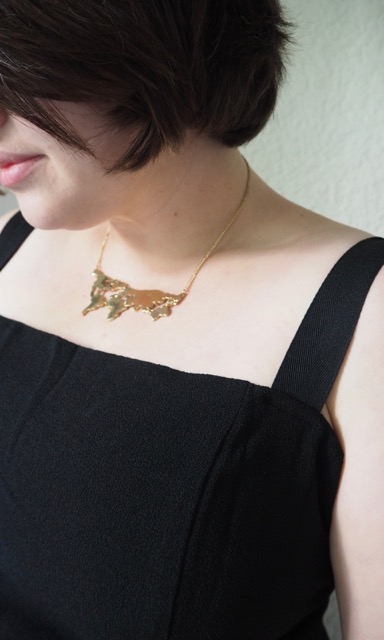 Necklace: Modcloth
If you're looking for something a little bit higher quality (or if you can't be bothered attaching your own straps) you can get a very similar jumpsuit from Dream Diva. The fabric's considerably heavier and it has a shiny formal feel to it, but I've tried it on in-store, and can definitely vouch for the quality.
Honestly, I'm pretty happy with this one from Missguided though. It's breezy, and super comfortable, and I feel pretty trendy wearing it.