Jumpsuit: Missguided (remixed)
This preppy little ensemble is a great go-to outfit for the end of winter. There's a lot of layers going on (tights + pants + top + bodice) to keep you warm, but the whole effect is quite streamlined and minimalist.
It's actually a bit French-chic, or maybe just a bit French-MIME-chic, if you're going to be really specific about things. All I need is the beret.
It's the culottes jumpsuit from Missguided, which I bought last summer and remixed by adding straps to the bandeau bodice. To be totally honest, I'm a little surprised that I'm still wearing it, since it was such a flash-in-the-pan trend item (Jumpsuit! Culottes!) and I'm thrilled to discover that it works more than one way, and even manages to look kind of timeless.
The stripy shirt creates a visual interest that counterbalances the wide-legs of the culottes, but because of the height of the black bodice the stripes don't have a chance to draw attention to my bust. Skipping a belt also serves to elongate my frame, and the addition of opaque tights made it look fairly elegant.
The tights (Sonsee, naturally) help to keep a smooth line at the hips and tummy – I've actually tucked the shirt into the waistband, which help keep it from riding up and making the close-fit bodice lumpy.
I kept the rest of the look simple and comfortable with black flats and pearl drop earrings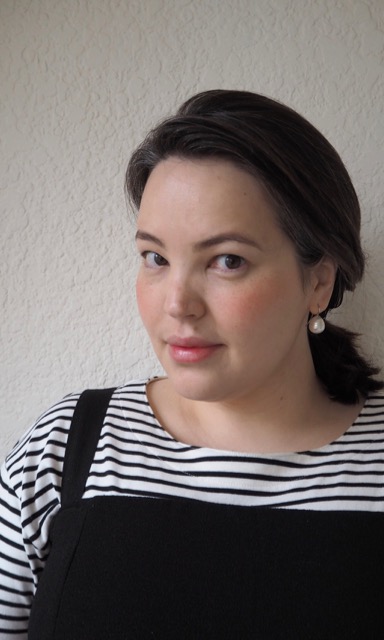 All up, I'm really happy with this look and I expect I'll be repeating it a few more times before summer comes knocking!