Belt: Closet confessions
I bought this dress a month or so ago, but it's only just starting to get warm enough to wear it (almost – you can see that I'm still employing my trusty cardigans). I spotted it on Allyasphyxia on Instagram and knew immediately that I had to add it to my wardrobe: midi-length, elasticised waist, dropped shoulders, and a heart print fabric? Swoon.
I ordered it from Yours Clothing, and threw in some great chinos for extra measure – the shipping was just $12AUD from the UK, and it was dispatched and delivered quick smart. Sadly it seems to be essentially out of stock at Yours Clothing, but Scarlett and Jo have it currently available in all sizes… and in other colours, too (purple and floral, though it looks like you'll have to try your luck at Yours to find it in black.)
I followed the size chart, and bought the size 18, which is fairly roomy in both bust and hip; with all the stretch at the waist I probably could have comfortably gone down a size, but I don't mind the blousy draped effect of the larger size. The shoulders are bulked up a little with floppy little shoulder pads that I probably could have done without, and after wearing it today I'm thinking I might add some bra-strap keepers because the deep v back (which I love)  does mean it slips around little.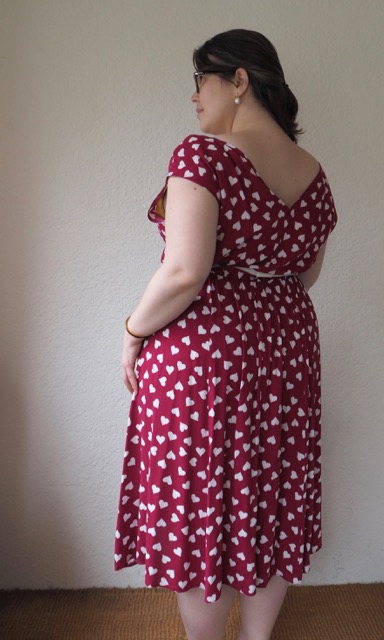 Yours Clothing calls the colour of the version I bought "pink", Scarlett and Jo is probably a bit closer to the mark with "burgundy" – it's a gorgeously rich, deep red. A pinky red, but definitely what I'd call red (especially with a red cardigan on top).
It's an incredibly flattering dress on all shapes and sizes, as you can see from the photos I've poached from Scarlett and Jo's instagram feed, below: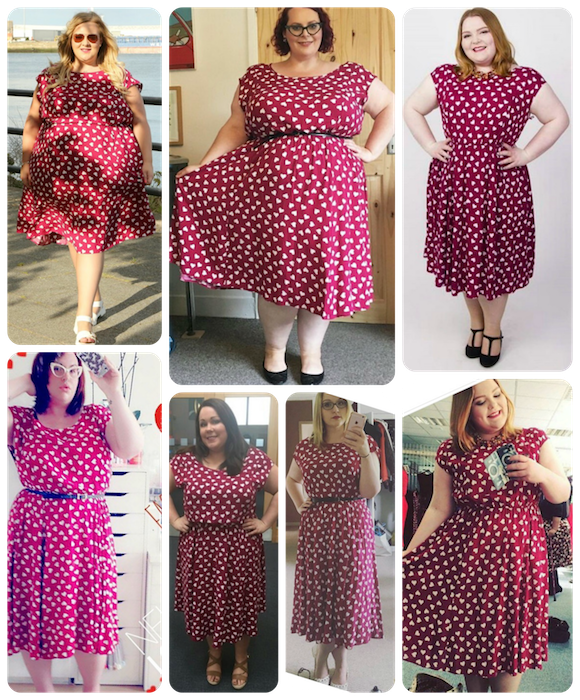 That's What Laura Loves in the top left and Lolly Likes Fatshion in the top middle. Please accept my apologies if I've missed any other bloggers, and feel free to leave a comment with the details if you recognise the other models and I'll update the post!