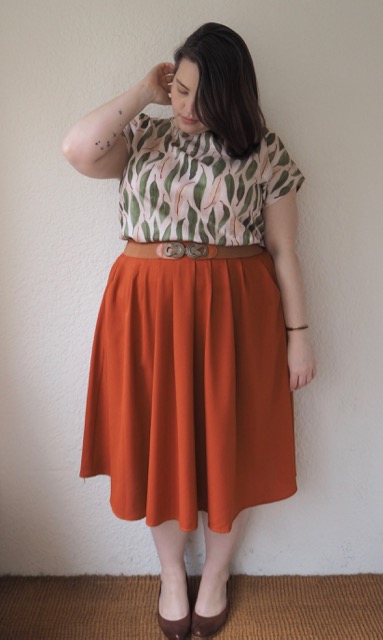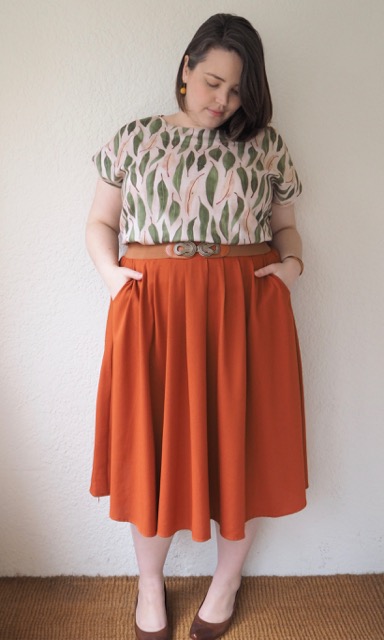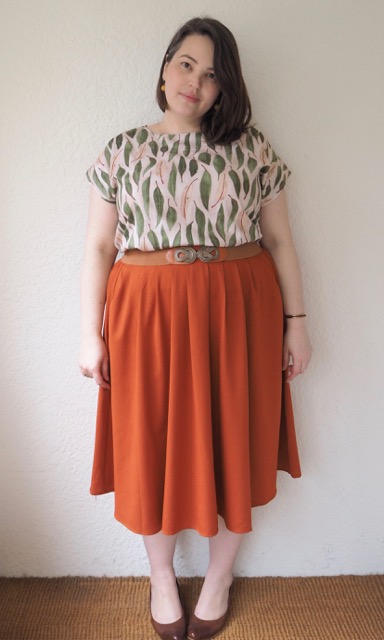 Top: DIY from Marilla Walker pattern
Shoes: Edward Meller
A few weeks ago I was at the Victoria Markets picking up my fruit and veg for the week, and decided to take a bit of a meander through the rest of the market. When I first moved to Melbourne I was excited about having the Queen Vic Markets on my doorstep – thinking it would be rather like the Paddington Markets in Sydney which I insisted on visiting on every family visit. I was a bit disappointed to discover that rather than being a high-end craft and fashion market the Vic Markets were full of a lot of mass-produced tat, and the quality stores that offered something a bit different were few and far between. Occasionally I still pay it a visit, and occasionally I'm surprised by something… like this A+++ gumleaf print fabric!
The stall had a wonderful range of Australian-themed cotton fabrics, some using Australian flora as a design feature. I quizzed the stallholder, and managed to establish that the art used for the gumleaf fabric was from an  artist named Natalie Ryan, who studied botanical painting at the Royal Botanic Gardens here in Melbourne.
The gumleaf fabric is a lovely 100% cotton fabric with a slightly silky handfeel. It has better drape than most quilting cottons, so it suited the boxy shape of Marilla Walker's Maya top quite well.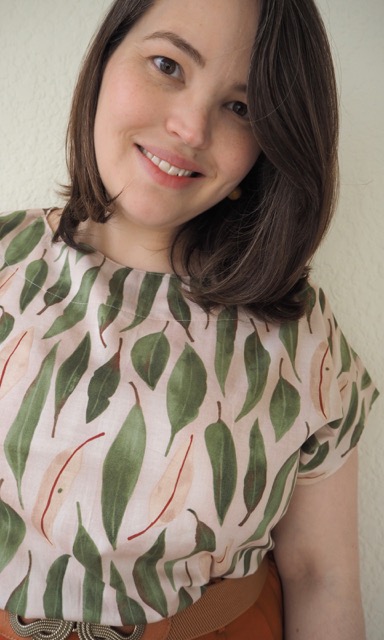 The stall holder admitted that she wasn't there very often (and seemed quite affronted when I asked if she sold online) but with a bit of research I managed to track down a seller on Etsy. They also do a large number of fabrics printed with Indigenous Australian art, and they credit the artist (which makes me hopeful that the company producing the fabrics isn't exploitative, though I haven't been able to find out any information about their practices in my research online).
The top – with its olive greens, russety reds, and creamy beige, will go with a slew of items in my wardrobe, but today I'm wearing it with my orange 'Breathtaking Tigerlilies' skirt from Modcloth. These skirts are such great, versatile pieces that after vacillating about it for a year I finally bit the bullet and bought a few more in different colours. If I get even half as much wear out of them as I have from this one, then they're definitely value for money.
Modcloth offers free international shipping on orders over $150 – which is a pretty good excuse to go a little bit overboard – so I added the Boldly Buckled Belt (among one or two other things) to help me get over the line. It's one of the few belts on Modcloth that come in "extended" sizes, and it's a great, comfy accessory to add to dresses and skirts.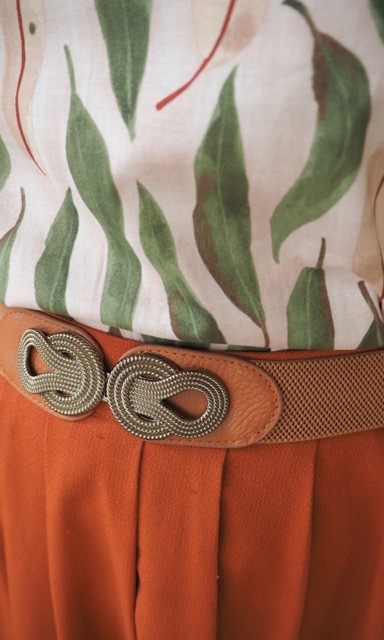 Belt: Modcloth