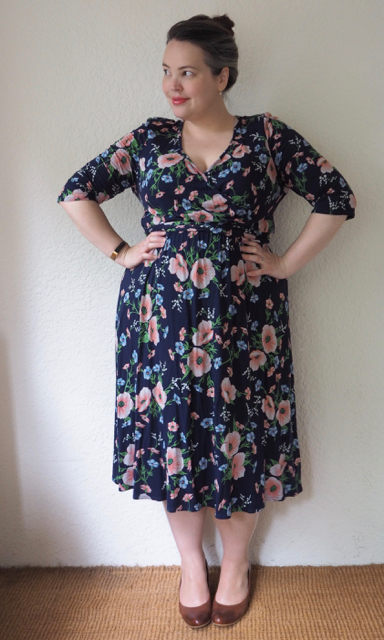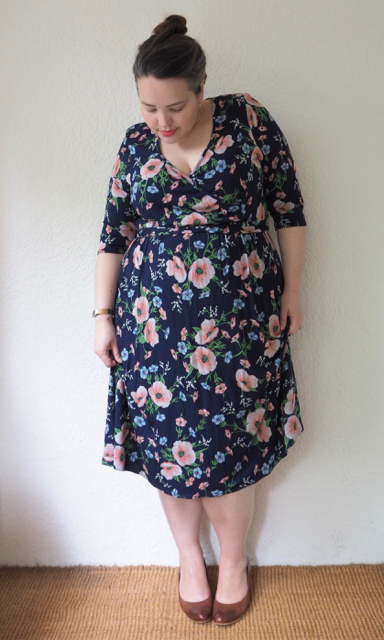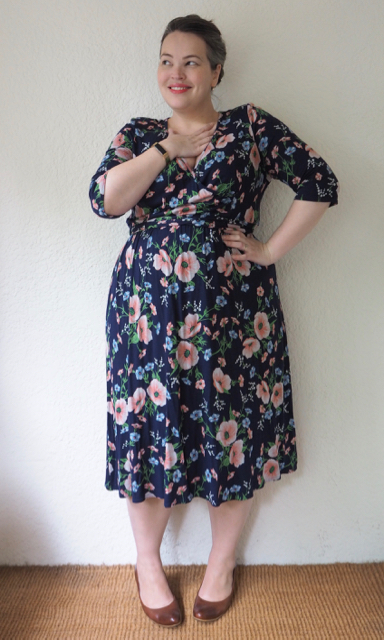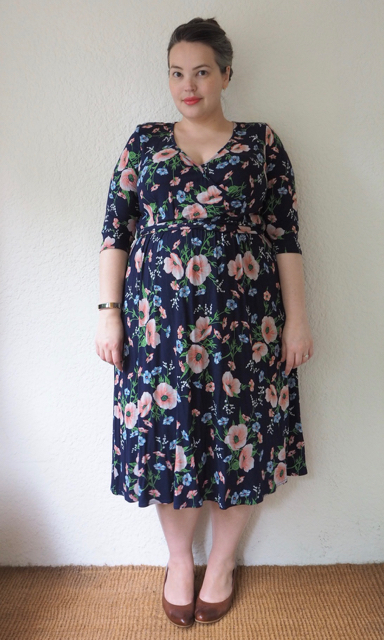 Dress: Scarlett & Jo (via Yours Clothing)
Shoes: Edward Meller
Has it really been a month since I last posted? And after such a big post, too? Thank you all so much for your lovely comments, I'm happier than I can express. Apologies for the long gap between writing – I've been struck down with one of the nastier colds I've had, exacerbated by a very busy month at work. I'm definitely on the road to recovery though, and looking forward to getting back into the swing of life.
Can you believe how close we are to Christmas? I can't. I think it's probably partly due to the weather – we've just had the coldest Spring in 13 years, so it's hard to imagine that Christmas is just a few weeks away. It does mean I'm getting a little bit more wear out of my trans-seasonal pieces though, including this pretty midi dress from Scarlett & Jo.
I bought it in a size down from the Lollidot dress that I bought earlier in the year, and it sees to fit my slopey shoulders a little better. It's a mock wrap dress with a surplice crossover bodice and elasticized waist. The waist ties with an attached sash that's probably a little unnecessary, and prevents me from wearing the dress with a belt, but it would be great for cinching the waist in if you've bought a size too large.
It's made of a super soft jersey that wears well during the day, and the gorgeous navy floral print holds its colour well over repeated washes. The dress has little attached shoulder pads, the same as the Lollidot dress, which helps to give it a very 40's silhouette.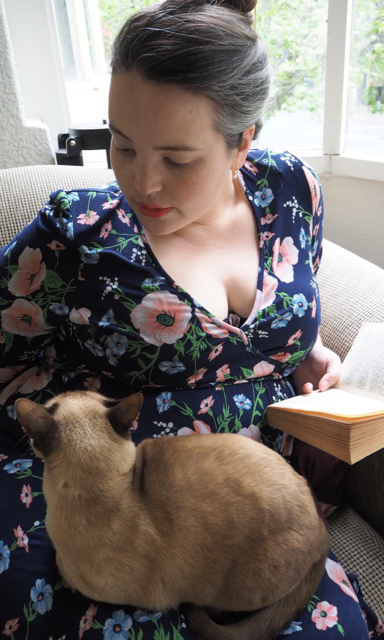 You can see here that I made a tiny little stitch at the crossover point – with my full bust wrap dresses can be a bit fraught, and a little pin or stitch just helps me feel a bit more confident that I'm not flashing too much cleavage up and down the street! Because the dress is pull on – not a true wrap – a few stitches with needle and thread are enough to keep it closed permanently.
This is a great dress for those inbetweeny months where it's neither hot nor cold, and it looks just as elegant with tights and a cardigan. It would be a great one to take on holiday as a back-up going out frock, as it rolls up very small, doesn't crush, and is wonderfully comfortable.
If you decide to order, don't forget to sign up to receive 15% off your first order, and make sure you check out the clearance section; one of the best parts about shopping from Australia is that you get to buy all the summer stuff at sale prices and wear it straight away – hopefully by the time it arrives it might even be hot!