Top: Boden
There's so much more choice for plus size women than there was in 2008 when I first started my blog! It's wonderful but definitely dangerous too, because I find myself wanting to try, well, everything! Society Plus has been on my radar for a while because of their amazing looking tutu skirts, but I've never taken the plunge (because I've never had the kind of occasion that warrants a tutu skirt, alas).
At the recent MFW+ celebrations I spotted one girl wearing an amazing midi skirt with a graphic grid print and bailed her up only to discover that it was one of Society Plus' signature pieces; the Kate Midington skirt. Designed by blogger and co-founder Jessica Kane, these skirts have been specifically designed for plus-sizes, and it shows.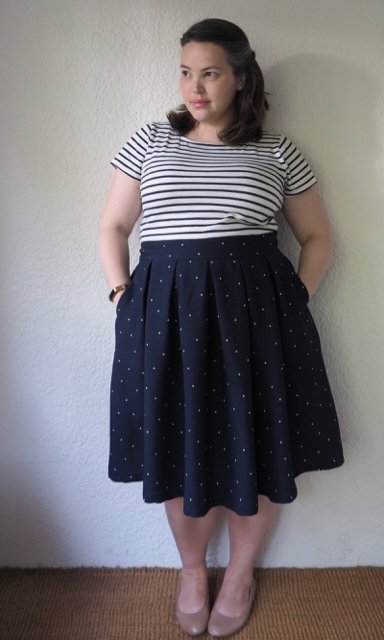 With a narrow (but not too narrow) waistband, a full (but not too full) skirt, and pockets (hooray!) it fits like a dream. Part of the reason it fits so well – and part of the reason I'll definitely be ordering from Society Plus again – is the brand's 'honest sizing guarantee'. Every product that they sell has been personally hand-measured, so the size guide given is genuine. So much shopping for plus-size women is online only, and size guides can be all over the place, making every purchase a gamble, not just in whether it's going to suit, but whether it's even going to fit in the first place. As an international customer, knowing that something I'm ordering is actually going to match the size guide means half the battle is already won.
I ordered the Kate Midington skirt in navy, but it's also available in black and white, and I'm seriously tempted to go back and buy the whole range. It's made of a thick polyester fabric that holds its shape well, and has a great fullness without too much weight. The fabric doesn't crush at all – I took these photos after a fairly strenuous day out in the city, and it looks as fresh as when I left the house. Do watch out for that size guide though – there's no stretch to the fabric, so if you're between sizes you might like to size up for the sake of comfort. If you sign up before ordering you'll get a 20% off code, too.
I was impatient for my order, so I paid the fairly substantial shipping charge for priority shipping ($42!) but I placed my order on the 29th September, and it arrived on the 6th October which was faster than I'd hoped. Next time I'll see if I can band together with a friend to split shipping – goodness knows there's enough on there I've got my eye on! There's the universally flattering skater dresses, the stop-traffic sequin skirts, and of course those tutu skirts… it just so happens that I might have the perfect upcoming occasion for it after all: