This weekend I was lucky enough to be invited to Melbourne Fashion Week Plus, a new event taking place alongside Melbourne Fashion Week that profiles and promotes plus-size designers from Australia and around the world.
I was excited to see so many unfamiliar names in the runway schedule – the plus-size fashion landscape has changed dramatically since I started blogging in (oh God) 2008, and it's wonderful to see so much diversity in the styles that labels are now able to offer.
The runways took place over three nights, but by Sunday I had run out of puff (as well as MFW, this week marked the start of MWF – Melbourne Writers Festival – which means work's been pretty full-on too) so I'm sad to admit that I skipped the final runway, which featured Sprinkle, Joolz, Miss Scarlet Did It, my old favourites Sonsee, Active Truth, and Beyond The Sea. I'll try to track down images from that show to share with you, but in the meanwhile, here's what came down the catwalk on the other nights:
*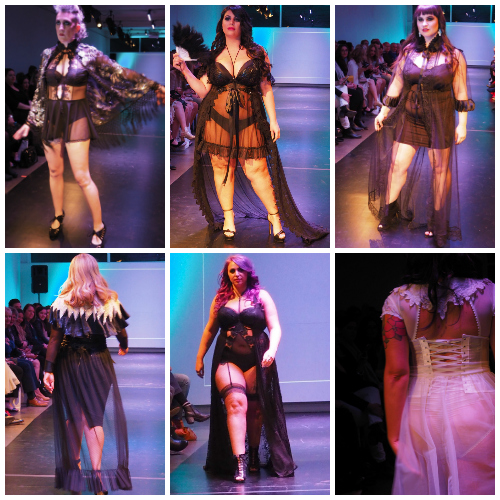 State of Liberty features luxurious lingerie with a vintage – but decidedly edgy vibe. The designer, Samantha, has 20 years experience working in the theatre, burlesque, lingerie and ballroom industries, and it shows in her flamboyant style.
*
Voluptua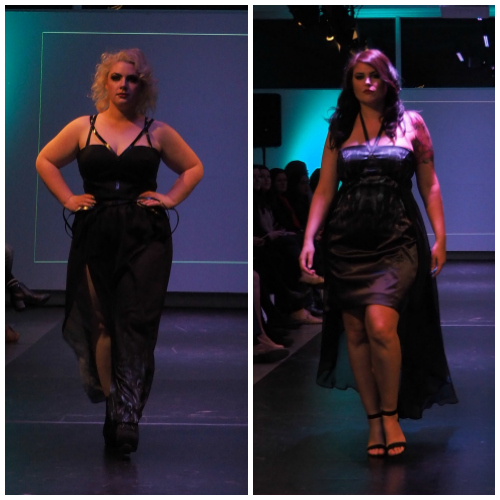 Voluptua is a budding plus size brand headed by 3rd year fashion degree student Leah Streader. Her collection, titled 'The Morrigan', is inspired by Celtic mythology as a nod towards her Scottish ancestry. This collection captures the dark, edginess of the goddess The Morrigan who is a goddess of war and death, but also of fertility and sovereignty. It's wonderful to see up-and-coming designers working in this space.
*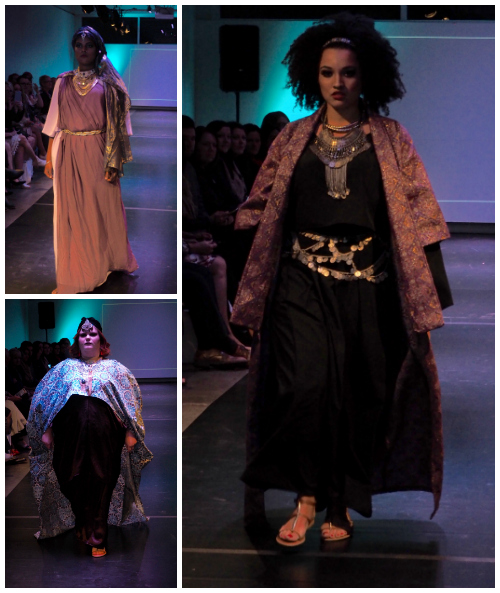 Courtney ZOH makes scarves, turbans and clothing inspired by her experience travelling, the art and architecture of other countries, and the belief that everyone, no matter what size, shape or religious beliefs should be able to easily access clothing that suits their needs. Her gorgeous layered ensembles proved that you don't have to flash flesh to be stylish.
*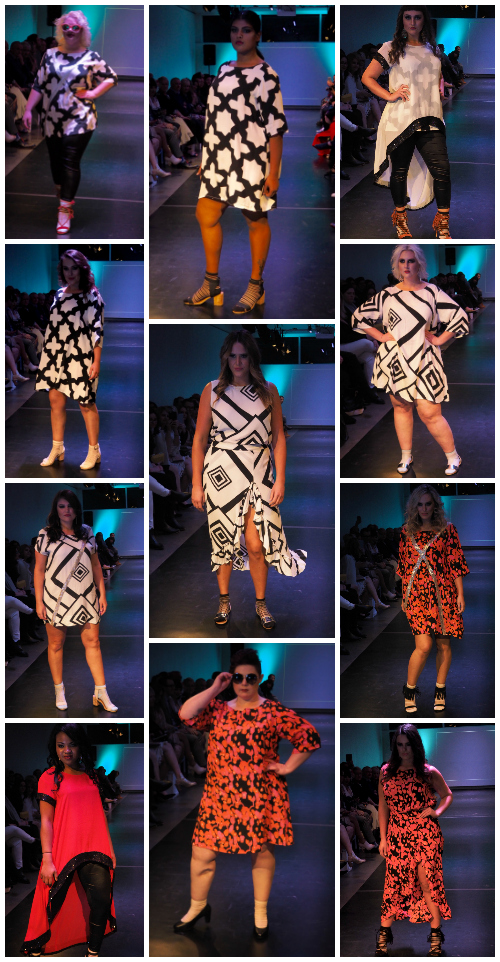 Brainchild of model and blogger, Amber Gwynn, Nyata – meaning 'real' in Indonesian where the label is manufactured – promotes that all women are 'real' women and all women have the right to feel equally as beautiful as each other. Amber's use of contemporary cuts with gorgeously printed fabrics is immediately recognisable.
*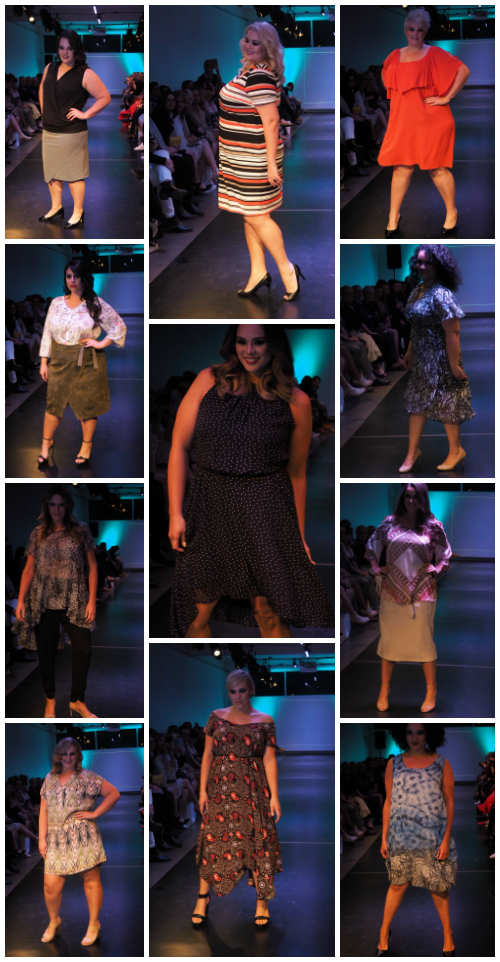 Estelle is an easily accessible fashion brand that can be found in Myer department stores if you're a bit uncertain about online shopping. Around since 2003, they offer affordable, on-trend fashion for plus sizes.
*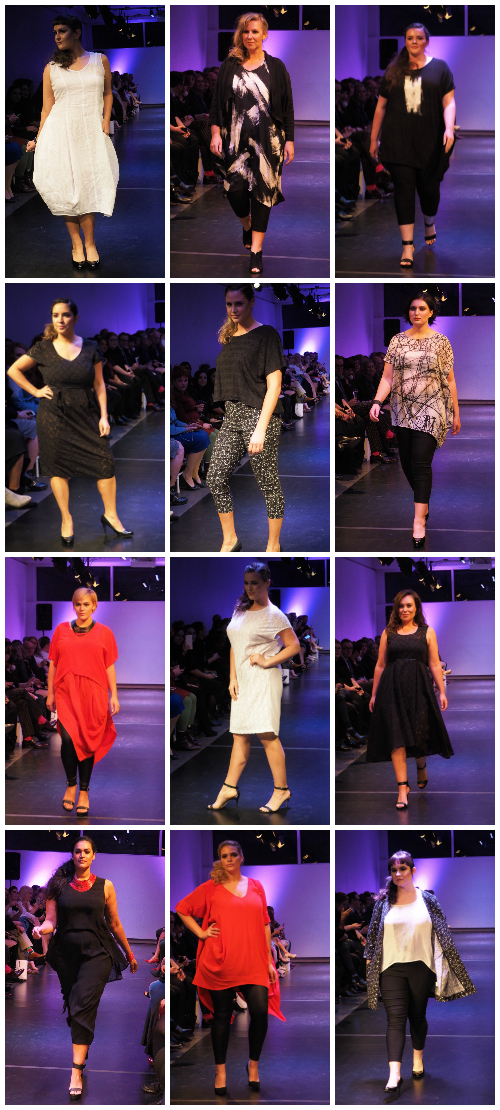 New Zealand label, Chocolat, is one of the original plus size brands, with a focus on draping and black and white prints. There were a few pieces I saw that I would love to add to my own wardrobe: particularly the Harem pants (seen on the bottom left) which would be divine for summer, and the gorgeous geometric print jacket pictured on the bottom right.
*

Alison Dominy believes every woman should have the opportunity to wear luxurious well-crafted clothes with styles that are classic, elegant and timeless regardless of size. Her classic Annie blouse is a lovely basics piece, with a cleverly designed collar that frames the face without bulking up the bust-line. Next time I'm looking for a shirt this one's going straight to the top of my list.
*

Diane Covino is proudly made here in Victoria, so she's a familiar face at the A+ Markets. She shares my love of colour, texture, and bold prints, and her gorgeous evening gowns (that red number!) just dripped glamour.
*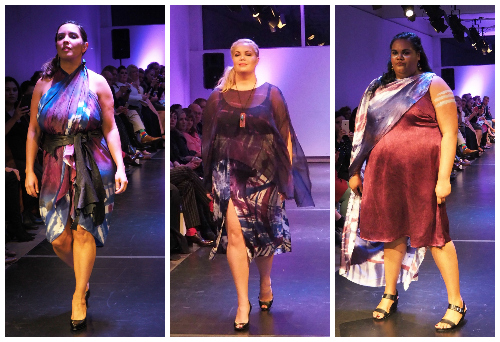 An Indigenous designer whose work is informed by her Gunnai and Wiradjuri heritage, Lyn Al Young creates one-off made-to-order silk scarves and garments that have been hand painted with the the stories, markings and totems that have been passed down generations of her family.
*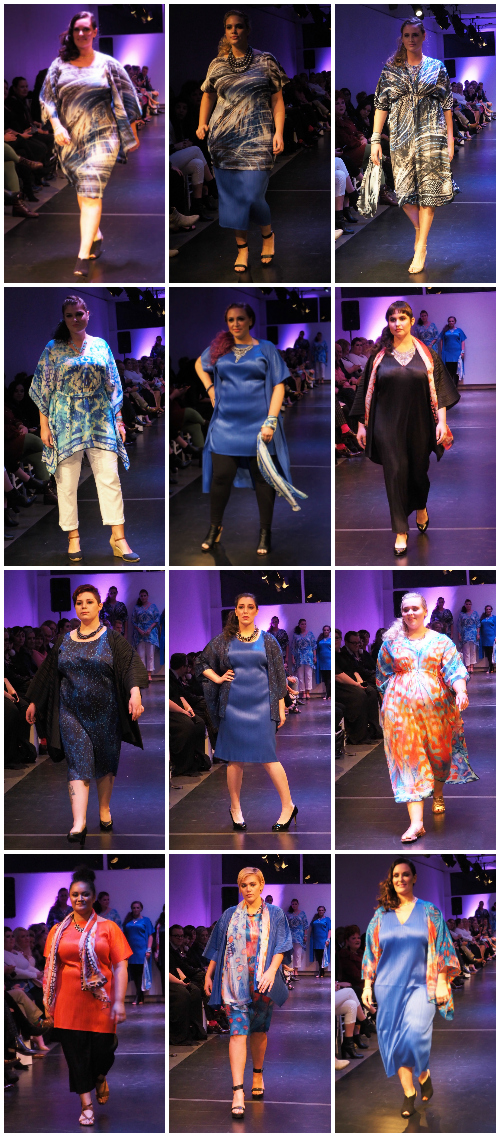 The boyfriend and I are taking a beach holiday in October – swimming, sleeping, reading, and not much else – so I was particularly inspired by the Coral and Co runway. Inspired by the designer, Robyn's love of scuba diving and the Great Barrier Reef it's full of dreamy summer colours and prints. I particularly like the kimono draped jackets, which look like they'd do double duty on the beach and back in the city as a stylish layering piece.
*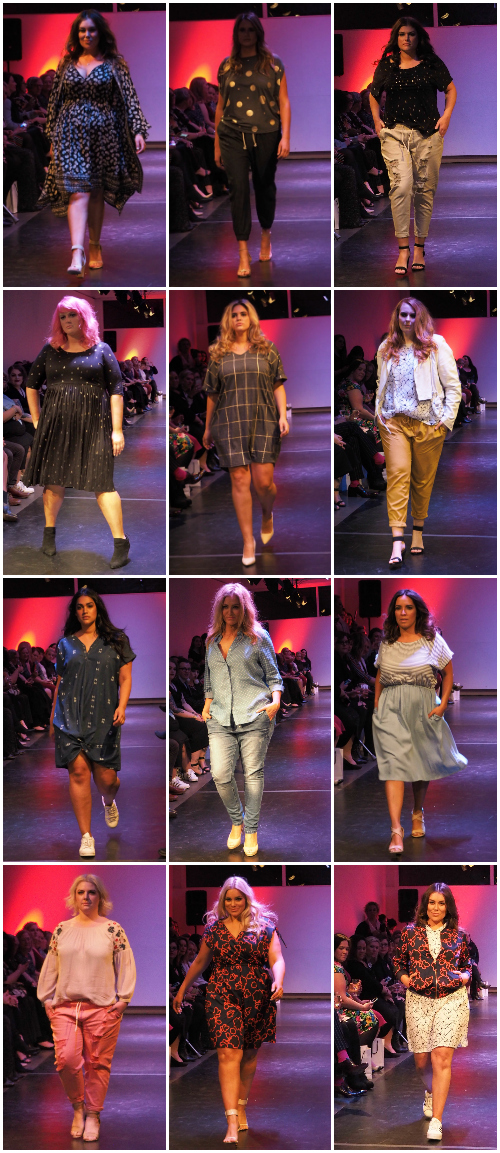 17 Sundays killed it on the runway with so many items going down the runway and straight into my wish list. Clever prints: geometric shapes, foil dots, and tiny arrowheads combined with classic cuts to great effect. The new incarnation of the (less than successful) pleated 'Steal My Sunshine' dress has sleeves (hurrah) and a cool double arrowhead print that creates a glittery starry effect. Also on my must-buy list is the comfy-looking shift dress in the gold grid print, and the summery elasticised waist dress with the striped top. Also, everything.
*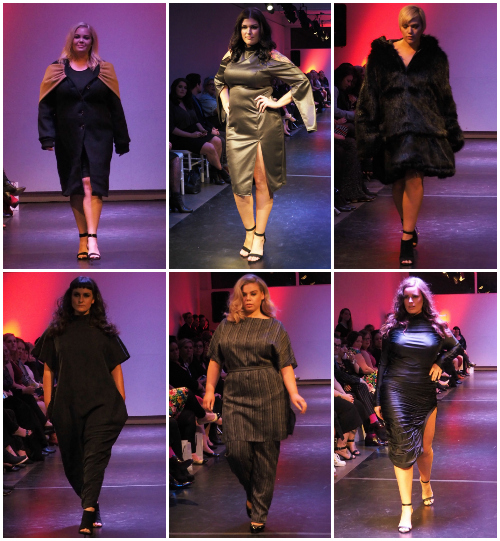 Remi Ray created the award winning British Plus-size fashion weekend, and her label is a cutting edge plus-size fashion brand that aims to reinvent classics with a modern sensibility.
*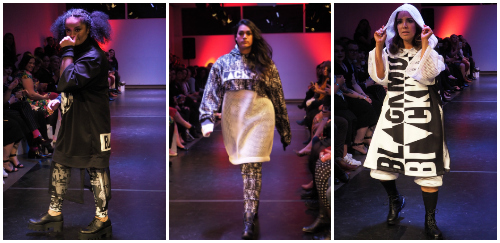 Black Mob an emerging, unisex streetwear brand from Brisbane, that aims to provide 'alternative fashion choices for those who aren't afraid to blur the lines between gender, race, religion and culture'. It's not necessarily my style, but I'm thrilled that the plus-size fashion landscape has evolved enough that there's enough room for it.
*
TH Label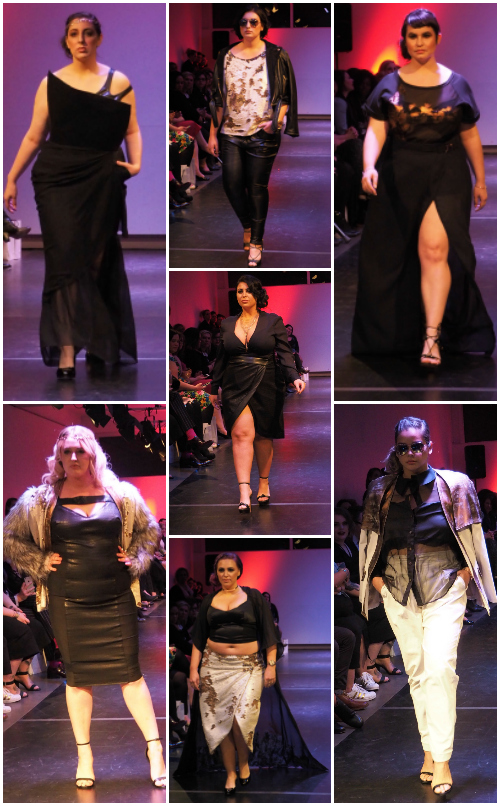 th.label was established in 2015 by Sydney designer Tegan Holloway. Her collection is a little bit glam and a little bit grungy rock-chick, with distressed sequins, leather, and fur. The architectural gown in the top left was an absolute showstopper.
*

Hope and Harvest was another local brand I was particularly excited about seeing during MFWPlus. The Hope and Harvest Date Night Dress is one of my cool-weather favourites, and I'm mad at myself that I only bought the navy since it's such a versatile and easy-to-wear frock. The updated version – the 'Luxe Easywear' dress has a different neckline, but it's available in a to-die-for wine colour that's singing me a siren song. H&H opened their show with an energetic dancer in a floaty floral skirt, and the outfits that followed kept the same fresh approach to floral prints and carefully selected textiles. Particular stand-outs were the floral jacquard jacket (top left) and the geometric midi skirt (bottom middle). I loved the tulip skirts, but know from experience that I have too much knee-fear to wear them. Special mention goes to the incredible cropped jacket in the bottom right- it's in incredible tapestry-style fabric that counterbalances the clean cropped lines perfectly, and it was such a hit that Harvest is already taking special orders, but they're going to go FAST, so don't wait.
*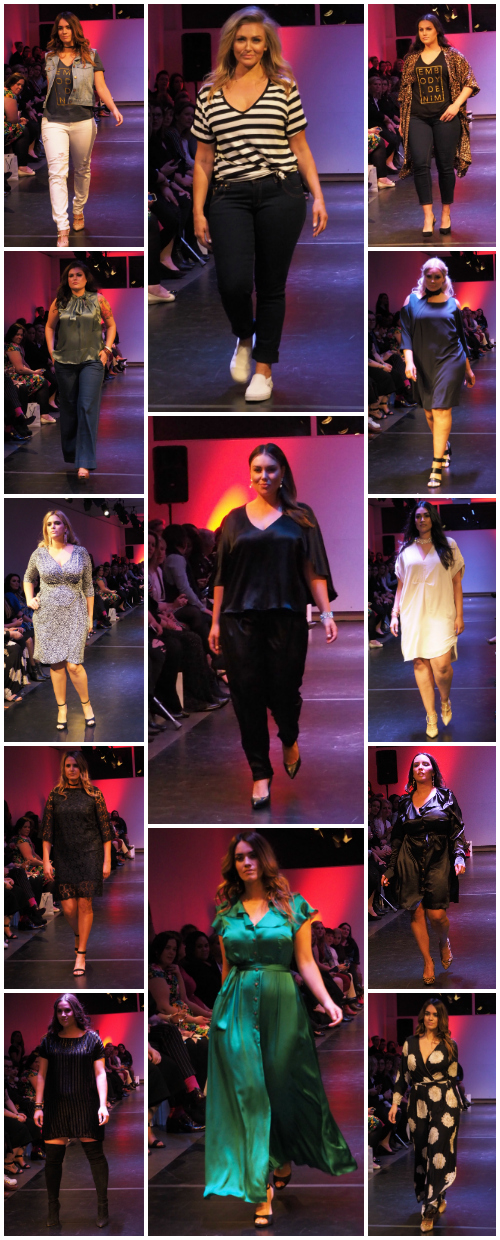 Finally, to finish the third runway was Embody Denim, one of the first labels in Australia to offer premium denim jeans for a plus-size market. A few years ago, designer Natalie, expanded the range to include selected non-denim pieces, and her offerings on the runway included some gorgeous dresses like the amazing green maxi that closed the show.
*
And that's my (huge) MFW+ rundown! Thank you so much to the organisers for inviting me, and for putting on such a great weekend. I'm already looking forward to next year!