Belt: Trenery
A month or so ago I was invited to drop by Advocado's headquarters in Richmond and take a bit of a squiz at what they had on offer. They weren't a brand I was familiar with, but I'm always delighted to hear about new plus-size brands (especially here in Melbourne) so I eagerly accepted.
I ended up having a really fun dress-up session, and went home with a couple of goodies, including this Zita Adjustible Drape Dress. The black and white graphic print fabric is a light and breezy rayon that will be lovely to wear as the weather gets warmer. It's actually cut in a swing-style that would suit someone with a smaller bustline than I, but belted it becomes quite an elegant piece. You can also wear it with a cardigan or a jacket. I tried it on at Advocado with a cropped white jacket.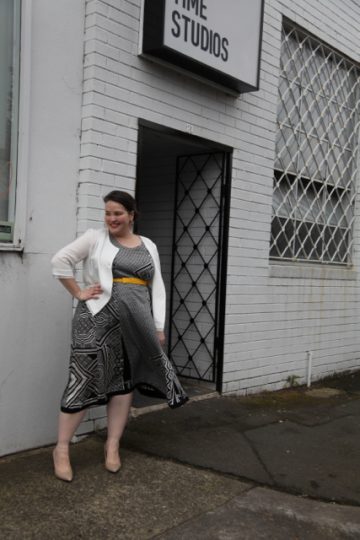 The particularly interesting thing about this dress is the little button and loop fixtures on the inside seams that allow you to ruche the skirt higher on either side or both. The effect is a bit dress-stuck-in-your-knickers, but it's a cute idea.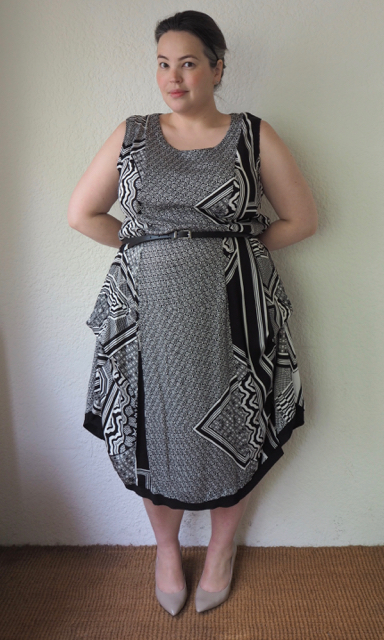 The other excellent addition, which I wholeheartedly approve of, is pockets (hooray).
I tried a couple of other pieces on while I was at Advocado, including this lovely bright colour blocked top: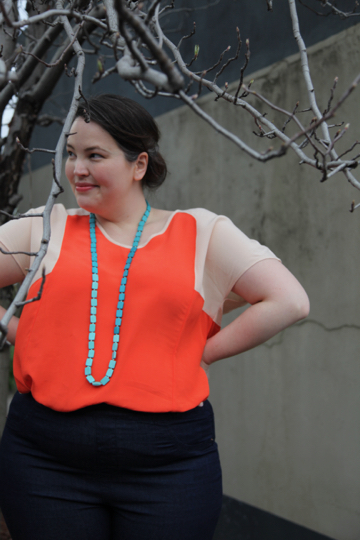 Top: Advocado
… and (a particular favourite) this cape-sleeved blouse and printed skirt: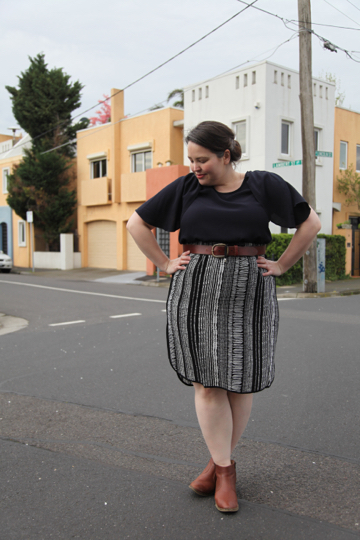 Top: Advocado
You can expect to see more of this top – I couldn't resist taking one home with me!