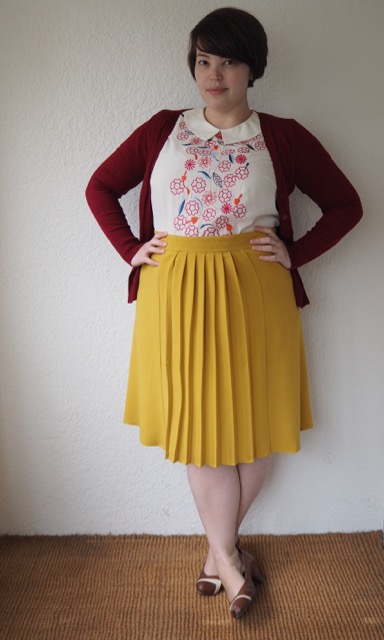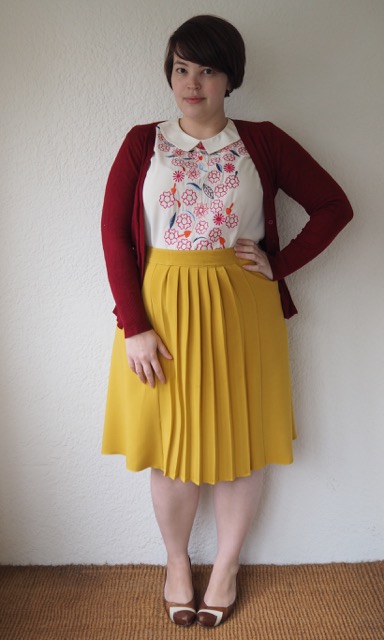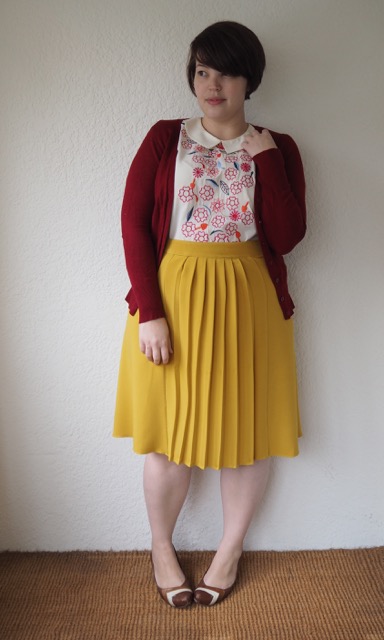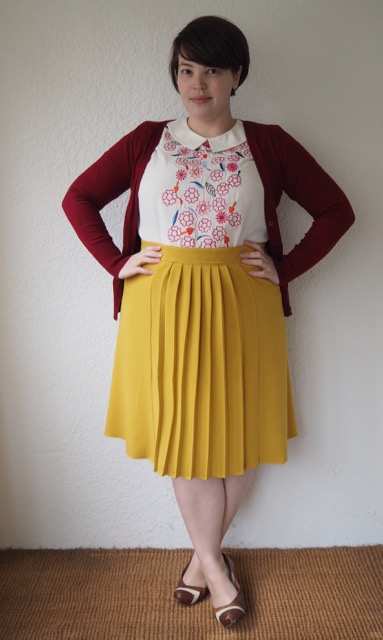 Blouse: Modcloth
Skirt (remixed): Asos – Similar here
Cardigan: Paper Scissors – Similar here
Shoes: Chie Mihara
My guy and I spent the past four days soaking up the sunshine in (still frankly very chilly) Perth, and arrived back on Melbourne's coldest day for two years. It's been a fairly brisk winter, all things considered, and I'm feeling pretty good about past-me's decision to buy present-me a new winter jacket that's made of wool, has a hood, and zips up the front (I got this one. It's magnificent).
I've taken some shifts in a lovely local independent bookshop, helping to manage their children's section while I get back on my feet. It's actually been really nice to find myself back in bookselling after all these years: comfortable, like coming home. I've re-introduced a bit of colour and whimsy into my wardrobe again now that I'm not in an office environment doing business-y things and being a professional boss-lady.
For a while now I've been looking for another mustard skirt made of a better quality fabric that my much-loved Breathtaking Tiger Lilies skirt. This one popped up in Asos' "premium" range but sold out while I was still vacillating over the purchase. Fortunately a lovely reader let me know on Twitter that she'd spotted it in a 16, so I snapped it up thinking I might be able to do something with the fabric if it didn't fit.
It didn't of course. Not even close, really, but it was an easy fix to unpick the waistband and loosen the pleats enough to widen it for my girth, and the result's a winter-take on my favourite skirt. It also looks great with grey tights (I've been wearing these, from Sonsee, pretty much around the clock).