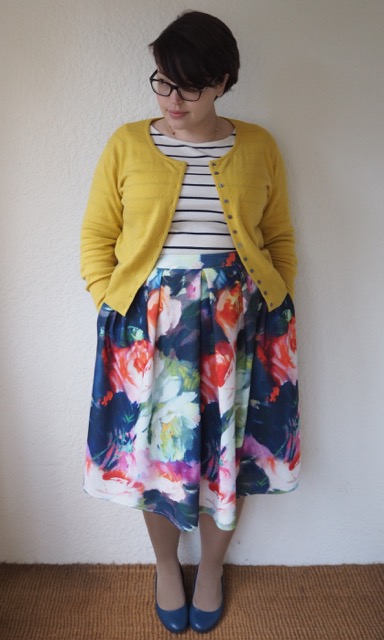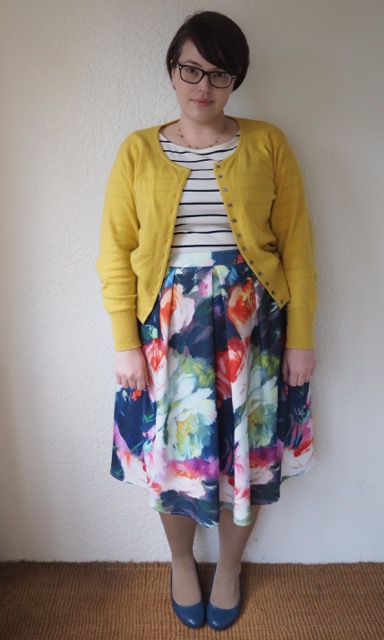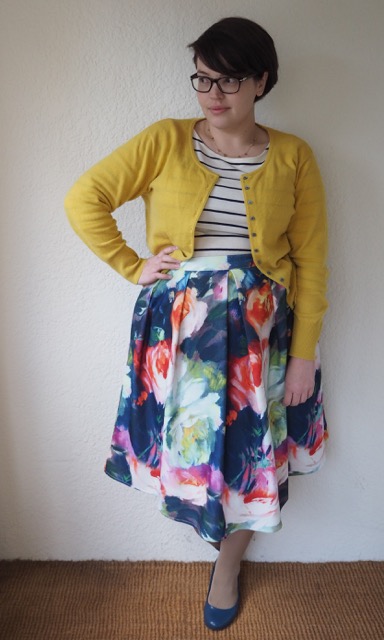 Cardigan: Woolovers
Top: Big W (similar here)
Skirt: City Chic
Shoes: Comfortview
I. Am. Loving. that City Chic is doing such great separates at the moment and this floral skirt is a corker. The big overblown rose print looks like an impressionist oil painting, and it's full of colours that work with ALL THE CARDIGANS in my wardrobe.
I often find floral prints a bit tricky to wear. They're usually too small and dainty, and the curves of my figure dwarf them. I prefer a big, bold print like this one.
The other trouble I have with florals is that I look like I…. I'm not sure how to explain it… I take them too seriously? You know how some girls can wear floral prints and lace collars and pink cardigans and still look cool and edgy? I'm definitely not one of those girls.
I teamed the skirt with a striped tee – florals and stripes are a great place to start with pattern-mixing – and of course, a cardigan because it's still freaking cold in Melbourne. To be honest it probably looks better with a more streamlined approach up top: The cardigan provides more volume where it isn't really needed, but I don't seem to have any long-sleeved t-shirts in my wardrobe any more, and buttoning the cardigan made me look a little too Pleasantville for my taste.
In summer I'm looking forward to wearing it with plain-t-shirts without having to layer up for warmth, but skirt's available right now at City Chic, and it's been so long since I bought and blogged something that was still available in-store that I didn't want you to miss out if you liked the look of it too!
The skirt's made from a soft, lightly textured polyester, with a matte finish that makes it fine for day-wear. It's fully lined with deep pockets at the sides and inverted pleats around the waistband. It's great quality for the price, and would work just as well for a more formal occasion (like a wedding) as it does for day-to-day wear.