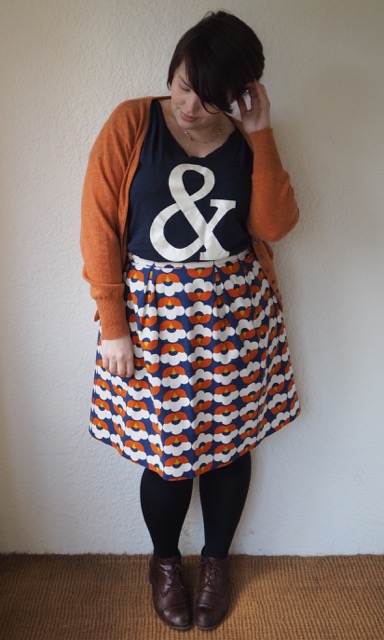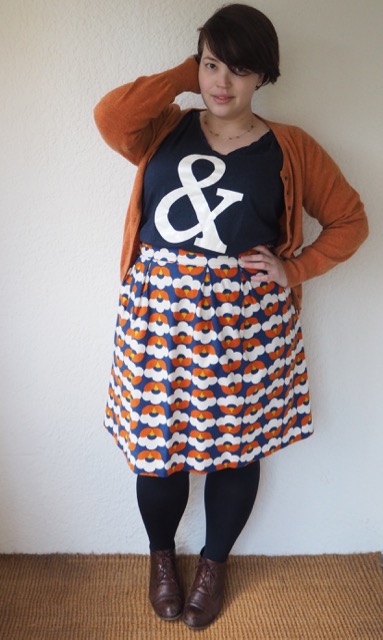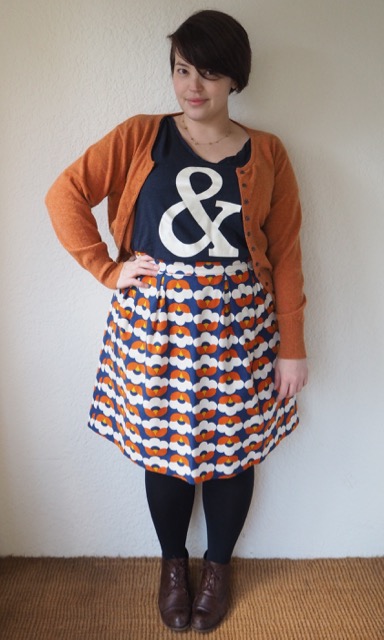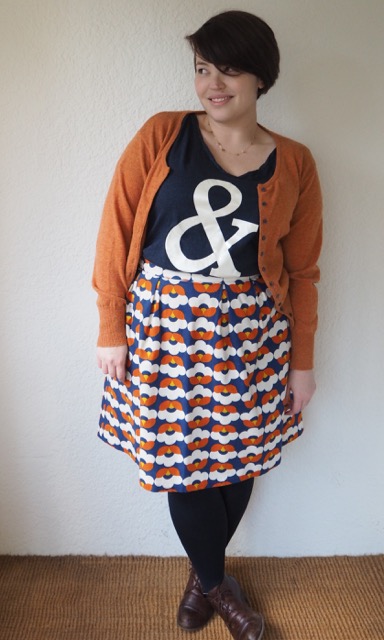 Cardigan: Woolovers
Top: Ruby & Lilli
Skirt: DIY
Tights: Sonsee
Shoes: ara via shoebuy
 Skirt, top, cardigan. Skirt, top, cardigan. I'm sorry if I've been repeating myself this winter, but I've really gone off trousers (well, more than usual), so my skirts are getting a real work out!
This skirt's an oldie, but a goodie. I sewed it from scratch a good three years ago and I'm still wearing it today, which is more than I can say for a lot of my DIY'd sewing projects.
I've never worn it as a winter wardrobe item before, but the fabric is quite a heavy cotton drill so I think it works OK teamed with navy tights, booties, and a wooly cardigan.
The t-shirt's pretty cool though, isn't it? It from Ruby & Lilli, who also sell my Hello Lover tee, and I loved it so much when it arrived that I decided I couldn't wait until summer to wear it.
It's a really gorgeous piece in person; the blue's the most perfect deep greeny-blue, with a bit of a heathered effect, and the ampersand symbol – which looks perfectly flat white in photos – is actually a pearlescent cream that positively glows.
This is my third Ruby & Lilli tee (I also own the Magnifique) and I can't rave enough about the brand. The quality has been consistently excellent: the fabrics are divinely soft – like the t-shirt you've been wearing to bed for fifteen years – and the cut is the perfect mid-point between fitted and roomy, with flattering with necklines that don't make you feel like you're advertising your wares (if you're generously endowed like I) but manage to make the most of shapely collarbones. Plus, buying Ruby & Lilli supports a local pair of Australian designers who make every purchase feel like a little present by sending your t-shirts gift wrapped with ribbon and a lovely handwritten thank you note.
Shop independent, y'all!