Blazer: Zara (no longer available similar here)
Jeans: Levi's 512 Skinny
Scarf: H&M (no longer available – similar here)
Shoes: Naturaliser
I was reading an interesting article in the paper a few days ago about how Levi's was trying to evolve to keep pace with a changing market that put a lot of value in comfort. The "Yoga Pants Effect" is a bit of a pat way to draw a parallel between the fall of profits at Levi's with the rise and rise of Lululemon (no link, because of their history of disrespecting plus-size consumers), but it certainly holds water for me. I like to be comfortable, and jeans (let's be honest) aren't comfortable.
I've been wearing my Rockstar jeans since coming back from the US the last time, but as with a lot of Old Navy's product the quality reflects the price, and they're becoming a bit saggy and a bit baggy and rubbing thin between the ol' thighs.
Anyhoo, the gist of the article is that Levi's has been working on a new kind of denim to appeal to the "athleisure" market: comfortable, forgiving stretch denim that accommodates a variety of body types, but has a high recovery rate so that the stretch doesn't result in saggy knees and rumps. So, jeans that feel like leggings, but look – you know – like jeans (And no, I don't mean these).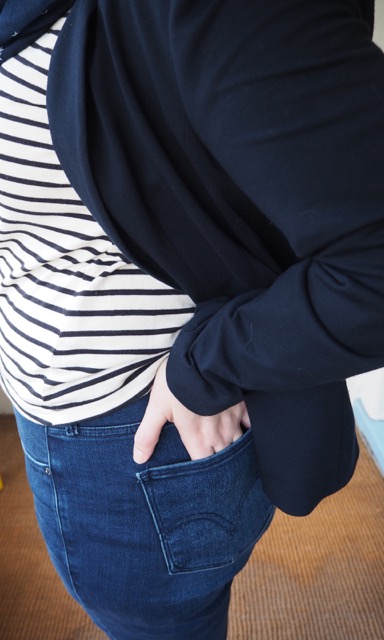 So have they succeeded? I'd have to say "yes"! I bought these jeans – they're the 512 Skinny style – in the post-Christmas sales, and since then I've retired every other pair of jeans in my wardrobe.
They're soft as soft and stretchy, but don't feel at all syntheticky or unpleasant. They fit beautifully and don't stretch out at all – I'm not constantly hoiking them up, but they definitely don't cut in or muffin-top me. They're comfortable to sit in for long stretches (I've flown to and from Perth in them a couple of times) and even though there's supposedly a "tummy shaping panel" I don't feel constricted or squeezed at all.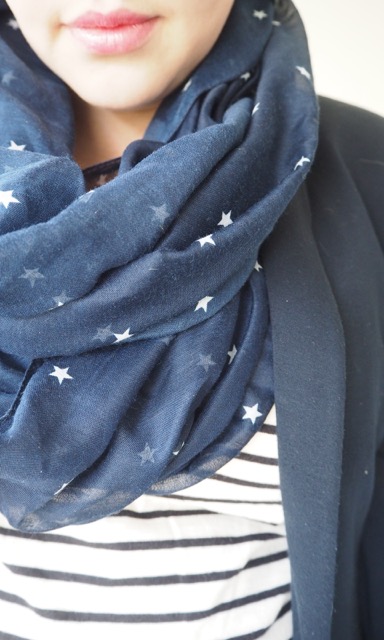 I teamed it with a stripey top and blazer. I think I've decided that the secret to blazers is not to necessarily try and find one that does up, and rather to look for one that fits snugly around the shoulders. In the past I've always bought blazers that fastened around my bust, which invariably meant that they were boxy and shapeless around the rest of my body.
Also, the rare appearance of a scarf! I've never really been able to grasp the art of scarf-wearing, despite being inspired every time I see my scarf-master friend, Adele. I think probably my boobs are too big and my neck too short, but this one seems to work fine so maybe it's all in my head!