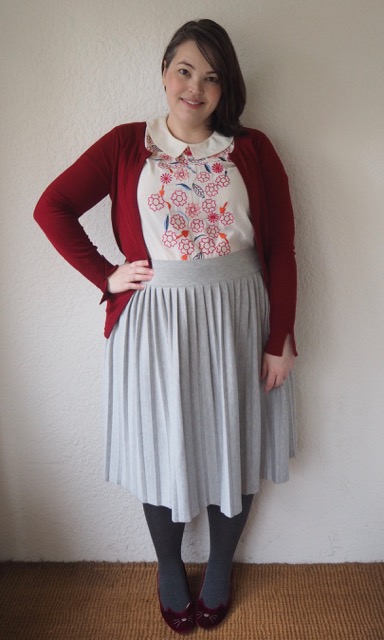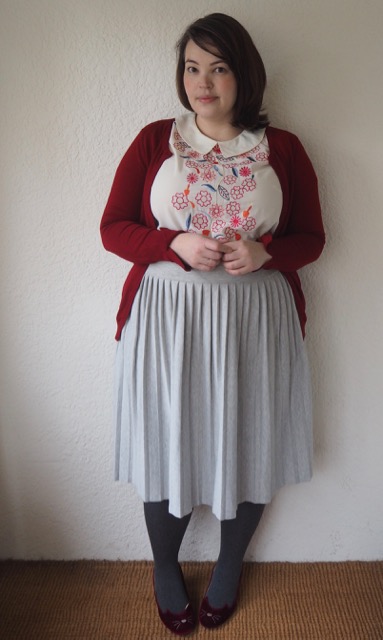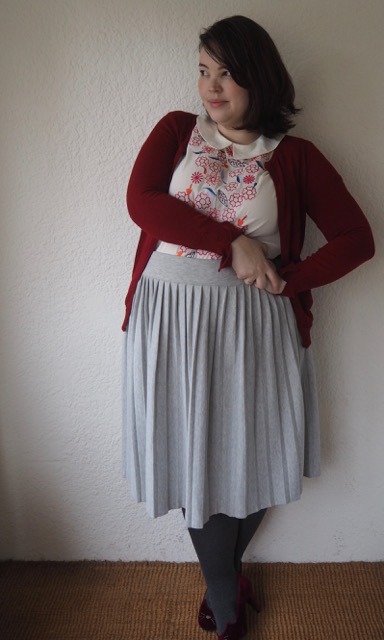 Cardigan: Zara
Blouse: Modcloth
Skirt: Asos
Tights: Woolen Goods
Sorry for the long absence – it's been a busy few weeks, and so dark in the mornings and evenings that I haven't been happy enough with any of the outfit shots that I've taken to want to post them on the blog.
I've been spending a lot of my free time sewing (it's addictive!) so I've got lots of homemade pieces to show you, but today I'm wearing some old favourites from my wardrobe. I hope you guys don't mind me wearing and re-wearing the same things over and over again. It doesn't make for the most exciting fashion blog (and I know how annoying it is when you fall in love with something only to find out it's six years old and you can't buy one for yourself) but I guess it's called an OOTD (outfit of the day) not BNOOTD (brand-new, etc etc).
Anyhoo. Every winter I go on the hunt for a pair of knitted-style tights that will fit. There don't seem to be many plus-size brands who do them – and when they do they're usually plain black. I had some luck a couple of years ago with (of all things!) Big W, but I think it was a fluke production, because I went back and bought heaps more pairs only to discover that were smaller & didn't fit properly. Marks & Spencer did some in their 'heat-tech' range, but they got holey within a week, and they don't look like they're available anymore anyway.
I think I hit the jackpot this winter, though. I bought these marled grey tights off eBay a few weeks ago, and they arrived earlier this week. They're apparently 80% cashmere…. I don't know, maybe? They ARE warm though, and they fit comfortably around the waist without cutting in. The thighs are a bit snug, and I've been wearing them with plain knickers over the top to help keep them aloft, but I'm pretty happy with them overall. (I wish all tights could fit like Sonsee tights)
Meanwhile, last weekend I signed up for my first yoga class in, umn, far too long. And not just any yoga: AERIAL yoga!
Yoga teacher, and body positivity activist, Sarah Harry, runs a resource called Fat Yoga to help create inclusive and supportive classes for plus-size people to practice yoga without fear of judgement. Over the long weekend Sarah hosted a special aerial yoga class at Body Flow Yoga Studio, which is a lovely space not too far from me. It looked like fun, and something new, so I signed up to give it a try.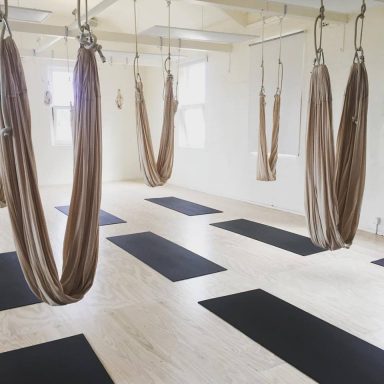 The 'silks' are basically little hammocks suspended from the roof and they give the yoga practice a lovely liquidity. I found them a little uncomfortable in some of the poses – when your body weight is resting on the strip there's a fair bit of pressure there, but some of the poses were fully suspended in a kind of cocoon, and that was nothing short of divine. (I've pinched a couple of photos from the Fat Yoga Class facebook page to give you a bit of an idea).
I had a ball, and I've already booked a second class; just a regular beginners class, not a body-positive one (though I'll be joining another member from Sarah's Fat Yoga group). If you've got the opportunity to give it a try, I'd definitely recommend it!