Skirt: DIY from THIS fabric
I've been eying up this glamorous gold-foil printed fabric ever since I stumbled across it on one of my Etsy-seach rabbit-holes (search term: "Confetti"). I didn't really know what I wanted to do with it, so in the end I bought two full yards with the thought that it would probably be enough for me to decide at a later date.
When it arrived the scattered dots were a lot smaller than I'd envisaged, and weren't as randomly placed. It wasn't going to suit a dress or a circle skirt where the repeating pattern would be dramatically obvious, so I decided just to whip up one of my easy DIY'd pleated skirts.
The fabric's a breezy cotton which I think is going to be lovely to wear in the summer, and I think the skirt will look ace with the strappy singlet that I bought last year from City Chic. The gold dots are foiled with a matte metallic finish, and they have a pretty sheen in real life.
The skirt's fairly basic, and I think I'll probably end up hemming it a bit shorter come the warmer months – it's not a total success at the midi-length.
I am liking it teamed with black and gold tee that I got from Yesstyle – there's something really decadent about pattern matching with metallics, don't you think?
The ensemble beautifully suits the pendant necklace that I bought from Evans at the same time as I bought the cowl neck dress that I reviewed last week (because I had to rationalise that International shipping, dontchaknow?)
It's on sale right now for a meagre three pounds, and I don't mind telling you I've been wearing the beejeezus out of it since it arrived.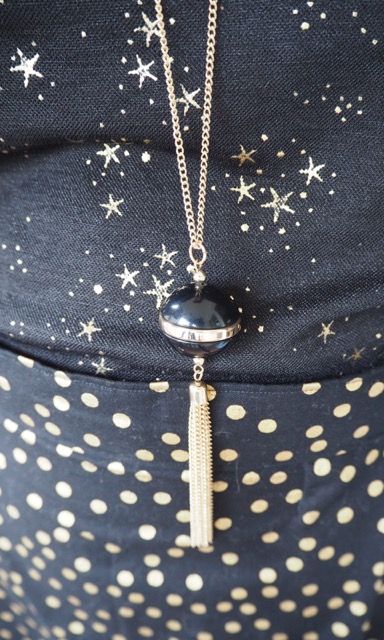 Necklace: Evans