Top: Gorman
Cardigan: Glassons
Skirt: Etsy
Shoes: Seychelles via DSW
Last year, when I was performing a last brutal cull of my wardrobe pre-New York, I retired the DIY'd grey drape skirt that I'd made back in 2011.
I'd be lying if I didn't admit that I've reached for it half a dozen times since then before remembering it's not in my closet, so I thought maybe it was time to try to source a replacement.
The skirt I made was good, but it was far from perfect. The pleat in front didn't quite give it the full draping effect that I'd wanted. When I spotted this ruched jersey midi skirt from CT by Couture Time on Etsy I knew I'd found my new drapey skirt.
The pleated hips and front panel reminded me a little of the old Thelma draped dress that I bought from Igigi a couple of years ago, but on-sold when it turned out to be too big for me. I love the look – it's a bit Deco, a bit Egyptian, a bit sarong-like. I deliberated for ages over colours – it's available in at least 23 different shades! – before finally deciding that the taupe would be a good versatile choice.
I probably should have gone with a charcoal or navy, but I figured black, grey and blue skirts are easy enough to come by in the shops – I wanted something a little different.
I had it in my mind that I'd wear it with equally drapey layers: the cocoon cardigan from Yours clothing, or the long grey cardigan from Uniqlo. Both looked dreadful, and for a moment I was worried I'd bought another skirt that looked great topless, but didn't play well with anything else in my wardrobe.
After a bit of trial and error I discovered that there were a couple of tops it worked with, and the gold-polkadot-print tee from Gorman (that I'd stopped wearing because repeated washings had made it look a bit sloppy) was one of them.
Add a cardigan for warmth, and a long necklace and I was ready to roll.
So, hands up who knew mint and mustard went together? Me neither, until I saw the unlikely pairing on Pinterest (ahh mustard. Is there ANYTHING you don't go with?). I'm glad they do, because it means I can wear it with the adorable ceramic cat necklace that my dear friend, and former housemate K gave me as a birthday pressie.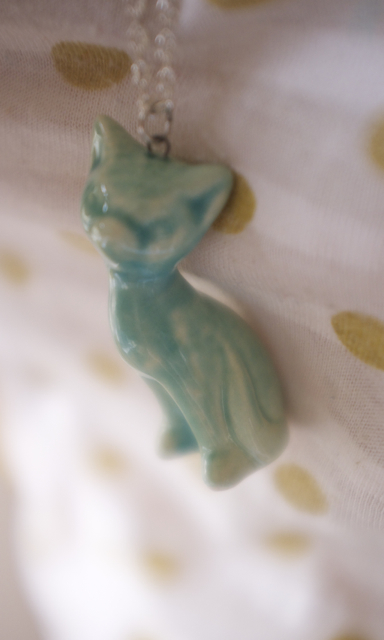 Necklace: Jasmin Blanc Boutique
Isn't it adorable? Whenever I'm feeling blue or introspective during the day I find myself fondling it – it's like my little happy-place talisman.
One of my workmates – someone who hates internet shopping with the power of a thousand suns – commented on it, and when I told her that the jeweller will even custom-make one for you in the likeness of your own beloved pussycat she announced to my very great surprise that she was going to place her very first online order. So there you go: Lilli: enabler extraordinaire!