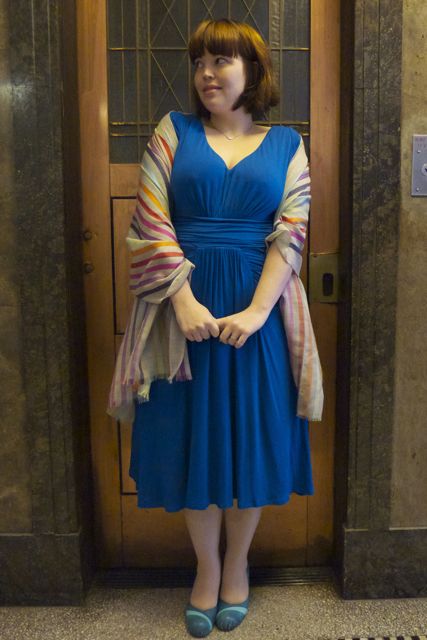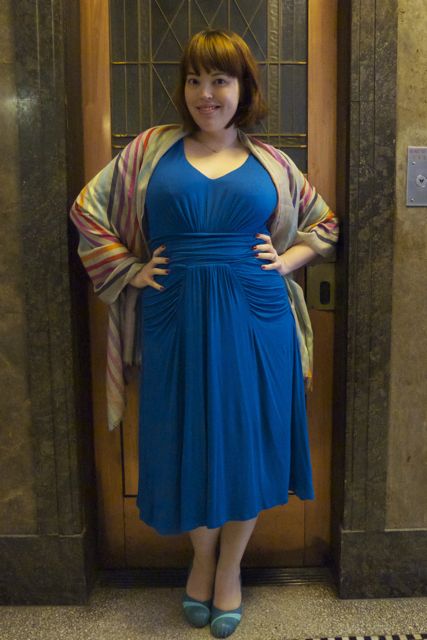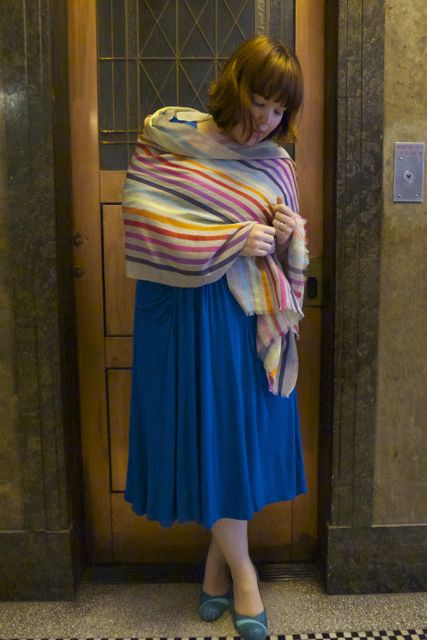 Dress: Igigi
Pashmina: Cashmere & Kaye
Shoes: Chie Mihara
Yeaaaaah…. In case you didn't know it by know, I have ZERO self control when it comes to pretty dresses.
A few weeks ago I mentioned that this Igigi dress was numero uno on my lust list – the pleated details on the hips, the soft drapes and killer cobalt blue… yum!
I bought it pretty much as soon as I saw it come up on the website, and the moment it arrived I rushed home, stripped off and tried it on.
Verdict? Well, it's good. Not great. The colour's amazing, but the fabric is one of those super soft t-shirty jerseys that creases if you look at it sideways. The dress is fully lined, so the thinness of fabric isn't to much of an issue, and the creasing isn't too noticeable because of the draping. And the jersey IS lovely and soft, and feels much more natural than the jersey fabrics I've had from Igigi in the past. Maybe I'm just being nitpicky.
I followed the size chart, but I think the dress may be too big. The ruched waistband doesn't cinch in my waist at all, and the (completely unnecessary) side zip buckles a little. The pleats on the hips are a little saggy, and my body takes on a surprisingly up-and-down shape. I get the feeling that all of those issues would be fixed with a size smaller. Or me a size larger (note to self: eat more chocolate)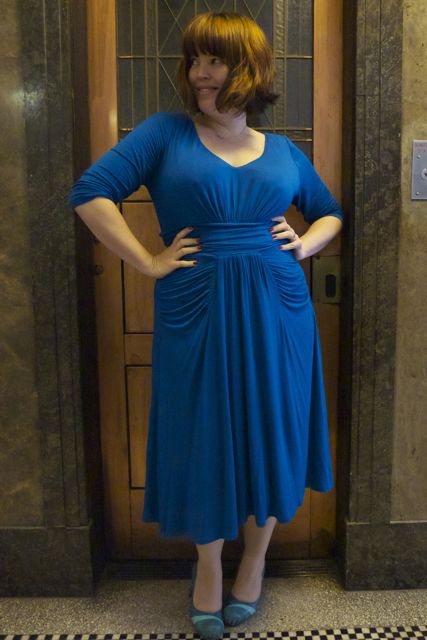 But look, as you can see it's still a lovely dress, and it's actually surprisingly snuggly. The colour is killer, and I've had several compliments while wearing it, so I'm probably just being fussy.
For my May(de) post today I teamed my new Thelma Draped Dress with my Cashmere and Kaye rainbow pashmina. (For my original review go here)