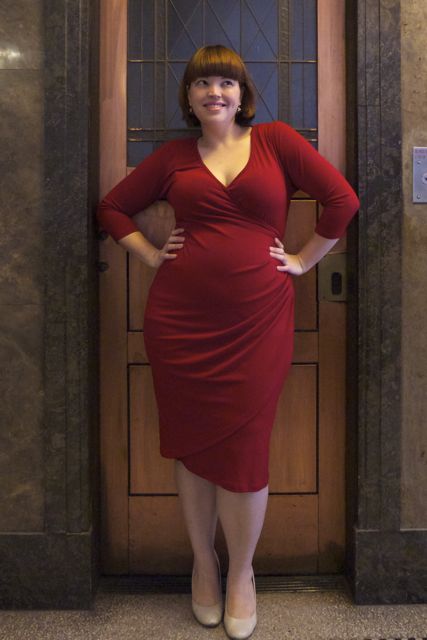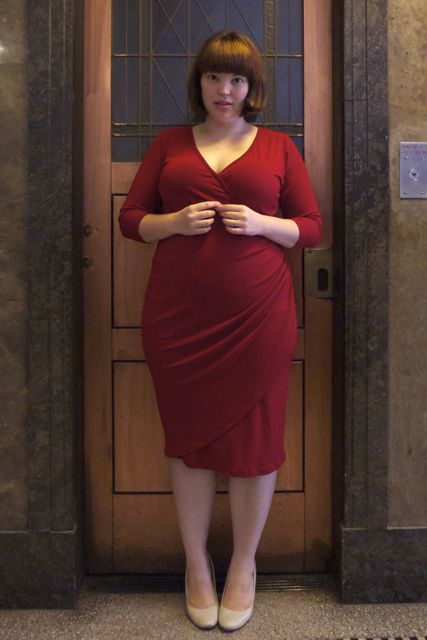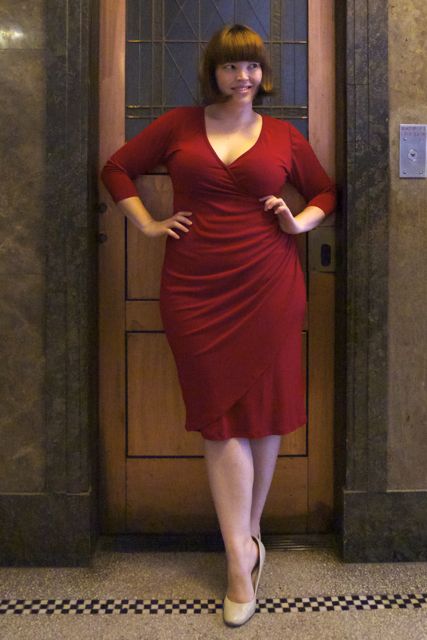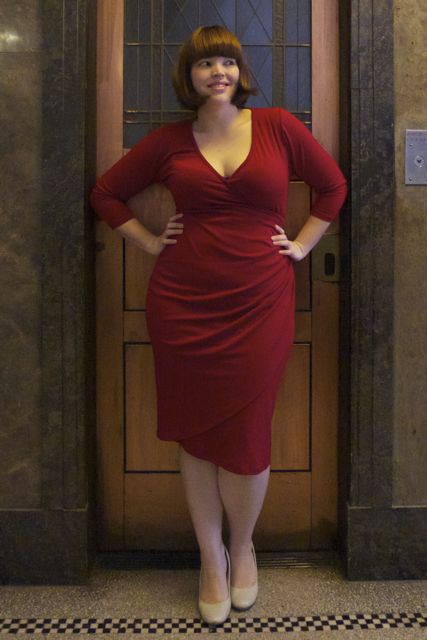 Dress: Igigi
Shoes: Zu Shoes
OK, you'll notice that I haven't labelled today's post "May(de)" – sorry about that –  I totally ran out of sunlight for photographing today's outfit, but I had photos of this dress from a week back, and it's AMAZING and I wanted to share it, so here it is!
It's my second favourite dress from Igigi's new "Breath of Fresh Air" line, and I think it's much more successful on me than its turquoise counterpart, though you need to be feeling full of chutzpah to pull it off.
This is not a dress for shy, retiring types. This is a dress to be looked at in. It's the very antithesis of the safe, black, shapeless smock dresses that plus-size women are frequently told they SHOULD be wearing.
It's not made of the same buttery soft jersey as the Thelma dress. Instead it's quite a heavy, structured jersey that – combined with Igigi's trademark complete lining – sucks you in and smoothes you down.
The wrap effect is mock – meaning you're in no danger of flashing your knickers – but the soft ruching at the hip gives the dress a super sexy drape, and it's red. REALLY red.
My body's actually reasonably straight up-and-down with the addition of generous thighs and a helluva rack, and I think this dress would look extraordinary on girls with a more defined waist than I.
I'm quietly thrilled that it somehow manages to give me my favourite (unattainable) female shape, the cello, playing up the curves of my hips rather than drawing attention to my boobs.
I let the dress speak for itself with nude shoes and no jewelery, and I can't imagine wearing it in any other way. With a dress like this there's no need to fight for attention, and big accessories seems like overkill.