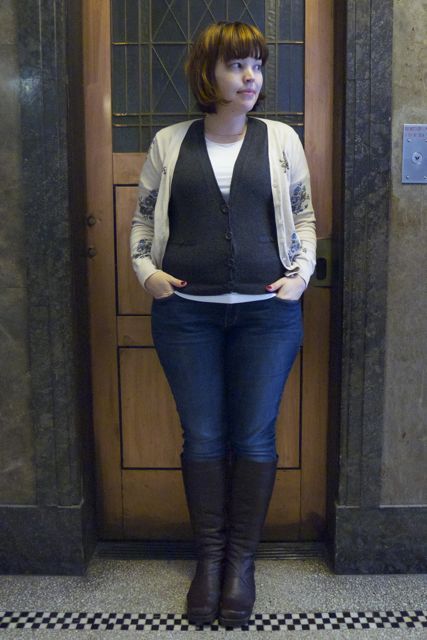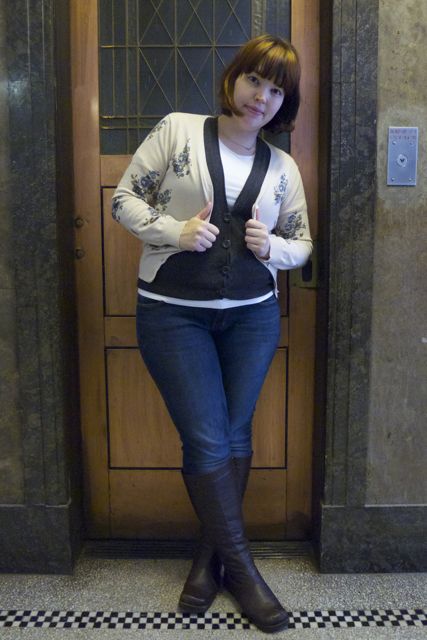 Cardigan: Friends of Couture
Vest: Target
T-shirt: Target
Jeans: Levi Curve
Boots: Boots for Broads
Just a short one today because it's neeearly midnight, and I'm a bit tired and cranky, and Suki's been asleep under the radiator all day, so has obviously remembered some primal kitty programming that she's a nocturnal creature and there is So. Much. Meowing. Happening.
Didn't totally love this outfit. I always struggle with how to wear this cardigan, but I love the blue rose print. I'm actually tempted to do my signature sewing-up-the-front move and make it a mock-cardigan/sweater type thing like I did with my black and white FoC cardigan.
Still, at least I was comfortable. These boots – from Canberra-based custom-bootmakers "Boots For Broads" are pretty much the closest thing I own to a pair of ugg boots. I'm not sure quite what happened when I sent my measurements in, but the boots came in a few cms too big in the foot and calf. I put in a pair of wool innersoles, and usually wear them over jeans, and they are SO COMFORTABLE. Check out my original review here.
Now that the Australian dollar is so strong Boots For Broads isn't quite as competitively priced as they were when we were buying our Duo's from the UK and getting 35p to the dollar. Quality-wise they're not a patch on store-bought boots, but these have survived numerous wardrobe culls, while newer Duo boots have not, simply because they are the first pair of boots I'll reach for when I know I'll be doing a lot of walking. Nothing compares.