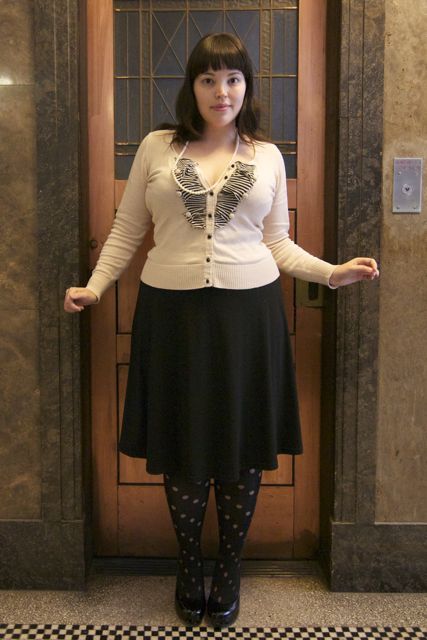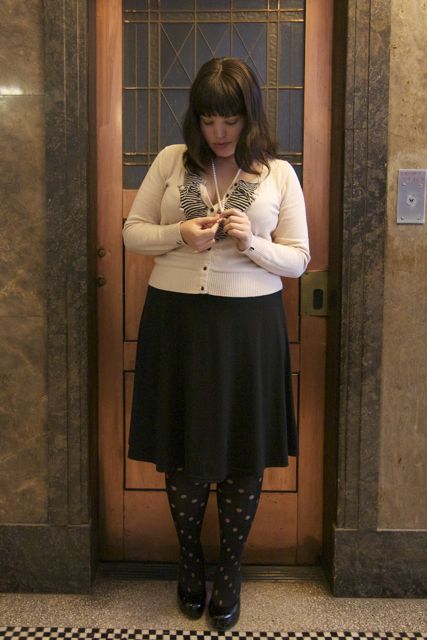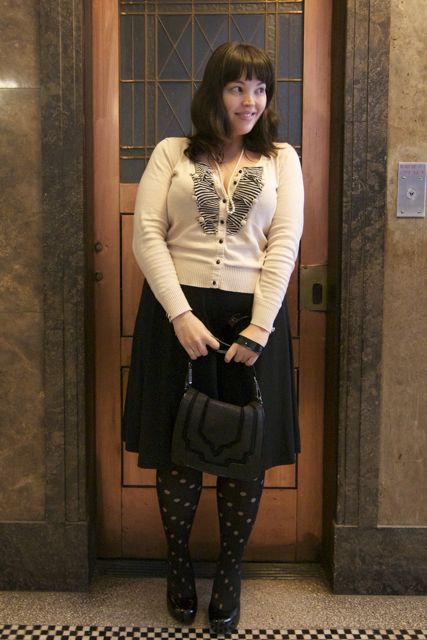 Cardigan: Friends of Couture
Skirt: Eliza Parker
Stockings: Voodoo
Shoes: City Chic
There are a lot of things in my life I can't do without: Kisses. The feel of Suki's fur. Red shoes. Dresses. Chocolate. And handbags.
I don't blog my handbags very often, but I'm a bit obsessive about them. They have to be practical, beautiful, a bit different but still classic. Enough room for me to carry everything I need, but not so big I can't find anything in it.
I stalk handbags rather than impulse buying them (usually) which means that handbag purchases tend to be reasonably (for me!) few and far between.
This bag was definitely the exception.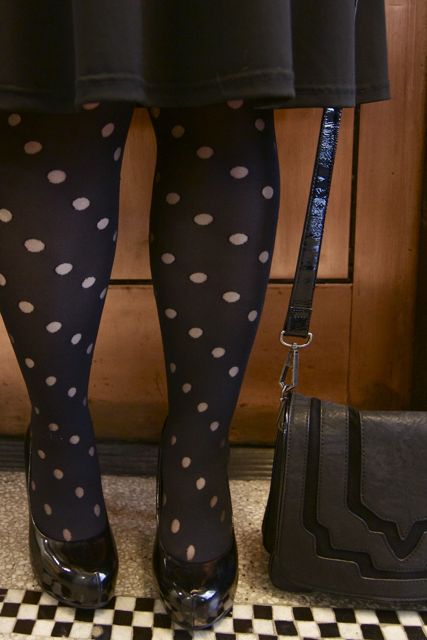 Handbag: Wayne by Wayne Cooper @ Myer
Two weeks previously I had bought a gorgeous handbag from Tilkah which had proved to be a lovely looking but stabby and was scratching up the underside of my forearm with its shiny gold frame.
I was persevering with it, because it had been a ridiculously expensive bag purchase and I couldn't bear to admit that maybe I should have just shelled out the extra $100 and bought the Nancybird handbag I'd had my eye on.
Then, one afternoon walking through Myer I spotted this Wayne Cooper bag. It fit all my criteria: It was big enough to carry a purse, two phones, a paperback novel and at least 32 lip balms. It did up with a flap, not a zip (because who actually zips a zippered handbag up again? I certainly don't!). It was black, so I wouldn't be rubbing my jeans off on it. Also, I liked the suede detailing on the front and that fact that the patent leather strap could be lengthened enough to wear the bag across my body.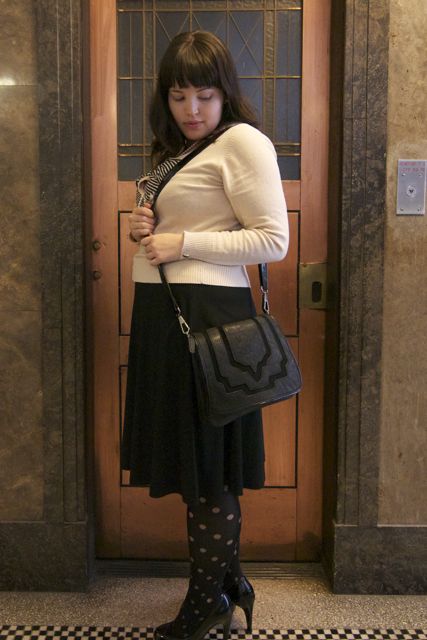 I bought it on the spot (It was on sale. And I had a voucher. I'm not usually this reckless, promise!) and I haven't regretted it for a moment. One thing to watch out for, and it might just be mine, by the lining's fraying quite badly on the inside. I'm going to see if the folks at Myer will swap it over for another since the bag's only a few weeks old, but if not I'll definitely be fixing it myself; I haven't been this happy with a handbag for years!