Dress: Kayemkay
Cardigan: Uniqlo
Tights: Walmart
Boots: Miz Mooz
This winter I seem to be wearing a lot of loose-fitting layers, and focussing more on comfort and volume in my outfits than my usual 50's style frocks and fitted silhouettes .
My trend towards a more contemporary style is probably down to the fact that it's been a good year for tights (BigW has had a great range of knit tights with interesting patterns and textures) and I think I've finally cracked the ankle-boot+wide-calf equation (the secret is having a bit of volume around the mouth of the boot).
I've got a few long cardigans in my wardrobe now, but I couldn't resist adding this snuggly grey number when I saw it in Uniqlo recently. It looks great layered over the light floral dress from Kayemkay. Add fleece-lined tights and ankle boots and you've got a warm outfit that's as stylish as it is comfortable.
I spent most of Saturday curled up in my sunroom with Suki on my lap, reading and mainlining cups of tea. Because the dress doesn't crush at all (and somehow manages to also be cat-fur repellant) when the time came to leave for dinner all I had to do was relocate my lap warmer, dust myself off, and walk out the door. Then come back IN the door, get my umbrella, and leave again.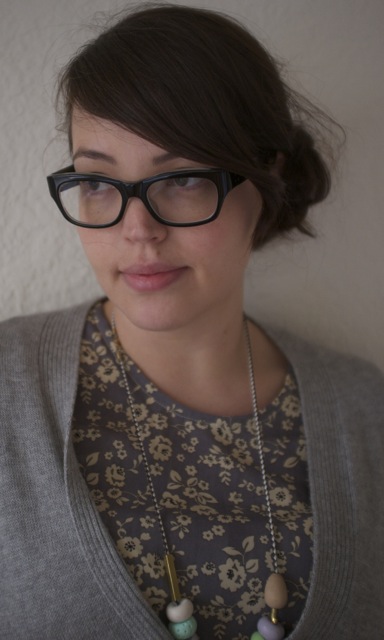 I wore it with my Made By Emily Green necklace, which added just the right amount of soft colour. I'm loving this season's pastel palettes, but I think I've finally come to terms with the fact that I just can't wear them as successfully as I'd like to.
This braided side bun hairstyle is getting a lot of mileage at the moment as my hair's starting to get a bit too long for most of my other favourite up-dos. Definitely time for a trim (or a whole new style?).
Stay tuned for my next hair tutorial! It looks way more complicated than it is.