Dress: Obus
Tights: Sonsee
Shoes: Chie Mihara
A month or so ago I was invited by the good folk at West Elm to participate in a crafty paper-petals workshop with blogger extraordinaire Pip Lincolne from Meet Me At Mikes.
I'm a big fan of Pip's – my company has published her books previously, and I've read her blog for years – but I've never had the opportunity to meet her before now. She's just as lovely and stylish in person as you'd expect, and she was wearing an absolutely killer black dress that I fell in love with instantly.
Pip told me it was called the Cordilerra dress, and it had come from Obus, which is one of those Indie-Hipster shops that I've always avoided on account of feeling not skinny, cool, or rich enough to venture into. Turns out the stores are actually pretty laid-back, the staff are some of the most helpful and friendly I've come across in Melbourne, and interestingly I can just about fit into their size "4".
I didn't MEAN to buy the dress… I just wanted to take a look, maybe see how they'd managed to cleverly construct a garment that gave both the illusion of volume but also daintiness, and was both classic, but also totally modern in style. Once I was in the store it seemed silly not to just try it on… see what it looked like… it probably wouldn't fit, anyway.
Well, obviously I ended up buying it.
The dress cost a ridiculous amount, but I was feeling a bit vulnerable, and it was nearly my birthday, and I'd just been paid, and Obus had a sale on, and anyway; it was a really classic style, and I was sure I'd get lots of wear our of it, and…. Oh hell, I just really wanted it, OK? Besides, it had pockets.
It's beautifully constructed from a wool blend with a teensy bit of stretch, and the bodice is fully lined. The balloon sleeves are magnificent, and while the skirt's a little short for my comfort (Eek! Knees!) the brevity of the hemline helps to balance out the volume of material up top.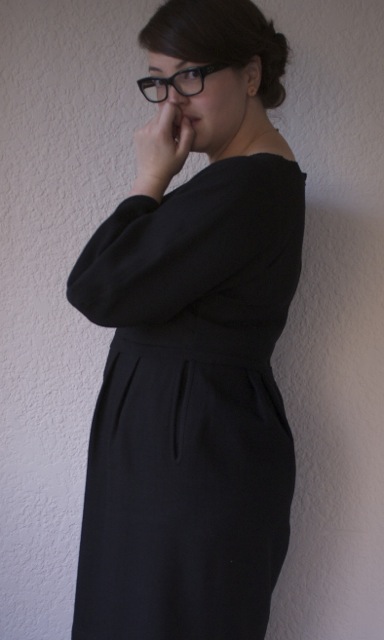 The dress hugs the pronounced curve of my lower back without any excess fabric, and the waist fits perfectly – it sits a little high at the front, but that's probably the Rack Of Doom (whose f-cupped glory looks positively petite, despite the high neckline).
I've probably worn this dress more than any one item in my wardrobe over the cooler months so far. The classic style just needs different accessories to mix it up: patterned tights, a belt, a long-sleeved top layered underneath. Today I wore it with my modern druzy necklace from Kim Lyon Jewelery, but it looks just as at home with a string of pearls, or a carefully curated collection of brooches.