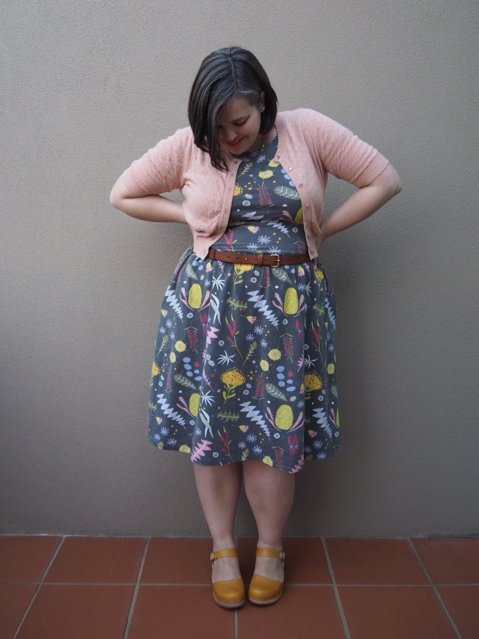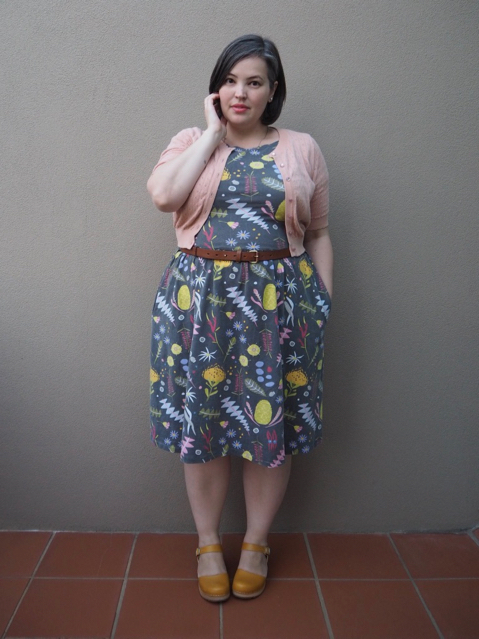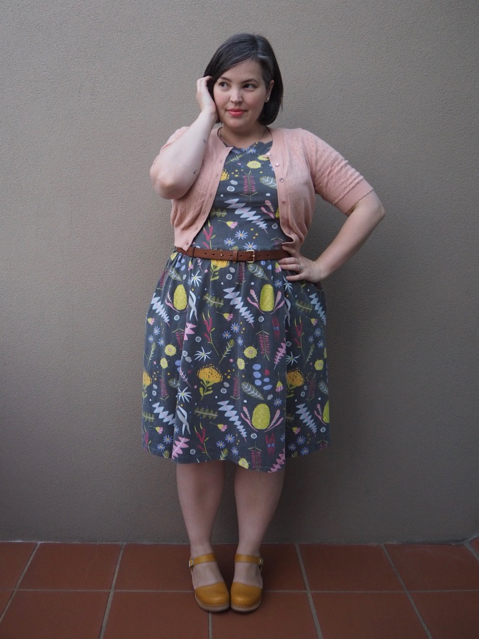 Moneta Dress: DIY from Colette Patterns & Spoonflower fabric
Belt: Trenery
Cardigan: Princess Highway
Shoes: Funkis Melbourne
It has been such a pleasure to get back into my sewing again. I've been experimenting with some new patterns, having a go a frankensteining some of my own, and dusting off a few old favourites.This is one of the latter.
I've made, er, I think five Moneta dresses now: Black cats, cockatoos, whales, a plain black one, and now this one. The pattern is starting to get that really fragile feel to it, so I'm going to have to transcribe it onto new paper if I want to keep sewing it. Which, obviously, I do.
Since Gorman's collaboration with Australian artist Dana Kinter I've been on the look-out for fabric that features native floral motifs (ideally from an Australian artist). If you follow me on Instagram, you know that I recently discovered the mother-load with Nerida Hansen (oh my God, more on that in a future post), but for a knit fabric it's really Spoonflower or bust.
I've had a lot of luck with Spoonflower in the past – it's expensive, but the range is unparalleled, the quality is fine (usually), and artists from all over the work can sell their designs there.
The fabric that I picked for this version of the Moneta dress was from Kara Cooper of Mount Vic and Me. It's a gorgeous graphic design that features brightly coloured Australian wildflowers, gum nuts, and blossoms and leaves on a rich black background.
Errr…. that's a black background. Guys? Black?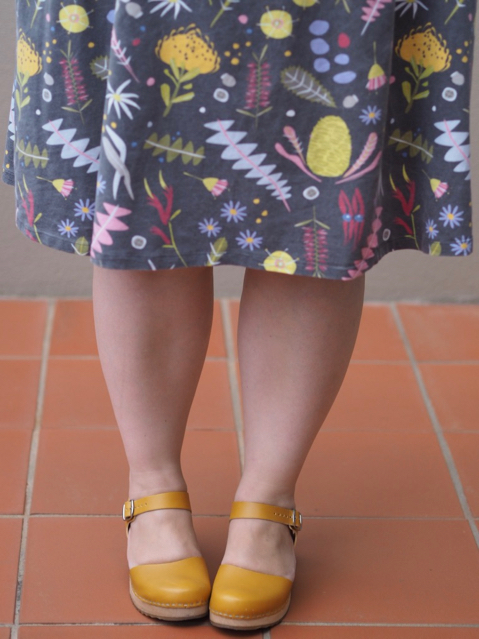 This is not a black background. And this is not the result of overzealous washing either, it arrived in my mailbox this colour.
And, look, it's fine. And I'm pretty sure it's just the fabric that I picked (cotton-spandex jersey, for the record), but I'd be lying if I didn't admit that I was a bit cross. I don't think I'll be buying another black-pigmented fabric from Spoonflower again, or at least not in the cotton jersey.
Still, the design is everything I hoped it would be, and once I got over my disappointment I realised how nicely the muted colours worked with a blush cardigan (or a yellow cardigan, or a grey cardigan).
And it goes beautifully with my new yellow clogs.
I bought a pair of Swedish Hasbeen clogs a good five years ago from Modcloth, and I'm embarrassed to admit that I can probably count the number of times I've worn them on one hand. I knew they were going to be a commitment: You have to break them in, the internet told me, then they'll be the most comfortable shoes you own. And I tried (sort of) but they were so uncomfortable after such short periods of time that I never got past the breaking-in stage.
I'd heard better reports from people about Funkis clogs, so when the team at Funkis Melbourne offered me a pair to road-test I thought I'd give them a whirl.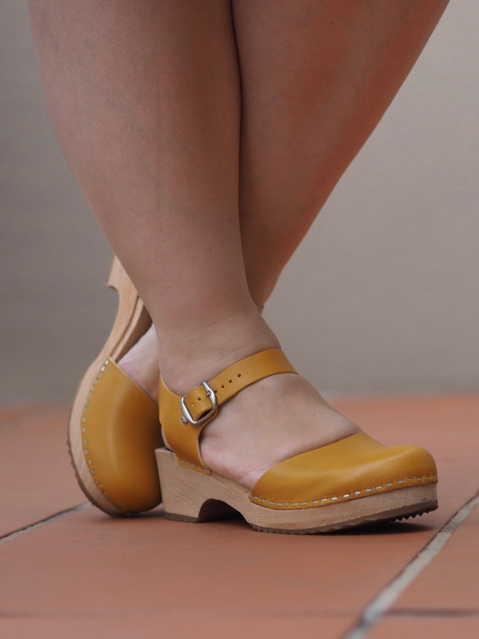 I got the Gertrude clogs in the mustard colour in my usual size 39 and guys, they're great. Everything that I'd hoped for from the Hasbeens and more.
They have a thicker rubber sole than the Hasbeens, and I can barely feel the road through them when I'm striding. The thicker sole also means that you don't get as much of that unmistakable clop-clop noise that usually accompanies clogs. The leather is a little bit softer, and softens more quickly, and they seem a little wider in the foot, which is good for me. The strap's just a teensy bit shorter than I'd ideally like, but it's loosening a bit with wear and I have very high arches, so it might not be an issue for many others.
The first day I wore them I packed a spare pair of shoes (just in case) but it turned out I didn't need them. They were perfectly wearable from the first step, and only started rubbing a little by the end of a hot 9 hour day. Every day that I've worn them since they've been more and more comfortable. In fact I'm so enamoured with them I'm pretty tempted to treat myself to a second pair. What do you reckon? The Josefina, or the Tilda? Or both?