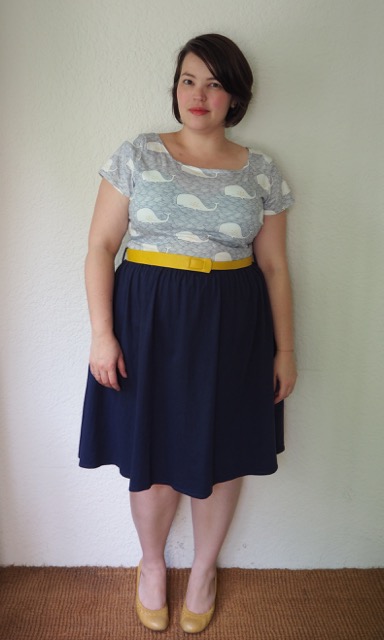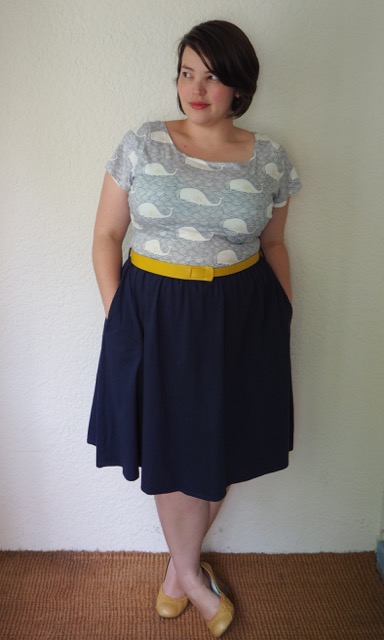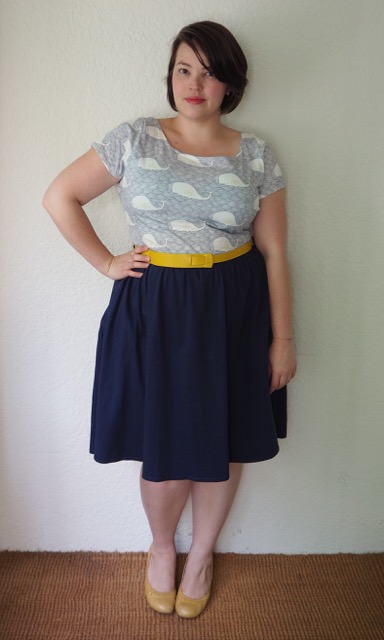 Dress: DIY "Moneta" from Colette Patterns
Belt: Ruby's Nest
Shoes: Seychelles
So it's official. I love, love, LOVE sewing with knit fabrics. The stretch gives a little more forgiveness with sizing, and I don't have to try and figure out tricky things like full bust adjustments to make it fit properly.
I'm an impatient and fairly amateur sewer, and I have a kind of short attention span; projects that can't be finished in one go tend to just languish half-done in my to-do pile until I decide that I don't like that style/pattern/fabric anymore.
After having made umpteen Colette Myrtle dresses I decided to see whether I could replicate my success with a second pattern from Colette's knit collection. It was a pretty easy decision to pick the Moneta dress pattern after seeing so many great iterations of the dress on the Curvy Sewing Collective (incidentally, if you haven't discovered this website yet, it's a downright fabulous community of plus size fashion bloggers and seamstresses who test and review sewing patterns from all over the world, and host sewalongs for beginner sewers.)
The Moneta is a really classic and versatile dress with a fitted bodice, wide scooped neckline, gathered skirt (pockets!) and a variety of sleeve lengths. It reminds me a lot of the simple jersey dresses that Asos was doing a couple of seasons ago. The difference being you can make it in the fabric of your choice… even a super-cute whale print fabric, if you know where to find it (Spotlight).
I decided to use the whale fabric up to, and have just a plain navy skirt below, giving the dress a two-for-one kind of effect. I think in the future I'll put the plain colour up top so as to not over emphasize my full bust (and yes – I already have another one planned!)
The pattern is just as straightforward as the Myrtle, but it's perhaps a leeeeetle less forgiving in terms of fit. I'll have to lengthen the waist next time (the instructions to do this are included in the pattern), and I'll taper the waist a little, as this version's just a bit saggy around my waist. To combat this I added my own little belt loops, as I'll need to wear this belted to give it the best shape.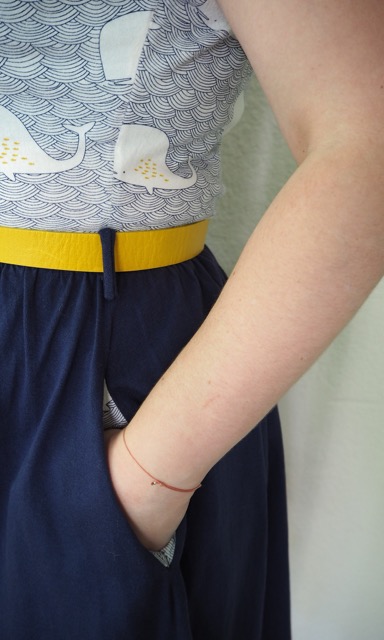 I had a teensy bit of the whale fabric left over after I cut my bodice and sleeve pieces, so I thought I'd use them in the pockets just for an added touch of whimsy.
All up, I think the Moneta pattern's going to be a winner, and I'm looking forward to really tweaking it into a perfect fit that I make again and again!