Dress: DIY from Colette "Myrtle" pattern
Belt: Dangerfield
I'm not a natural sewer; I'm too impatient and haphazard, and I don't really possess the skills to do things like full-bust alterations. I'm definitely not a measure-twice-cut-once kind of gal (more like a who-the-hell-measures-these-days kind). Despite my success with the Macaron dress pattern years previously I got a little burned with the last Colette dress that I attempted to make: the Peony had to be dramatically (and amateurishly) tweaked to be wearable, and even then I wasn't that happy with the results.
Colette launched the Myrtle dress pattern in July this year with some gorgeous shots of a curvy young woman in a draped white dress. With its cowl-neck, blouson bodice and elasticised waist it looked like a dress with a forgiving fit for beginning sewers, so I thought I'd buy some cheap jersey from Spotlight and give the pattern a whirl.
Colette's patterns are great for newbie dressmakers. The patterns come packaged with a booklet with very clear and concise illustrated instructions. The Colette website/blog provides heaps of basic tutorials, and there's even a step-by-step sew along that culminates in a great gallery of dresses made by the participants.
I picked a cheapie printed cotton jersey from Spotlight in a lovely burnt orange. The dress seems to take an inordinate amount of fabric (that cowl neck bodice is self-faced, so there's a bit of extra fabric in that) so I ended up spending a little bit more than I'd anticipated, but the result's a killer.
The elasticised waist is easy and comfortable, and the fact I'm short-waisted wasn't an issue due to the blousy effect of the bodice. The draped neckline flatters my figure by showing off collar bones without flashing my cleavage up and down the street. And (hurrah!) the dress even has pockets.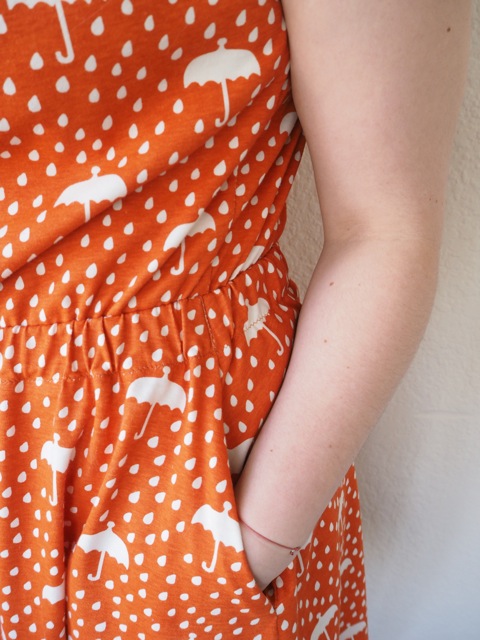 It took me a couple of hours from fabric to frock, and that includes time acquainting myself with my new sewing machine, and unpicking and resewing the bodice to he skirt three times (I keeps sewing it on inside out. Don't ask me how… it was late.)
I was so delighted with the finished result that the first thing I did was go out and buy MORE jersey fabric so I could make a second version, slightly longer than the first.
This second Myrtle was made of a much softer knit fabric, so the drape on the neckline is deeper and more pronounced. The longer hemline gives it an elegance that makes it perfect for a special event, so I played up the glam factor with a sparkly brooch pinned at the waistband and my best bling from Totally Jewel.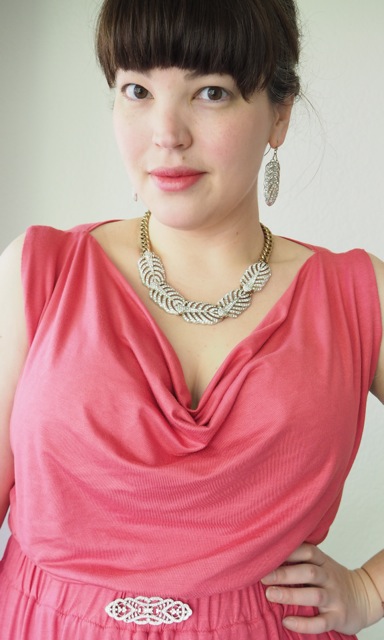 Necklace & Earrings from Totally Jewel
All up – fabric, elastic and thread – the dress cost me about $14 which is a steal in anyone's book, and now that I'm confident with the pattern I'm already planning to make a third Myrtlw with a special (i.e. spendy) fabric that I've ordered from Spoonflower.