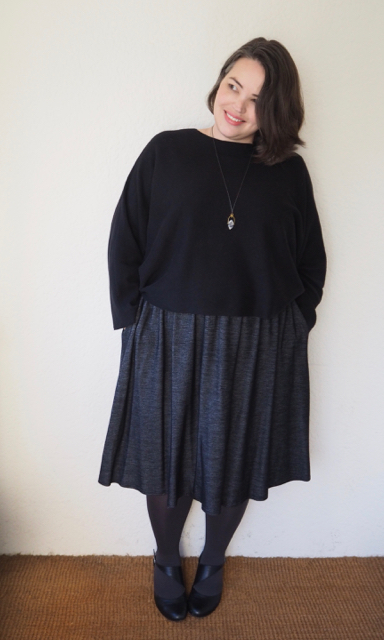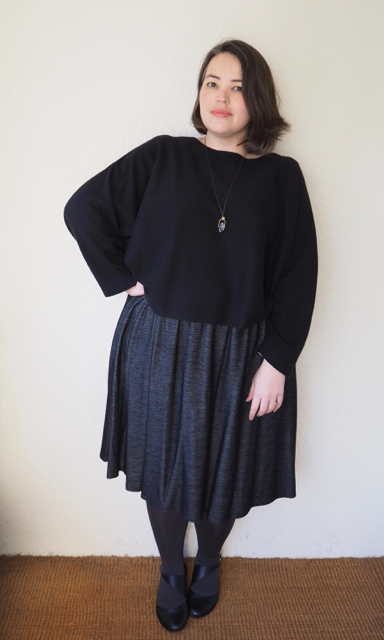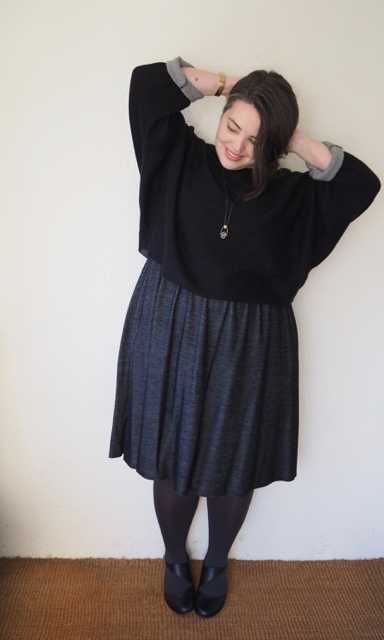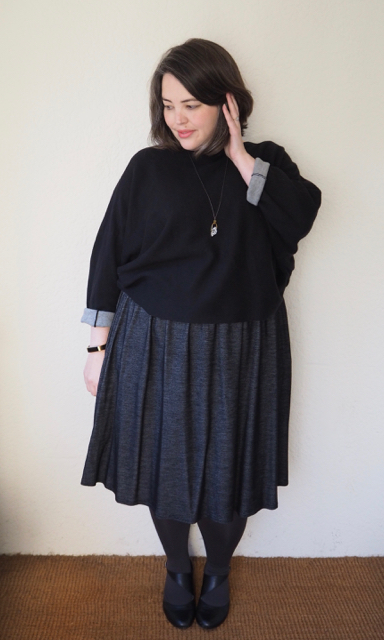 Dress: DIY from Colette Moneta pattern
Shoes: Comfortview
There's something about winter that makes me crave comfort. Also summer. And spring. And autumn, I guess.
This layered outfit is – to the surprise of no one, I'm sure – a Very Comfortable Outfit. It's snuggly and warm, and shapeless (but, like, the good kind of shapeless), and it's basically been my unofficial uniform since the weather got cold.
I've been living in my Sonsee opaque tights rather than trousers this year. I've blogged about my undying love for Sonsee before. They're a wonderful, local company founded in 2013 by the very lovely Vanessa, and since then they've gone from strength to strength. The success of Sonsee is in no small part down to the fact that their tights are – hands down – the most comfortable, long-wearing, stretchy tights I've ever, ever tried (and trust me: I've tried a lot.) You can read my original review here – It's worth clicking through just to see me fitting both legs into one side of the tights… Sonsee is really stretchy, guys – and I just want to let you know: That pair of tights I'm wearing in that photo from 2013? I'm still wearing them.
In 2015 Vanessa appeared on the first Australian episode of Shark Tank, and won the support of entrepreneur Naomi Simson. It's a partnership that's allowed Sonsee to expand their product range into intimates and activewear, which allows me to live in my Sonsee tights in winter, and my Sonsee anti-chafing shorts in summer.
They've also had a bit of a brand refresh, and I'm really liking the elegant new packaging. Online orders come wrapped up like a present in a shiny gift box, which is a nice little addition for shoppers (plus you can save $10 off your first order by signing up to their mailing list).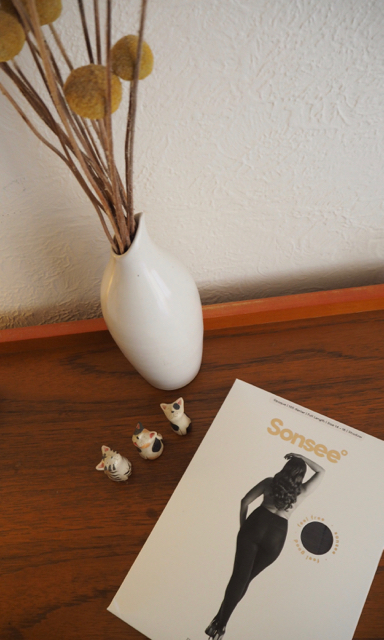 Meanwhile. Have you ever just blown off an unfamiliar shop because you were sure they'd either be too expensive, or too small in size? It turns out I've been doing that with Tirelli, which has a fairly schmick and intimidating-looking shopfront in Melbourne Central. The windows are full of the kind of layered, architectural designs that I've been loving lately, but I was so sure their largest size would be a 12, and their prices would have an extra 0 at the end of them, that I've never been brave enough to go inside.
A couple of weeks ago I saw this reversible knit in the window, and thought maybe I'd just have a tiny squiz. I ended up being pleasantly surprised – Tirelli goes up to a size XXL, which is supposedly a 16, but the shapes and cuts actually work fine for curvier bodies. It reminds me a little of the kind of fashion coming out of Universal Standard, Elvi and Coverstory, and oh man: I'd love to see more of it in the shops, because that kind of voluminous stuff either works, or it really doesn't, and you never know unless you try it on.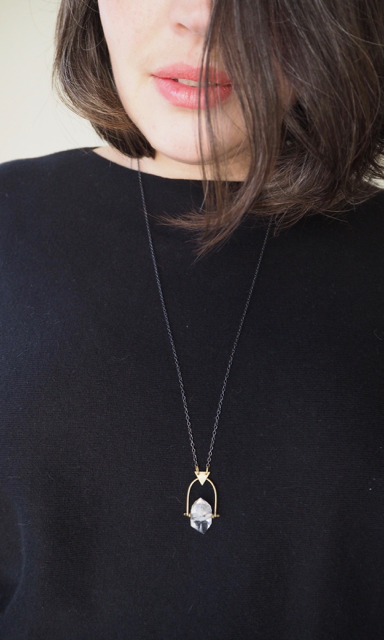 Necklace: FoxtailBoutique
Finally, feast your eyes and your fidgety fingers on my current favourite piece of jewellery. This faceted crystal spinner necklace was a self-gift from Etsy, and I adore it. The crystal spins freely with a little nudge, and I find myself twiddling with it non-stop whenever I wear it. It's basically a classy, stylish, wearable fidget spinner.
Save
Save
Save
Save