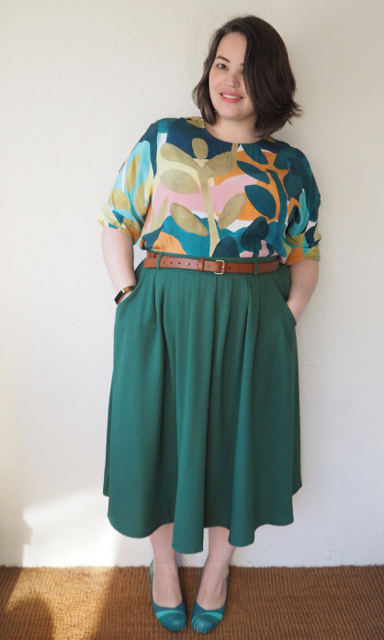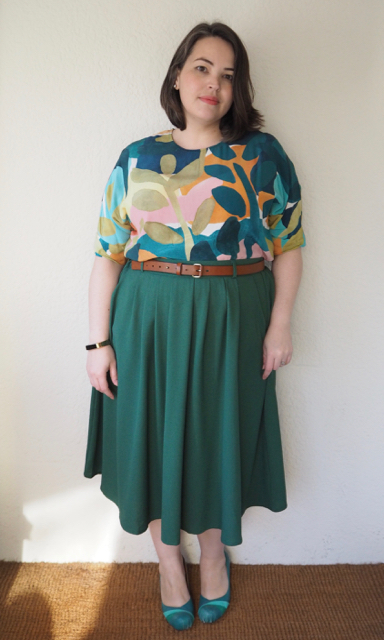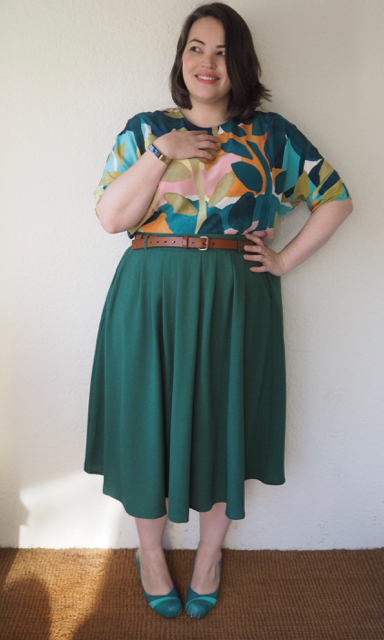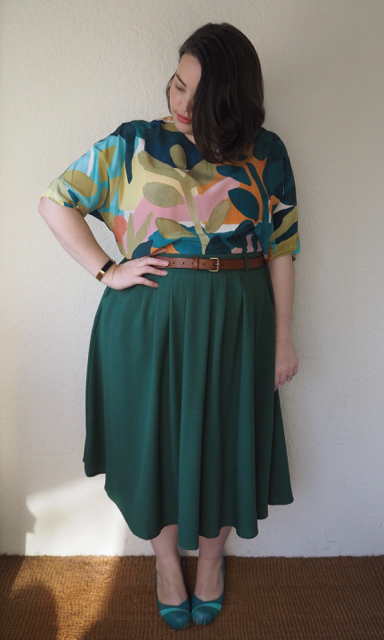 Top: Variety Hour
Belt: Sportscraft
Shoes: Chie Mihara
Since 2008 (!) when I first started Frocks and Frou Frou, the offerings available for plus size women has just grown and grown and grown, but there's still some glaring gaps in the market.
I love local indie designers Obus and Gorman (and Miranda Murphy, and Wolf and Mishka, and about eleventy hundred more hipster-cool brands that pop up at design markets) but one of the main things that they seem to share – apart from great prints and contemporary cuts – is the inability to go above a size 14.
Guy, I love prints, but I've reached a point where I need more than polkadots, stripes, and florals. I want abstract shapes, and geometric lines, and textile designs not just prints, and honestly, I'm finding them very few and far between.
There's a girl who works in my office (with the most magnificent tumble-down, golden-red curls you've ever seen – if you know her, her you'll know who I'm talking about). She's absolutely lovely, and wears all the amazing kinds of cool prints and cuts that I wish I could squeeze myself into. There's one particular top that she wears with some regularity, and when I told her how much I admired it she told me it was from Melbourne-based textile designer Cassie Byrne. The name rang a bell a few weeks later when I stumbled across Cassie herself at the Finders Keepers Market.
Cassie graduated RMIT in 2014, and has since worked as a freelance designer for clients including Beci Orpin, Milk and Sugar and Kuwaii. Her own brand, Variety Hour, offers cushions, bags, scarves and clothing printed with her bold and beautiful artwork which is often inspired by rock formations and natural fauna and flora.
I couldn't resist trying one of the tops on… just in case… and was totally delighted to discover that the XL was forgiving enough to fit the Rack of Doom. It's a boxy, flowing fit with a tapered waist and cuffed dolman sleeves and I wanted it in all of the prints, but limited myself to one – the Tropica.
Inspired by the sub-tropical rainforest of Gondwana, the print was hand painted using pigment inks, then printed in Melbourne on a lovely silk crepe de chine that drapes beautifully, and has held its colour and shape brilliantly over repeated wears and washes.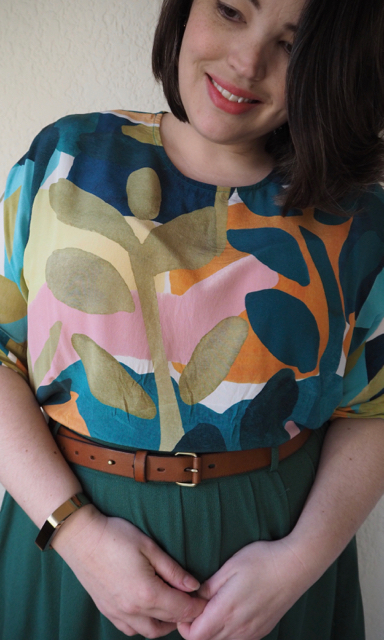 It's has the colour and print that I've always loved, but with a bit of uniqueness and maturity that late-thirties-me appreciates. It's definitely one of the more expensive pieces in my wardrobe, but has already proven itself worth the investment.
It was pretty exciting to see that earlier this year Variety Hour was picked up by US cult favourites, Anthropologie (including this top!), and I'm looking forward to seeing what comes next for this wonderful, local designer.
Save