Tights: Sonsee
Shoes: Ziera
I'm sorry for how quiet it's been on here lately. I've had a challenging couple of months, and it's been monopolising my head-space a bit. Everything's fine in the general scheme of things, and thank you to everyone who's taken the time to leave a comment or sent me an email – I'm AOK, just a bit scattered and spread thin.
I'm looking forward to the warmer months, and the return of daylight savings. I miss walking home in the evenings (and being able to get my washing dry on the line!). In the meanwhile I'm getting plenty of wear out of this sweater dress, which I bought from Asos Curve at the start of winter.
I've been looking for a boxy, comfortable sweater dress for a while – the sort of thing I can mooch about it in over the weekend, but is perfectly suitable to also wear to work. I sized up, because I wanted to play up the oversize angle, and it actually looks a lot nicer in person than it does in these photos.
Teamed with a pair of trusty Sonsee tights and ankle boots, it's the sort of easy outfit that I can throw on and be happy with (even if I'm one of those I-hate-every-item-of-clothing-that-I-own cycles that I only ever seem to fall into when I'm running late for work).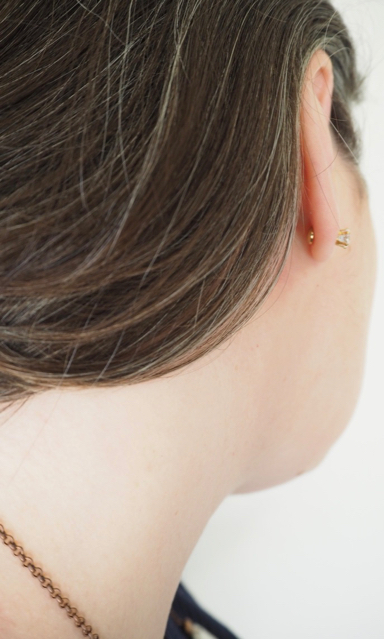 I recently bought a couple of pairs of earrings from a company called ComfyEarrings, and I'll be honest: I'm never going back to regular studs.
I'm one of those lazy people who shower and sleep in their jewellery, and if you're like me I probably don't have to explain how uncomfortable it is to sleep in a pair of earrings with long posts that stab you in the neck while you're sleeping (or when you're holding the phone up to your ear for that matter). ComfyEarrings have a flat screw-back that sits flush against your lobe, so you can – in all seriousness – just forget that you're wearing them. It's a similar mechanism to the tiny labret or tragus studs which have been designed for nose or cartilage piercings, but the stud size is more like a traditional earring.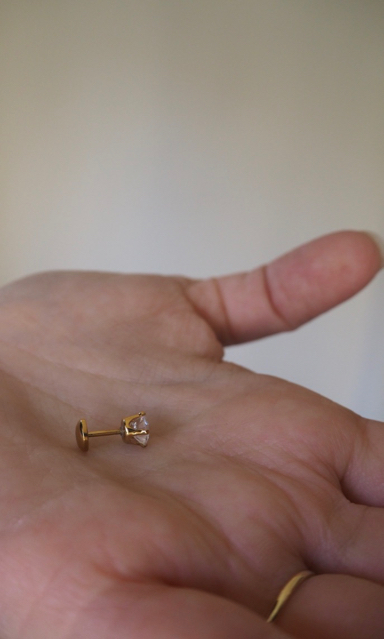 They're a small company, and totally lovely. I've ordered from them twice now and have been really happy with both experiences (and delighted with the earrings). Shipping is fast and affordable, everything arrived beautifully packaged (you get extra backs, which is helpful because they can be a bit fiddly). I've been wearing the prong-set crystals non-stop for well over a month now, and they still look brand-new.
The other piece of jewellery that I'm wearing is a porcelain necklace that I – believe it or not – made myself.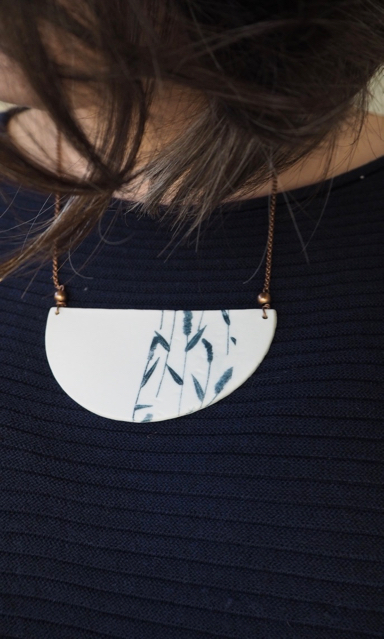 Over the past couple of months I've done a few weekend craft classes. I've done a pottery class, a patisserie class, a polymer clay class, and this one: a porcelain class. (They all start with P – how funny, I didn't realise until just then.)
It was a really easy and fun afternoon to spend with one of my best friends, and I was really happy with how this ended up.
Keeping myself entertained over the weekend has been part of my self-care strategy recently – along with trash TV, escapist books, and long baths.
And on that note, I'm off to have a long soak in the tub thanks to Butt Naked Skinfood who sent me a sachet of Himalayan and Lavender Scrub to enjoy. This Melbourne-based company makes lovely vegan, organic, and cruelty-free skin care products (and donate 5% of their profits to the Melbourne Animal shelter Save-A-Dog scheme).
The Himalayan and Lavender Scrub is a divinely fragrance mix that consists of Himalayan rock salt, sea salt, lavender and grapeseed oils, and it's supposed to help with day-to-day stresses. You can use it as a scrub if you don't have a bathtub, and I can highly recommend it both ways.