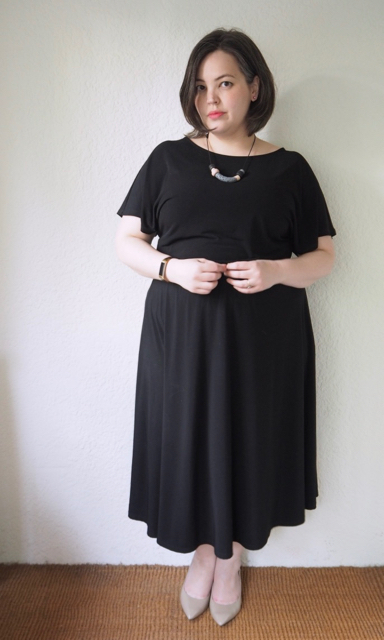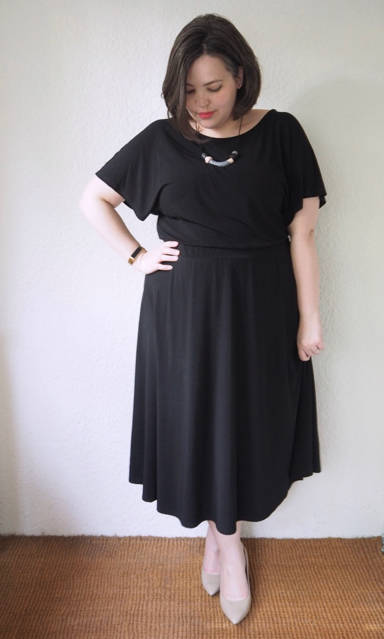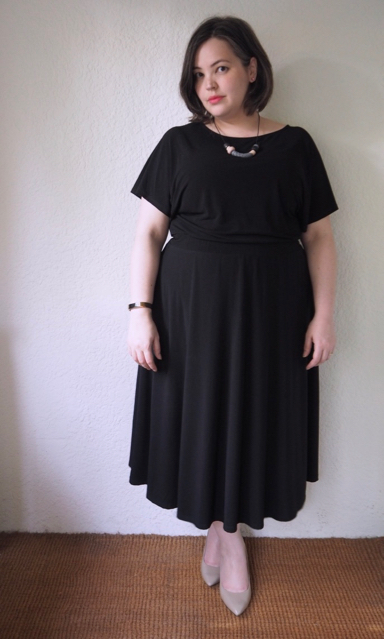 Dress: Eloquii (available here in red)
It finally feel like spring in Melbourne. Daylight Savings kicked off over the weekend, and with it has come warmer weather, and sun. It couldn't have come at a better time.
It's been a long, cold, miserable winter, and a difficult one too. Thank you to everyone who left a comment or sent and email or a message on Facebook. I'm OK. I've been dealing with some really crappy health-related stuff in my Real Life which been taking up a lot of my mental space, and has given my hard-won body positivism a thorough kicking. It's not something I really want to talk about at the moment (I hope you'll forgive me for the vague-blogging) but rest assured I'm doing fine.
This week is probably the first time in months that I've felt like myself, and I'm definitely hoping to start writing a bit more regularly… thank you all for being so patient!
So, on that note: Eloquii is an independently-run online store that specializes in plus sizes. It was started in 2011 by The Limited, who decided to bail out less than two years later. Five of the original staff members, including designer Jodi Arnold, decided to relaunch the company, and in 2014 they managed to do so. Eloquii's fashion-forward range made it a popular choice for plus-size fashionistas in the US, but it wasn't until earlier this year that they started offering international shipping.
As soon as I found out I jumped on the site, and trawled the vast selection on offer. Eventually I decided to play it safe, and ordered this short-sleeved midi dress in black.
It's a simply and flattering cut with fluttery sleeves and an elasticised waistband. The fabric's a light knit that could probably survive a nuclear blast and come out the other side unwrinkled. It's perfect for squishing into suitcases, and can easily be dressed up or down.
I was really impressed with the speed of delivery from Eloquii, and the quality of the dress is excellent. The range at Eloquii is enormous and varied. It's often very trend-based, so there's a few misses among the hits, but with regular site-wide sales, reasonable International shipping costs, and one of the more inclusive size-ranges on the market, it's definitely on my go-to list for online shopping.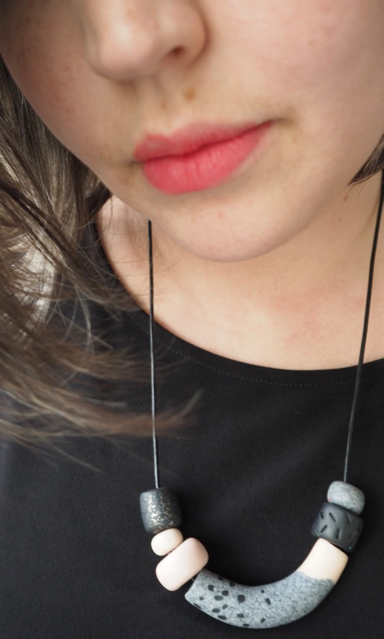 Necklace: Made by me!
Just a quick close-up of my necklace to finish off.
I mentioned in my last post (oh, er, nearly two months ago) that I've been doing a stack of craft short-courses over the weekends. One of the classes I've done recently is a polymer clay beading class with Sheree McCready of Polly Collective.
For my dear friend Fiona's birthday this year I bought us passes for one of Sheree's jewellery workshops, and we had so much fun, and learned so many great tips that over the last weekend we got together with a couple of other friends and had a crafternoon putting our skills to the test.
I made this black, grey and blush necklace (learning how to do tubular beads has rocked my world, let me tell you) and also a second bead necklace inspired by the art of Cassie Byrnes (who I've talked about before, here).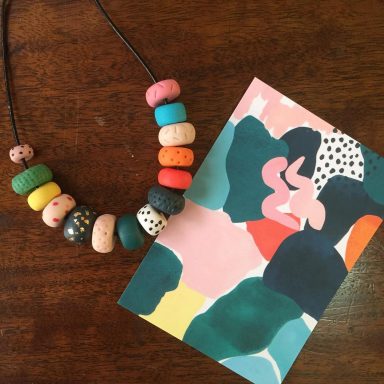 I would 100% encourage you to check out the Polly Collective workshops if you're in Melbourne and looking for a fun way to spend a weekend.