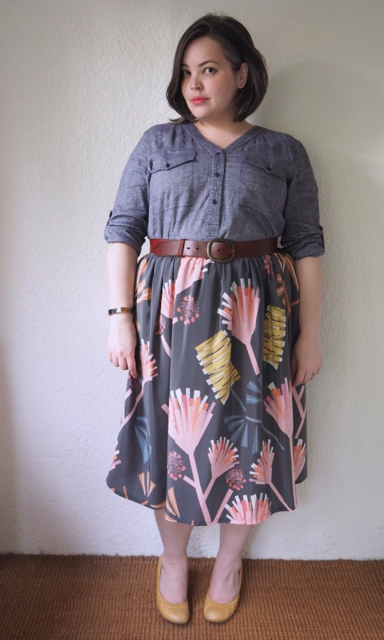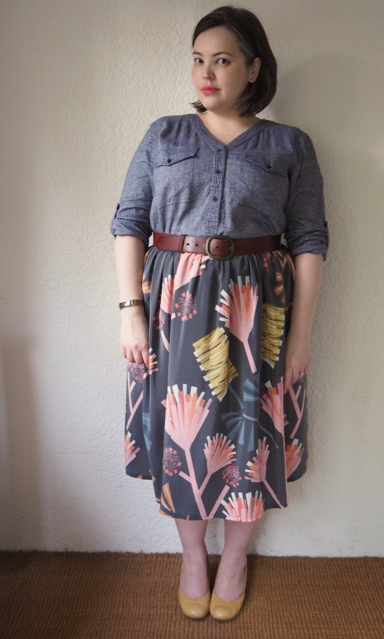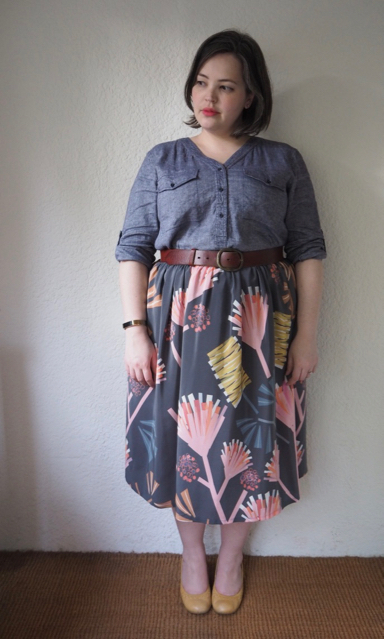 Top: Trenery
Skirt: Doops Designs (also available in cotton here)
Belt: City Chic
Shoes: Seychelles
I'm ashamed to admit that when I was younger I found Australian native plants desperate and scraggly-looking compared to their European counterparts. I preferred roses to gum blossoms, tulips to waratahs.
As I've grown up the beauty of the Australian landscape has grown on me. Every year I look forward to seeing the wattle bloom in spring, will pull over to cut a branch from a flowering eucalyptus. There's nothing quite like the colour of the Australian sky.
Recently I've been on the hunt for more clothes and accessories with Australian native motifs, and my search brought me to Doops Designs, a gorgeous range of hand screen-printed textiles, clothes, and homewares designed by a local artist named Jane Newham.
I kind of want one of everything (Confetti! Banksias! Chubby bathing ladies!) but decided to start with the Protea skirt. It's not an Australian native (thought it looks like it's been teamed with banksias?) but it's pretty close. The skirt is available in both a cotton and a silk fabric, but after some deliberation I went with the silk – it's a bit more expensive, but I thought the soft drape would better flatter my figure.
The skirt is a very basic, boxy cut and has an elasticized waistband. It's very simple and low fuss, but beautifully made and finished. I was surprised with the base colour of the skirt when I received it – I had expected it to be a much darker grey, but the muted shade is probably actually more versatile. It dresses up and down, depending on whether you wear it with a casual tee, or a more tailored short or blouse.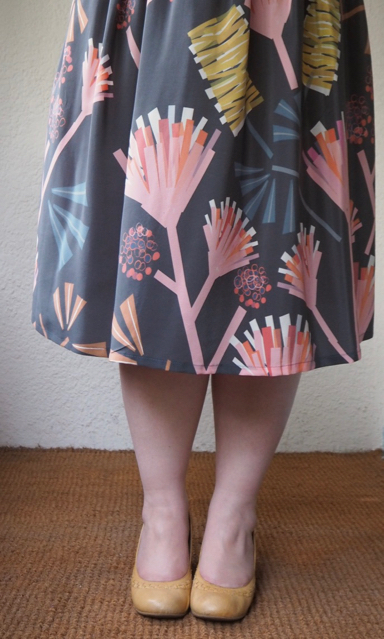 Doops Designs are printed with eco-friendly solvent free inks, use ethically sourced fabrics, and produced in a way to reduce their carbon footprint. Which is all lovely. And also lovely is the size range: Jane's clothing is available up to an XXXL – an Australian size 20, or a 42″ waist (which can comfortably stretch larger).
An independent Australian textile designer, with ethical production values and an inclusive size range? More of this, please!