Shoes: Swedish Hasbeens
It's been a whirlwind month, and I can't believe that Christmas is breathing down our necks already. I'm looking forward to taking a break, and recovering a bit from the past twelve months. 2017 has been, to be frank, a bit of a bitch.
At least it's ending on a high… my lovely Mister and I have finally put a deposit down on our very own place! So, one more move, one more Wall, one more change of address, and we'll be in our Forever (for now) Home.
It's exciting and a bit intimidating, and wonderful. It's something I've wanted for so long now, and a life goal that I thought was never going to happen.
I'll miss my little home here: it signifies the first time that I've lived by myself for any extended period of time and the first space that I've been able to make entirely my own. I've loved everything from the beautiful light in the sun room (I'll miss having such a perfect place to take my blog photos!) to the tall ceilings, the deep bath… even the ancient oven. Well, maybe not so much the ancient oven.
I'm excited about the next chapter though, and excited about taking the next step in my life. I'm nearly forty – maybe I'll start feeling like a grown-up now I'm also a home-owner (probably not).
Anyhoo…
This is the second top that I've bought from Cassie Byrnes of Variety Hour (you can see the first one here) and it's rapidly become one of my favourite pieces in my wardrobe. The baby protea print is from original art hand painted using pigment inks and gouache. Unlike my previous top, this one is made from viscose fabric rather than silk, and to be honest I prefer the heavy drape (it also doesn't crease quite as much). It's the same boxy cut, with dolman sleeves, and a tapered waist that hits me low on my hips.
I'm wearing the size L, but I was delighted to see that Cassie is now doing an XL in her tops, and I'm probably (definitely) going to try the larger size when I see the new range at the Big Design Market here in Melbourne in a few weeks.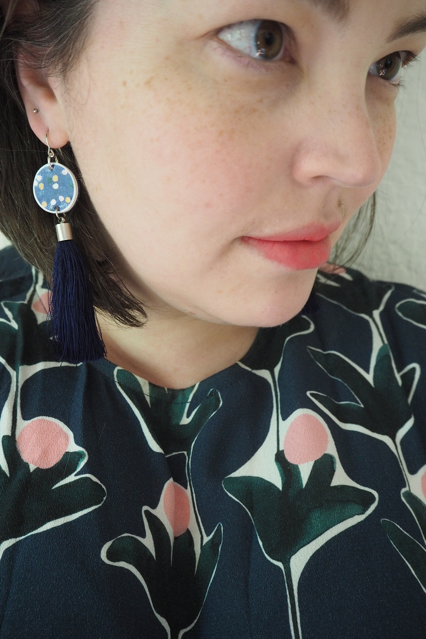 Earrings: Next Romance
Speaking of markets, I bought these fabulous tassel earrings at the Finders Keepers market a month or so ago.
I've been pretty much living in my Comfy Earrings ever since I discovered them in August but I couldn't resist these after I saw them. They're light and swishy and stytlish, and they'll make a great statement piece to wear with some of my simpler outfits.
Save