Trousers: Yours Clothing
Belt: City Chic
Shoes: FitFlops
Merry Christmas! Happy New Year! Etc! Etc!
Can you believe it's 2018 already? Yeah, me neither.
Last year was a bit of a write-off, to be honest, but it ended in an absolute BANG with the Mister and I finally making an offer on our Very Own House.
We booked the truck, packed the boxes, and made the move, all in the whirlwind lead-up to Christmas, so you'll have to excuse my absence over the holiday period. It's been a busy couple of months.
2018's New Year's Resolutions include Try to Blog More Often (I used to blog three times a week. A WEEK. Surely I can manage at least once a fortnight.) Now that we're not madly saving for a house deposit and spending our weekends at open houses I should have a bit more time and headspace for everything else.
I've been sitting on these photos since, umn, November. Hence the old Wall. This is the last time you'll see it.
I'm wearing a wonderful new boxy top from Tirelli, and it's probably my fifteenth stripy tee. But this one's, like, different, because it's got dropped sleeves (That's my story, and I'm sticking to it). It's a thin super stretchy fabric, great for very hot days, absolutely has to be tucked in, or it looks like a tent on anyone with boobs. I liked it enough that I also bought the square spot version, which is a cool, sort of grown-up take on polkadots.
I teamed it with cuffed chinos that I bought a year ago from Yours Clothing  and practically never wear. I think, maybe, I actually don't like trousers much. Jeans yes. Trousers, weirdly, no.
But I had it in my head that I wanted loafers (I bought comfy gold ones from FitFlops) and there's something about loafers and chinos that just seem to be made for each other.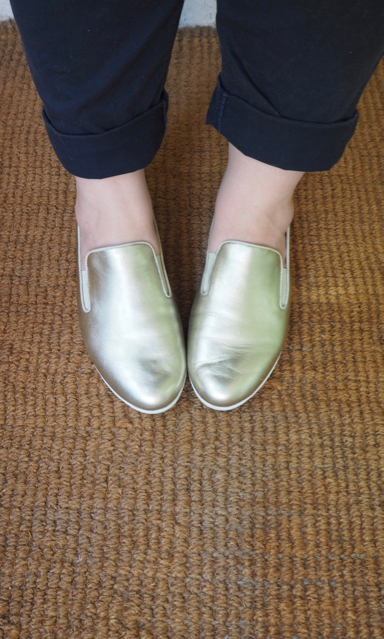 Shoes: FitFlops
It's a pretty basic outfit really, and needs some colour, so I added the DIY necklace that I made after my class with Sheree McCready of PollyCollective.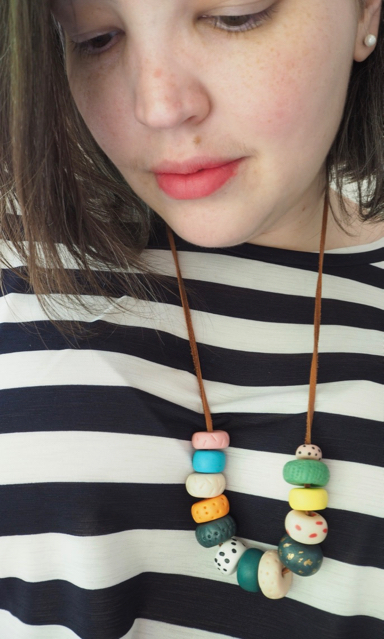 Necklace: DIY
Anyway. That's my rambly start to the year. I hope you all had a wonderful festive season, and here's to a better and brighter 2018.