Dress: Leona Edmiston
Tights: Sonsee Woman
Shoes: Easy Spirit
Tights are a necessary evil in my world. They fit poorly; sagging around the ankles and squeezing uncomfortably around the thigh. The waistbands are too high (or too low) and cut in. Or roll. The cost per wear is abysmal, I always seem to put a finger through them, trying to pull them up. But you have to wear them, because, WINTER.
Quite a few months ago I was invited to the launch of a new range of hosiery that was being designed for plus-size women.  I was hopeful that it might include some great patterned tights: polkadots, stripes, mock suspenders. Every season I seem to go hunting for these – trying new brand after new brand – and I always seem to end up slightly disappointed by the fit or the quality. Even the brands that are supposedly doing "plus sizes" seem to cater for the market by simply adding a few inches to the leg and a bum-panel to the brief. Not helpful at all for those of us with full thighs.
It turned out Sonsee Woman wasn't doing printed hosiery… they were doing something better: pantyhose that FITS.
The team behind Sonsee are well experienced in the world of tights and hosiery – designing, sourcing and manufacturing "in-house" tights for a number of key Australian fashion labels – and in their travels around Italy they came across a new "ultra stretch" technology that they thought would revolutionise the hosiery market for plus-size women.
At the launch of Sonsee Woman the guests were invited to try the samples on for themselves in another room apart from the main event. I'm so glad they did, because when I tried the tights on for the first time I was blown away. Sonsee tights are absolutely amazing. Everything that they'd promised about the fit was absolute true.
The tights are waistband-free, so you can wear them high or low depending your own preference. The waistband doesn't roll, and the top sits flush against your skin creating a smooth line with no lumps or bumps.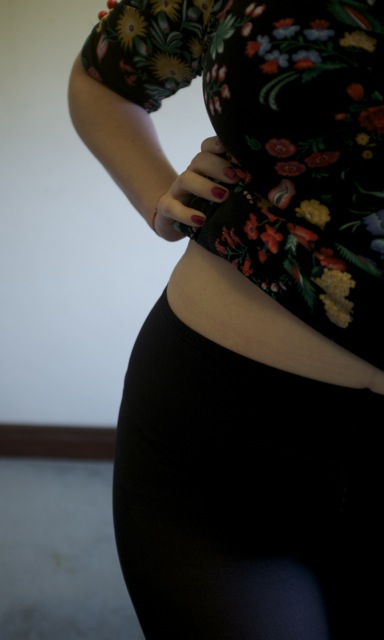 As you can see they don't cut in at all. The brief is so comfortable that you actually don't feel like you're wearing anything – none of that squeezing around the abdomen…. and no bum panel! If you're an apple shape there's still plenty of stretch on the waistband.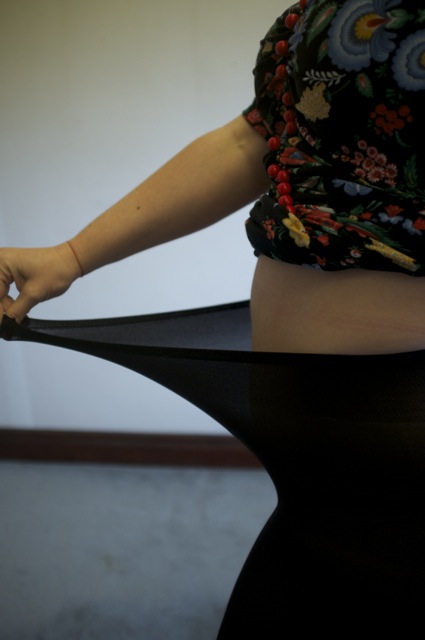 Still don't believe me about the stretch? Just for shits and giggles I thought I'd see exactly HOW "ultra" the "ultra stretch" was: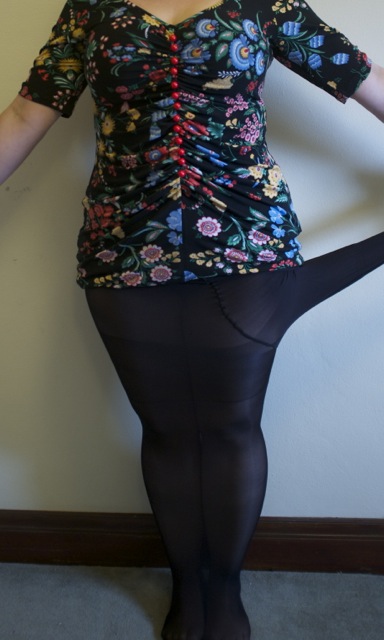 Yep. That's BOTH of my legs fitting into just ONE of the legs on the smallest size available at Sonsee Woman. And – for the record – the tights bounced back to their original shape immediately and I wore them for the rest of the day without any sagging or bagging around the knees or ankles.
At the moment the range is limited to a few classics: Sheers in grey, black and nude; semi-opaques (what I'm wearing here) in grey, black, navy and turquoise; a full opaque in black, grey, navy and hot pink; and a footless tight in black, grey, purple and brown. I'd love to see more colours and some prints and textures in the future, but for the moment I'm pretty happy to have a pair of sheers that don't feel like I'm being squeezed by a boa constrictor, and a pair of opaques that don't turn into sheers the second they hit my thighs.
I have one or two very small niggles: the seam at the front is a little prominent, and could show under thin fabrics, and because I'm at the smaller end of the size scale I do find that I need to hoik the tights up once or twice during the day. Both issues would probably be eliminated if a size down was available, so I'd love to hear if you've tried the range and what you thought of them!
The tights range from $19.95 for the sheers to $24.95 for the leggings, which is about standard for good quality Italian hosiery. At the moment they're only available from the online store, but Sonsee will sometimes offer special deals and competitions on their Facebook page and through Twitter. And they ship internationally, which is great news for Northern Hemisphericans who are about to head into the cooler months.
P.S. Can I just quickly add how much I love that the Sonsee Woman website shows their products on ACTUAL plus-sized women? What a novel idea!