I've got another double-header post for you today, with two UK based brands that I think are absolutely killing it at the moment: Elvi and Heist.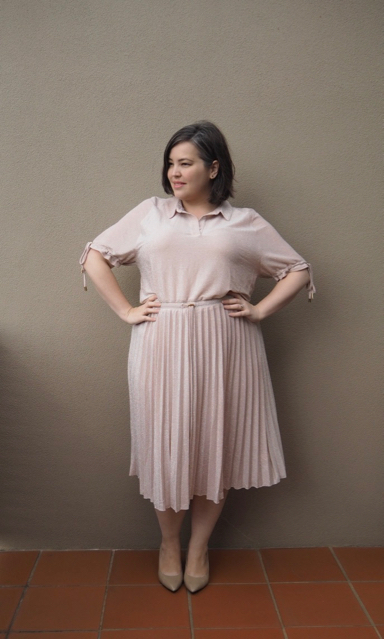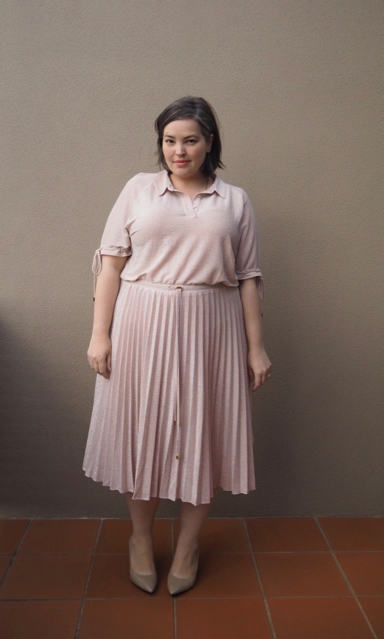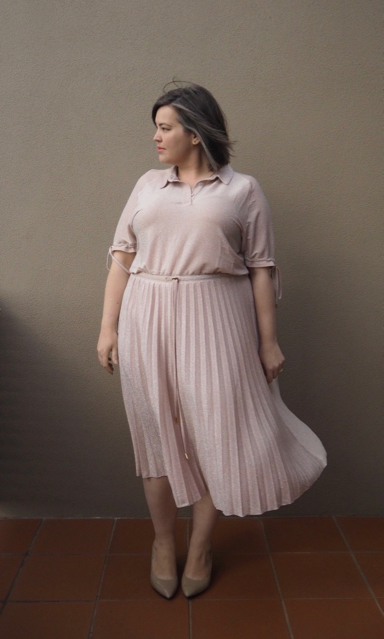 Dress: Elvi Clothing
Shoes: Rockport
First up is my favourite new inclusive clothing brand, Elvi. With classic styles, contemporary pieces, affordable prices, and a policy of doing every item in sizes from 8 to 28 Elvi has rocketed to the top of my shopping list lately.
They're pitching themselves straight at the fashion-conscious 30+ market, which means that you get a lot of classic styles with a bit of an edge. There's still the odd cold-shoulder (when will this trend die?) but by and large what's on offer at Elvi is well designed, on-trend, clothes that are designed to be worn for more than one season, and I for one am here for it.
I've been ogling their clothes for a couple of seasons now, and have regretted many missed opportunities that live on wistfully in my Pinterest feed, but as soon as I saw this dress I knew I had to add it to my wardrobe.
I like pastels, and I like pink, and I really like pleats, and if you throw all three of those things into a dress, then make it glitter I will basically love you forever.
The Rica Toggle Dress from Elvi is a dreamy 70's style blush confection with an elasticised waist, and functional golden toggles on the belt and sleeves that allow you to tighten and loosen at will. It's collared, so you can throw a cardigan or sweater over the top and dress it down, but it's the perfect dress for destination weddings (it doesn't crush), picnics (it's super comfortable), and candlelight dinners (it's so sparkly).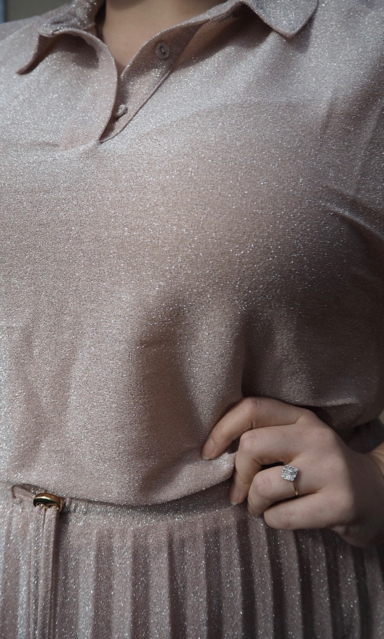 If you're imaging this little darling in your own wardrobe Elvi's given me a 20% off code to share – Lilli20% – which brings it down to a very reasonable $68AUD.
Or maybe you're tempted by something else on the site? Right now I'm obsessing over the Aspanina blouse, the Fonic Maxi Dress, and the Evelyn Organza midi dress (which, note to self, would make an amazing and affordable wedding dress if you happened to be looking for something casual).
I don't say this terribly often, but it's well worth exploring the Elvi site beyond the shop, too. One of my favourite things about the brand is their commitment to a broad range of sizes – not just in offering them, providing product photos of both straight and plus size women wearing the same style, and making sure everyone's paying the same price – but in including them in their marketing material.Take a look at the Elvi blog for some beautifully shot campaigns with models of all sizes, interviews with interesting women, and styling ideas.
So that's Elvi.
The second half of my post today is about Heist, which I'm reviewing by popular demand.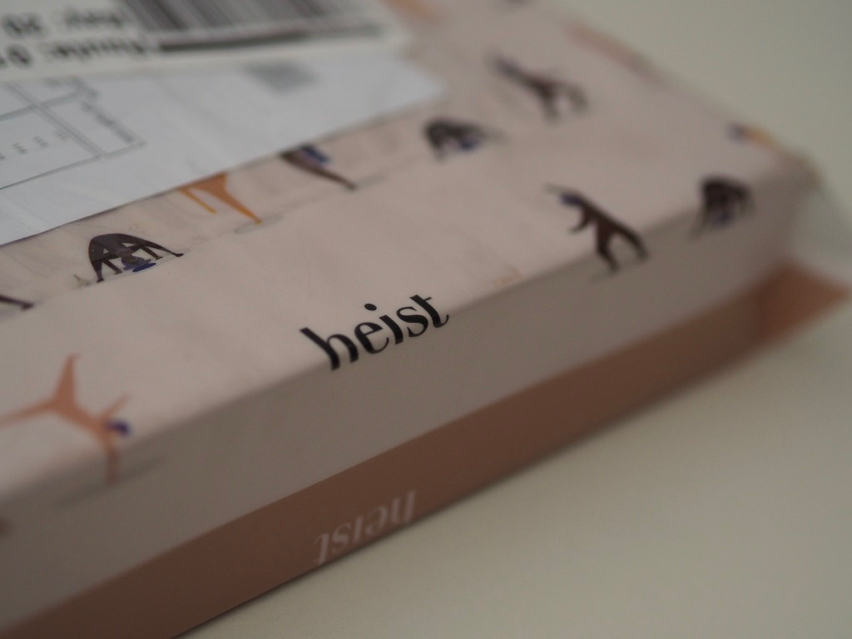 Heist's been on my radar for a while now, but it seemed to be one of those too-good-to-be-true products. Tights that don't cut in, roll down, or suffer from crotch creep? C'mon.
I'm a Sonsee devotee, as you know, and I'll probably always be a Sonsee devotee, but… guys… Heist.
They're UK based, they cost an arm and a leg, their stock levels are inconsistent, they only come in black and beige, and they're so so good.
My ordering experience went like this:
'Oh, that's out of stock in my size….Oh that's out of stock in my size too…. Hmn, so's that. OK, so I can order those. and this one…. Sorry, it's going to be how much? These tights had better be worth it.'
But, dear reader, they were.
Clearly a lot of the money is going into packaging, because what arrived on my doorstep a couple of weeks later was the most impeccably over the top packaged pantyhose I've ever seen.
First there was the box: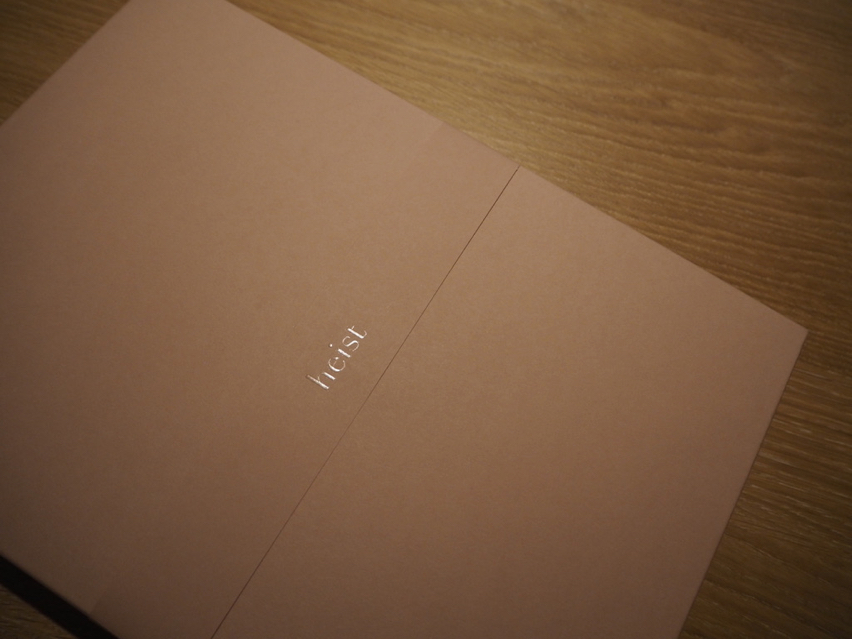 Inside the box were elegantly packaged envelopes: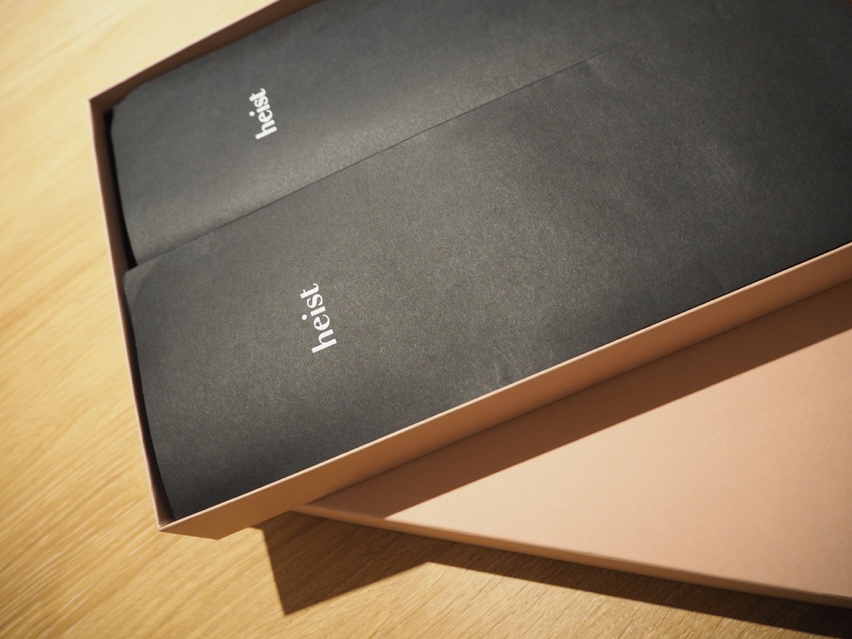 Underneath the elegantly packaged parcels were individual linen drawstring bags:
And (I was quite excited by this point) inside the black envelopes were both my tights and instructions for how to put them on: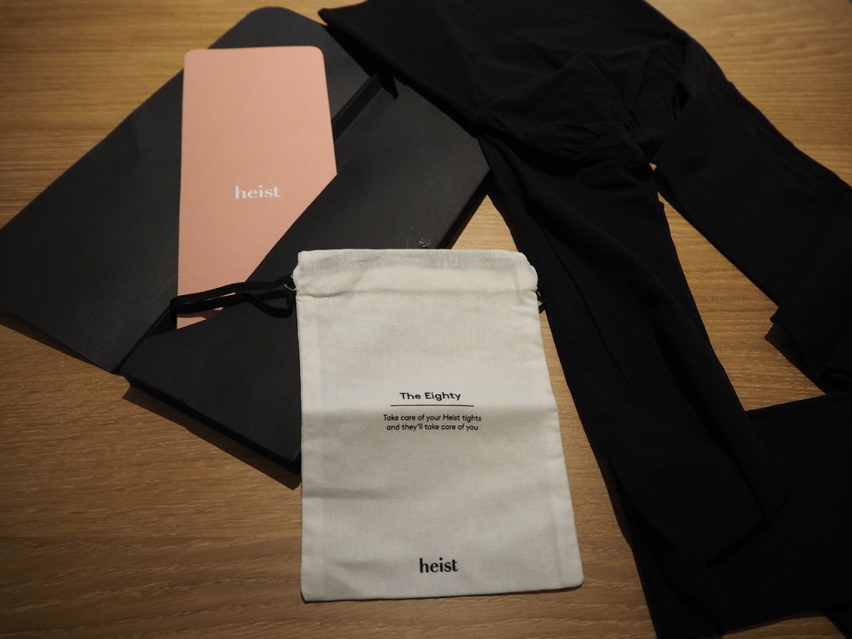 I live-tweeted it (I mentioned I was quite excited, right?)
It went: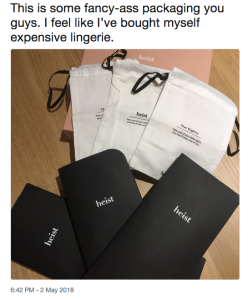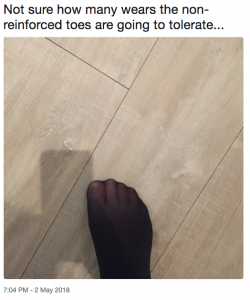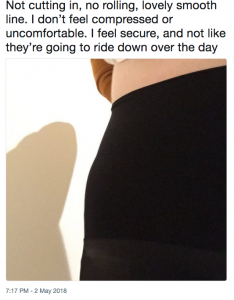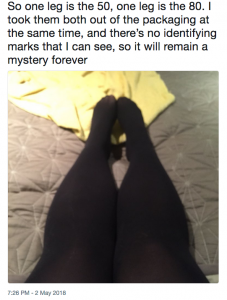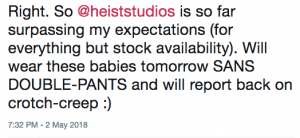 And the next day, my verdict was:

So, nearly a month of consistent wear later, I'm delighted to say that the official verdict on Heist tights is: WORTH IT.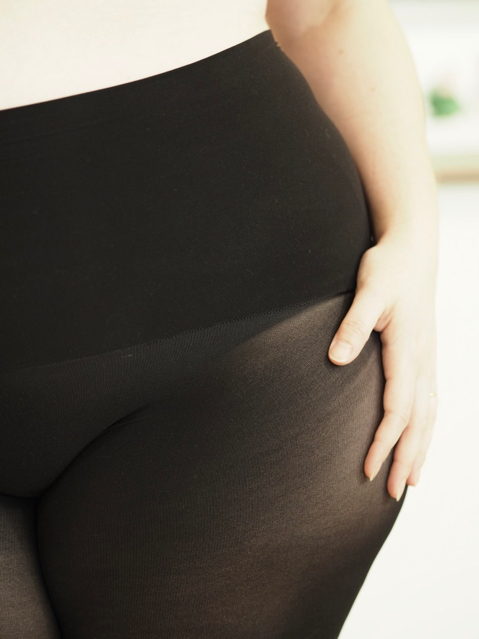 We're at the start of tight season here in Australia. Do yourself a favour, and treat yourself to a pair. You won't regret it.