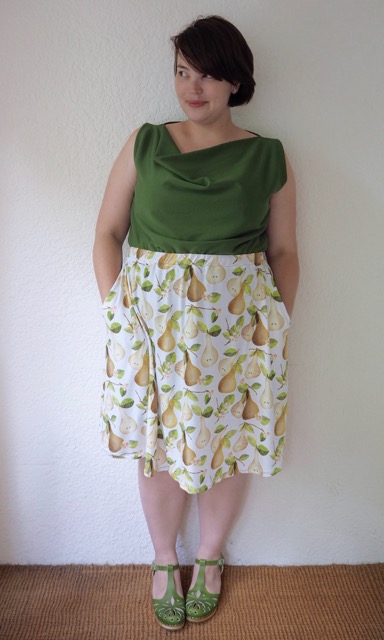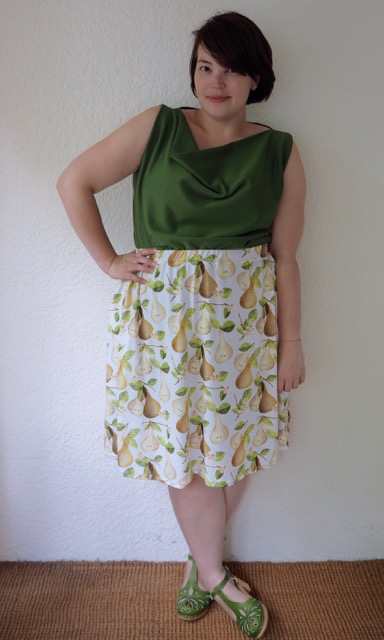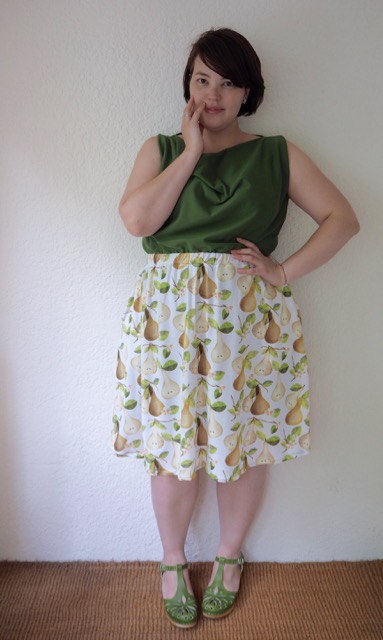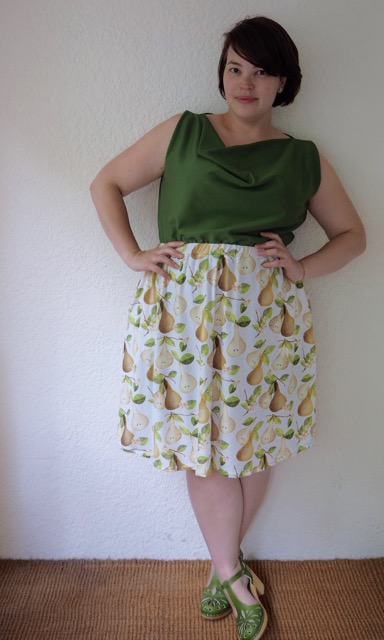 Dress: DIY from Colette Patterns
Shoes: Swedish Hasbeens
 So, I've picked up a couple of new dress patterns in the last couple of weeks, so this might be the last iteration of my favourite Colette Myrtle that you see for a while.
It's the first time I've done the pattern half & half like I did my whale print Moneta, but I flipped the halves around, so the pattern was on the skirt, and the plain fabric on the bodice.
The pear fabric is another Spoonflower purchase from Mulberry_tree who also designed the fabric I used for my Frockatoo. I used a ponte for the bodice because it was the only knit fabric I could find that was the right colour, but I suspect it's a bit too heavy in comparison to the softer "modern jersey" in the skirt, and doesn't quite have the drape that works best with the Myrtle pattern. I'm on the look-out for a softer fabric, and if I can find some that's suitable I'll definitely be swapping them over some time in the future.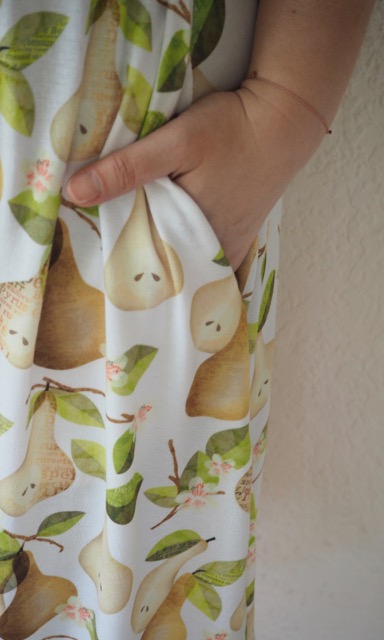 The green in the pear print is perfectly matched with the Swedish Hasbeens clogs that I bought two years ago, and have been too scared to try and break in. This summer though. DEFINITELY this summer.
Speaking of summer, it's well and truly skirts-and-dresses weather so once again I'm looking for those perfect chub-rub cures and there's a couple of new anti-chafing shorts that I've been road testing for you: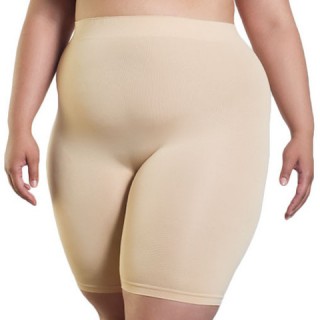 The first is the new hi-rise shorts from Canadian brand Thigh Society. These are a seamless short made of a breathable fabric that boasts 4-way stretch so they're comfortable rather than constricting. They have a moisture-wicking gusset made from a fabric called Sorbtek, which keeps you dry, even on the stickiest days. In the past I've tried the shorter leg length and have had a slight problem with them riding up during the day, but the new hi-rise shorts have an extra 1.5″ in the leg, and I was delighted to discover that it's enough to totally eliminate any ride up on me. I can wear them under skirts and dresses for several days at a time and they don't stretch out at all. They're seamless, so they give a smooth line under skirts and dresses and the lack of seams means it doesn't show under close-fitting clothes.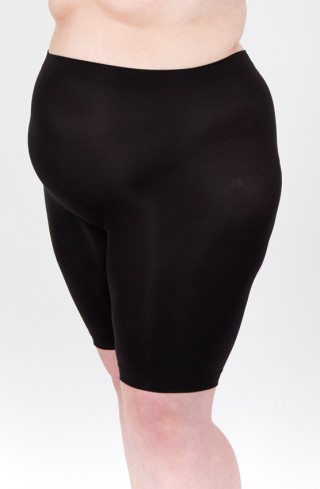 Sonsee, my all-time favourite tights company, has just expanded their range to include slips, bras, and (hurrah!) comfort shorts. Like their amazing tights range they have a huge amount of stretch and recovery, and they fit up to a size 28 comfortably. Like Thigh Society they're available in a beige and a black and both a longer and a shorter length. I had a bit of an issue with the shorter length riding up at the end of a long day, but again a bit of extra length made all the difference, and I can easily wear my long-length Sonsee shorts day after day without any issues. The fabric's a little thinner than the Thigh Society but it seems equally breathable (though without the moisture-wicking gusset.
For a reminder of the other products that have been designed to help make your summer more comfortable go ahead and check out my chub-rub round-up from last summer.