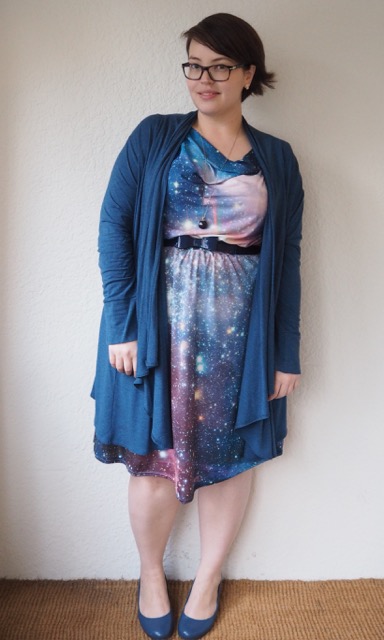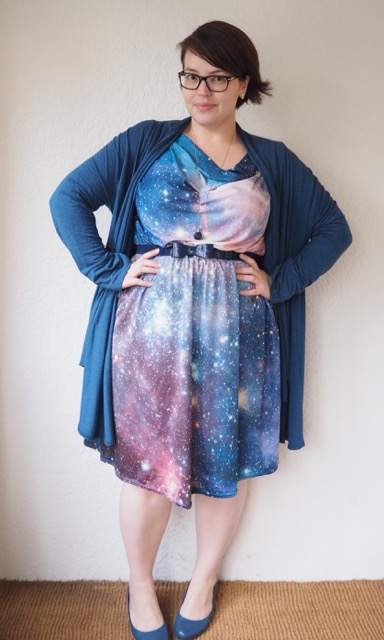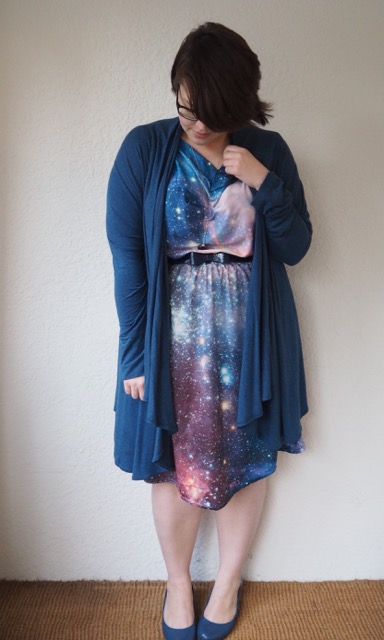 Dress: DIY from Colette "Myrtle" pattern and Spoonflower Fabric
Cardigan: Eliza Parker
Shoes: Comfortview
My first fabric order with Spoonflower was in 2012, when I bought an amazing silk/cotton fabric printed with the image of a star forming region and turned it into a Colette Macaron dress. It was pretty quick to develop an addiction to the online fabric company which has a plethora of extraordinary printed fabrics (and the capacity to design and upload your own!)
My first Spacedress is long gone, but with stars and star-prints looking like one of the major trends this season (hurrah!) I thought maybe it was time to whip up a new one.
I chose the performance knit fabric, which at US$24 a yard certainly isn't the cheapest dress fabric out there, but I've worked with it before and found it to have exceptional colour quality, wearability and drape. It's a 100% polyester knit with a bit of a swimsuity sheen to it, and it has "moisture management" which would explain why even on hot days I don't get sweaty in it. It has a bit of weight, and only about 25% stretch which means it holds its shape well and doesn't bag out.
I was going to go for the same print as last time – the Star Forming Regions – but when I plugged in the number of yards I needed (I would definitely recommend this step if you're buying from Spoonflower) I realised the fabric would end up with tiles as the pattern repeated. Instead I opted for this amazing image of the Carina Nebula which at 85×58″ in size would be big enough for me to make my favourite Myrtle sewing project without any visible repeats.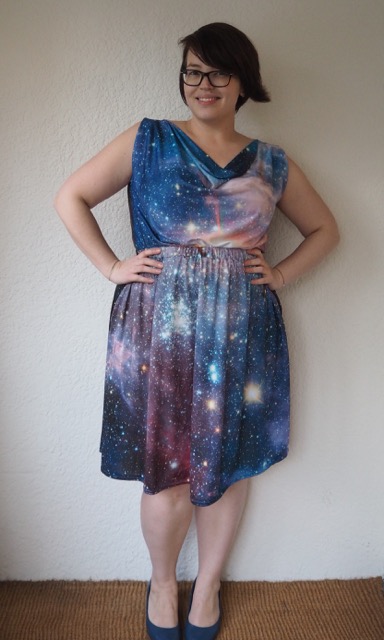 There's a fairly big differentiation in the colours of the Carina Nebula. From deep blues to pinks and golds and deepening to purple and red in the centre.
I picked the pinks and blues for the front, and kept the deeper and darker colours for the back.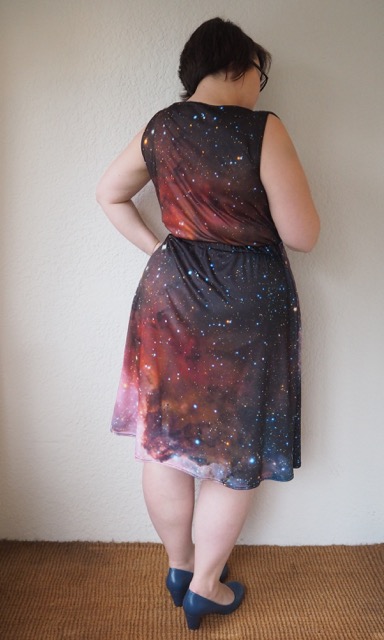 And then, because it was freaking cold, I covered the lot up with a long draped cardigan, and added my bow belt from Closet Confessions and my sparkly galaxy necklace which is impossible to photograph so you'll just have to take my word for it that in person it's the prettiest sparkliest thing you've ever seen.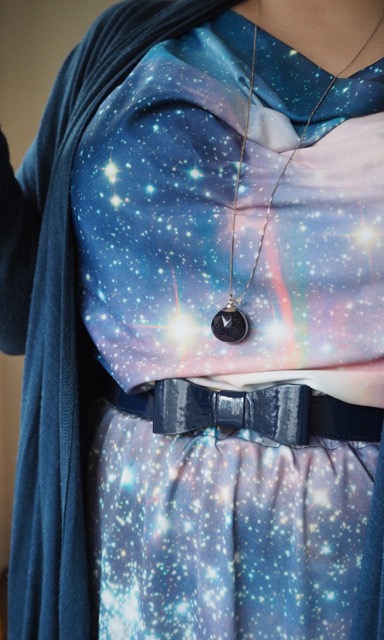 This is the fifth Myrtle dress that I've made, so I'm definitely getting my money's worth with the dress pattern. It's such a great one for beginner sewers, because it doesn't have any tricky zippers or sleeves, the waistband is elasticised, and the draped neckline and knit fabric is very forgiving for people who aren't confident about tweaking patterns for full-bust adjustments, or sway-back adjustments.