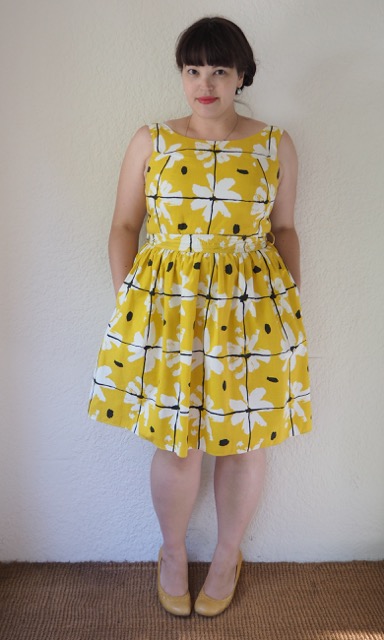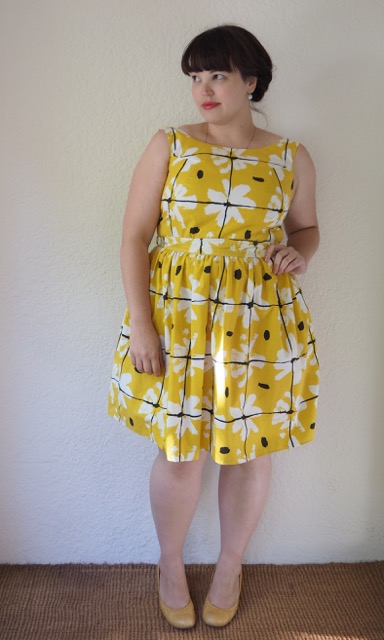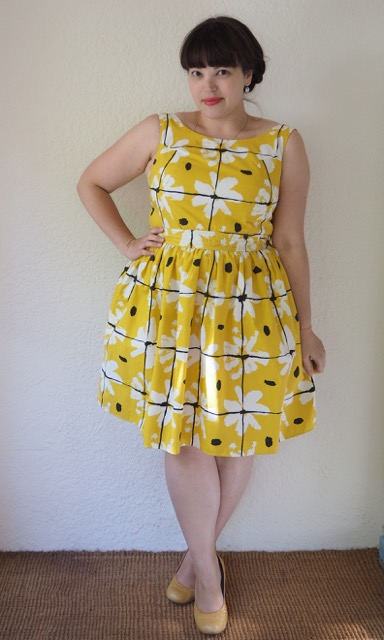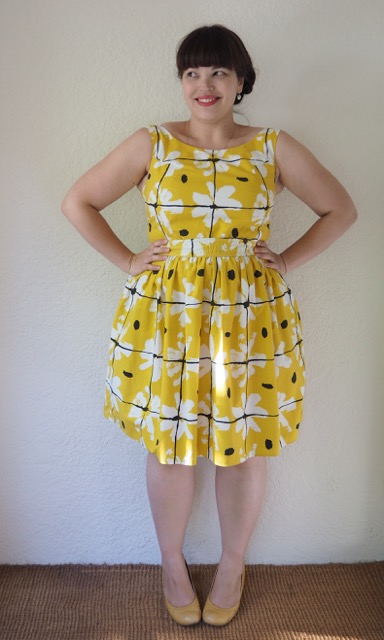 Dress: Sohomode
Shoes: Seychelles via DSW
It was about this time last year that I moved into my beautiful new home, and when I did the first thing that everyone asked me was "has it got air-conditioning?". Apparently while I was suffering through the miserable polar vortex in New York Melbourne had been subjected to a record-breaking heatwave with four days straight of 41+ degree days.
This year we've got off reasonably unscathed (I even wore tights last week. TIGHTS.) but yesterday marked the start of a warm spell so I got the chance to wear one of my gorgeous tea-dresses from the divine Louise at Sohomode. Louise has closed the virtual doors on her Etsy shop, but she's still trading through her own website and in fact she still has a limited amount of this retro-cool Vera fabric if you particularly loved it.
With the hot weather comes not only summery dresses, but that OTHER issue that comes with hot weather and skirts. I wrote about it a good four years ago and since then there's been a whole heap of new players and products join the market, so I thought it was time for an update. I've copied and pasted some of the content from my last post so you've got everything on one handy page:
******************************************
So, first up, let's start with the creams and lotions. I usually reserve these for cooler, less humid days, because it's so easy to sweat them off. They're good because they're so discreet, but you have to reapply and reapply, so make sure you carry a tube in your purse if you're going to be out all day. And also (this is a bit TMI) I find that if you wear a panty-liner these creams are a lot more effective in terms of longevity.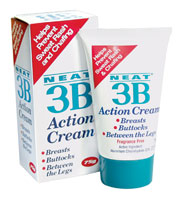 NEAT 3B Action Cream
This is where I started. As a girl, and as a teenager I had no problem with inner-thigh rub. I would blithely pull on a dress or a skirt and skip out the door as free as a bird, without having to worry that I'd be hobbling home with welts between my legs. The first time I experienced it it nearly turned me off frocks entirely (horror!) until I saw the remarkably stupid ad that Neat did for it's 3B Action Cream (animated anthropomorphic boobs and buttocks, coupled with an idiotic jingle) and thought I'd give the stuff a whirl. It's a basic cream that doesn't smell too unpleasant, and it works but is pretty quick to sweat off. I found it a bit sticky and it doesn't really stop your thighs from rubbing together, but stops the chafing. I usually have to reapply, and the second coat is always less effective.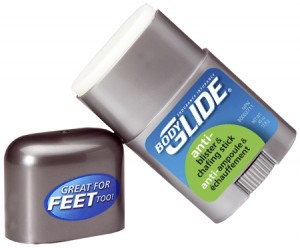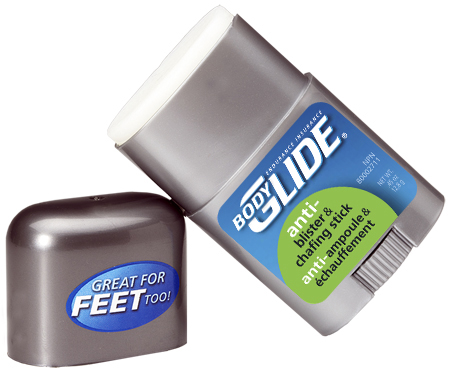 Body Glide Anti-blister and chafing stick
I saw that they're doing a version of this especially for women now – It appears to be exactly the same, but with a pink cap, and presumably it's $5 more expensive, but I just tried the regular stuff. I heard about it on the Fatshionista forums, and so many people raved about it that I hoped it would be the perfect cure-all. Well, yes and no. It's less messy to apply than the 3B – almost like a little deodorant stick – and it's completely fragrance free. But I found it difficult to find, and expensive to boot. An application leaves a kind of waxy layer over the skin that protects from chafing and like the 3B it's kind of sticky, and has to be reapplied through the day, though not as often.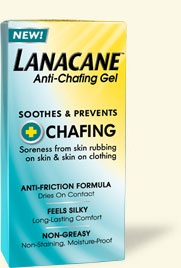 Lanacane Anti-Chafing Gel
For me, this is the pick of the creams. It creates a nice, dry, powdery feeling finish that means your thighs just slide along each other without rubbing. Again – it wears off, and the second application doesn't hold as well, but I find it more comfortable than either the Body Glide or the 3B.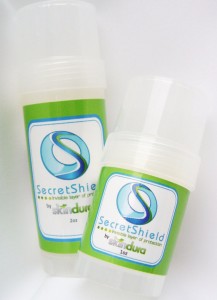 The thing I like about Secret Shield is that it's handmade, all-natural, and vegan. Plus it's as mess-free and as easy to apply as the Body glide. It's probably a fairly similar product in that it goes on like a deodorant stick and allows your thighs to slide along each other without friction. It doesn't have the kind of dry finish of the Lanacane, or the slightly sticky finish of the Body Glide, it's more of a slick, kind of oily effect. It need reapplying, of course, but if you're anxious about the chemicals of the commercial brands this product's the one for you.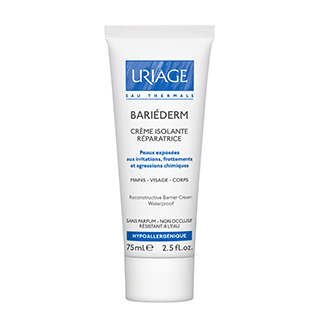 Reader Razza swears by Uriage's Bariederm barrier cream, but I haven't tried it myself yet. It gets good reviews for both it's anti-chafing capacities, and for the way it helps heal if you've already done a bit of damage.
I'd love to hear if anyone else has had any experience with this (or any other!) product. I'm always looking for The Perfect Cure.
*
If I'm going to be out for the whole day, if it's particularly hot and humid, or if I just want guaranteed comfort I'll wear a second layer. Once upon a time they only choice you had was sucky-in shapewear or Luvees, but the market's (delightfully!) expanded dramatically since then and there's some fun and even stylish comfort short options out there now.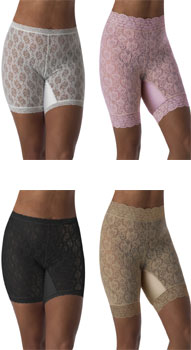 Luvees Panty Cover-all… Luvee's are the grandaddies of the chub-rub market. They've been around for years and I wasn't sure they were still up and running (some people contacted me to say they were having trouble getting through to customer service), but the website's been totally overhauled, and their Facebook page is current so they're obviously still kicking. I haven't tried the "Thigh Cover-alls" because they look so darn weird, and I've got to say that the Panty Cover-alls aren't exactly the most glamorous items either.  They're a sheer stretchy lace with a slinky satin panel between the legs that (obviously) gets rid of chafing, and also the annoying "whsk whsk" sound you get with pantihose. I'd recommend getting the longer leg styles (the pink and the nude) because I've found the shorter styles have a habit of riding up between the legs. And look, I'll be honest, they're not very attractive on, they look tired and worn out after a few washes, and the lace can show under tight fitting skirts giving an unflattering dimpled appearance. But they are as comfortable as all get out. They're not constricting at all, and don't muffin-top you, and they're cooler and breezier than another of the other "comfort shorts" or leggings I've worn.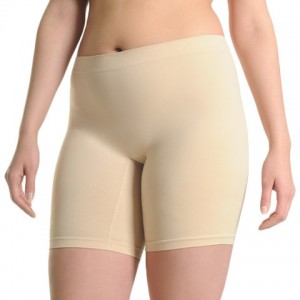 Thigh Society has changed their product since I first tried them out in 2010, and their new shorts are made of a high-tech moisture-wicking fabric that is soft and seam-free. It's available in black and beige, and in sizes up to a US24. They have a special inner-thigh gusset to keep you dry and comfortable, even on really muggy days. I had a bit of a problem with the previous incarnation stretching out and riding up at the legs, so I'd love to try this new style some day. As I said last time customer service was great (the owner Marnie is a total delight) and the international shipping from Canada was reasonably priced and superfast.
Pettipants (AKA the "split slip") are basically the shorts version of a half slip and are rarer than hens teeth in Australia, so I ended up going online and finding a vintage pair on eBay. The lace rubs a smidge, meaning I'm always a little aware of them, and for some mysterious reason the crotch always seems to hang around m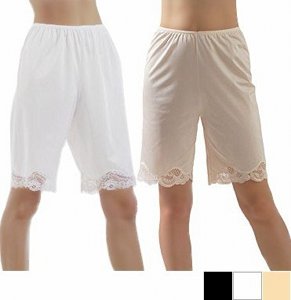 y knees, so for these to actually be effective against "chub rub" I have to wear the waistband somewhere around my bra strap. That said, they've got a bit of a vintage-retro vibe going on and they don't look too bizarre if a surprise wind blows my skirt up, they're nice and breezy and they don't ride up. Because there's a bit of volume to them, they're not perfect under slim fitting skirts, but under everything else they're fine. They're usually a bit synthetic and staticky, so make sure you give them a good squirt with some anti-static spray before you leave the house.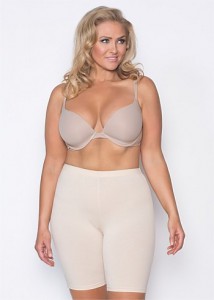 The Australian brand TS14/Virtu does a no-frills comfort short that they're calling the "Easy Breezy Short". Basically it's a pair of basic thigh-length leggings in a lighter-than-average cotton/spandex blend. They're boring but basic, and perfectly serviceable, especially for the very reasonable price. They wear fairly high at the waist, so ultimately they're best under dresses rather than skirts where you might risk a peek of utilitarian elastic waistband. They used to come in just white and black. Apparently it's now nude… and black.
Which brings me to Un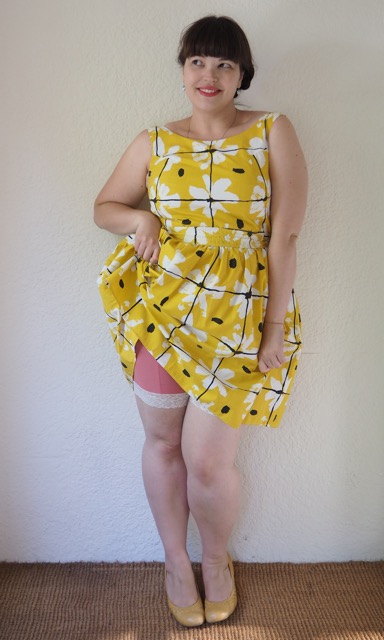 dersummers who are a fairly new player in the market of "rash guard panty shorts" as founder Carrie Rae has dubbed them. These are one of the more fun brands in the market at the moment, and the shorts come in a variety of colours and styles. They're all made from the same "stay cool" fabric, with a cotton liner and a seam free inner-thigh. They sit nicely on the hips, and all styles have a v-dipped waistband that is comfortable and doesn't cut in. I have two pairs – one of the "Lace Shortlettes" (pictured) and a pair of the "Base Layer" shorts, which sit higher on the leg and are great for shorter skirts. They're designed to be flashed around, so it's not the end of the world if a gust of wind catches your skirt and flashes the world. ETA: Carrie Rae got in contact with me to offer you guys a super special free worldwide shipping offer on all orders over $50 with the code FrouFrouFreeShip! Woo!
If you're looking for a special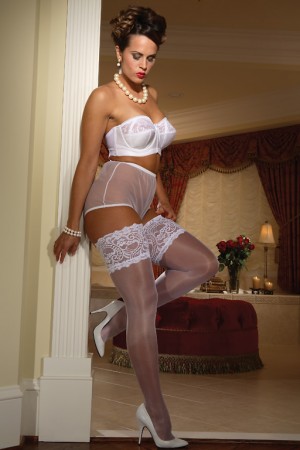 occasion (i.e. you're getting married) and you don't want to be wearing a pair of bike shorts under your gown there's a couple of cute/sexy items you can consider. I love the Secrets In Lace stay-up stockings for fancy days. The "Curvy" range fits according to thigh-width, AND leg length, so you can find a pair that stay up and don't cut in. I wear them high to eliminate chafing, and they don't budge, even on a long day. They're not that resilient, so I usually buy a few pairs then stash them away for special occasions. I've also heard good things about Kixies, but I haven't tried them yet.  They have a similar thing where they fit by thigh width, and I love the look of the banded grippy bit at the top of the thigh.
Your other alter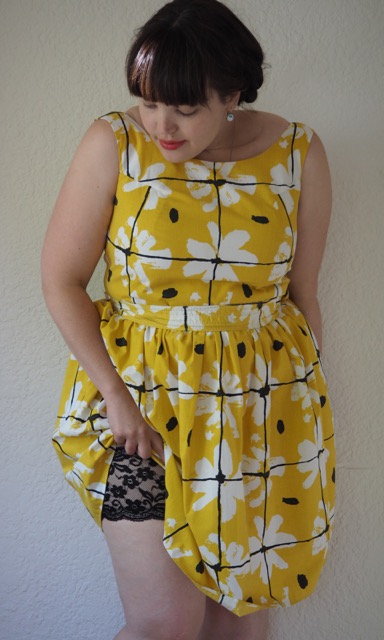 native for something a bit sexier is a pair of Bandelettes, which I adore so much I reviewed them for The Guardian in 2013. They're a weird concept – almost like you're just wearing the lace part of a stay-up stocking – but I've found them to be really effective, comfortable and reliable… as long as you get the right size!
I'm wearing one of the lace pairs, and it's hard to deny that they're pretty sexy. They stay up courtesy of a silicone strip along both the top and bottom edges, which did irritate a bit after extended (i.e. several days straight) wear, but they're the next best thing to bare legs.
Sizing's fairly straightforward: measure where you want to wear them, check the size chart, size down if you're in doubt. They will stretch out after a day, and then they're likely to sag or roll, but you can just wash them in the sink and they dry really quickly. There's lots of different lace designs in a variety of colours, and they just recently started doing unisex/plain bands too. I have a pair in beige, and they're magnificently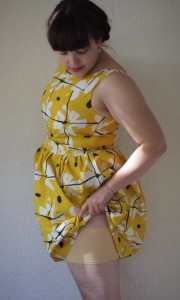 comfortable, especially on really hot days when you just can't bring yourself to wear another layer under your outfit.
The plain don't quite have the same sex-appeal, but they're pretty discreet, and can be worn high, so they're the perfect accompaniment to short, sheer summer dresses when anything else will show. ETA: to save 15% off your Bandelettes purchase just enter the code froufrou at the checkout!
So there's my huge round-up – I hope you've all found it helpful, and I'd love to hear in the comments if you've had any successes with products yourself!