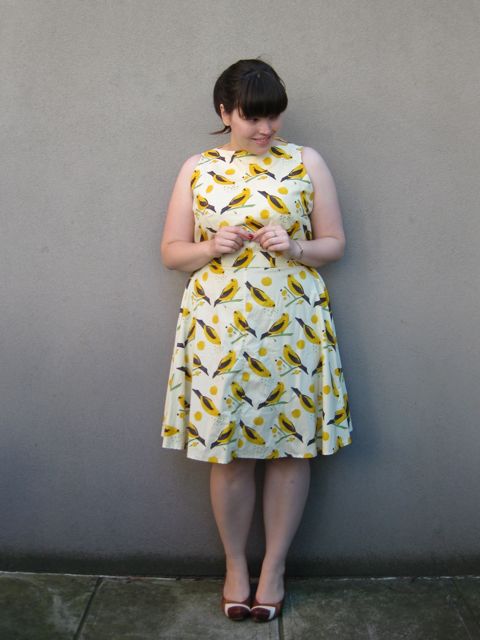 Dress: LaMadeleine
Shoes: Chie Mihara
Look, there's no easy way of saying this – but I haven't been entirely honest with you all.
Whenever I post an outfit I will link to all the different components. Shoes, dress, cardigan… but there's something I'm not mentioning. Something I've been keeping very quiet. It's, well… it's easier to show you: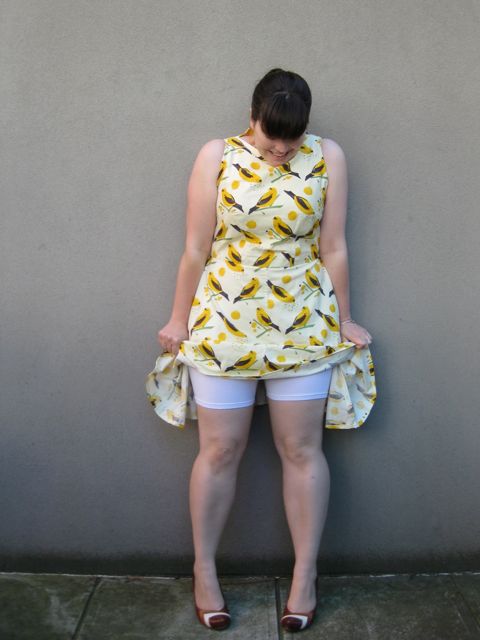 Comfort shorts: Thigh Society
Lads (I know there's a few of you out there) you can sign off now – this post isn't for you. Same goes for all those lucky slim-legged ladies. This one's for all those girls who look at Frocks and Frou Frou and go "Oh. I wish I could wear dresses and skirts. But I can't. Umn. Because."
You're not alone.
I – along with a massive multitude of women of all shapes and sizes – suffer from inner-thigh chafing. And as the temperature has risen, so too have the number of emails I've been getting from readers asking what they can do about the dreaded "chub-rub" as it's affectionately known.
Well, there's dozens of "cures" suggested, and let me tell you girls – I've tried 'em all.
I thought today I'd do a bit of a run-down on the pros and cons of everything I've tried, and hopefully those of you who've avoided skirts, dresses and bare legs in the past will find something just right that will allow you to embrace them this summer.
So, first up, let's start with the creams and lotions. I usually reserve these for cooler, less humid days, because it's so easy to sweat them off. They're good because they're so discreet, but you have to reapply and reapply, so make sure you carry a tube in your purse if you're going to be out all day.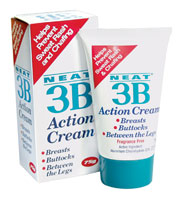 NEAT 3B Action Cream
This is where I started. As a girl, and as a teenager I had no problem with inner-thigh rub. I would blithely pull on a dress or a skirt and skip out the door as free as a bird, without having to worry that I'd be hobbling home with welts between my legs. The first time I experienced it it nearly turned me off frocks entirely (horror!) until I saw the remarkably stupid ad that Neat did for it's 3B Action Cream (animated anthropomorphic boobs and buttocks, coupled with an idiotic jingle) and thought I'd give the stuff a whirl. It's a basic cream that doesn't smell too unpleasant, and it works but is pretty quick to sweat off. I found it a bit sticky and it doesn't really stop your thighs from rubbing together, but stops the chafing. I usually have to reapply, and the second coat is always less effective.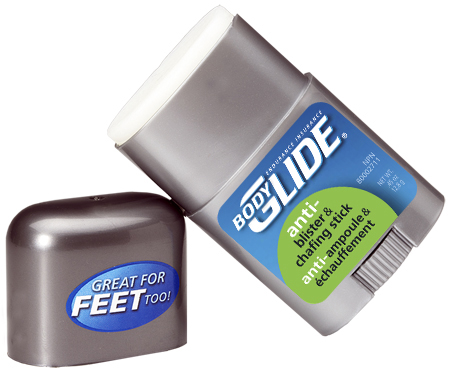 Body Glide Anti-blister and chafing stick
I saw that they're doing a version of this especially for women now – It appears to be exactly the same, but with a pink cap, and presumably it's $5 more expensive, but I just tried the regular stuff. I heard about it on the Fatshionista forums, and so many people raved about it that I hoped it would be the perfect cure-all. Well, yes and no. It's less messy to apply than the 3B – almost like a little deodorant stick – and it's completely fragrance free. But I found it difficult to find, and expensive to boot. An application leaves a kind of waxy layer over the skin that protects from chafing and like the 3B it's kind of sticky, and has to be reapplied through the day, though not as often.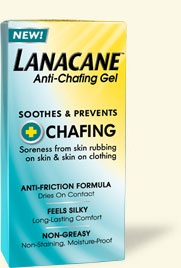 Lanacane Anti-Chafing Gel
This is the new product that people are raving about on the forums, and I was keen to try it, so I bought a couple of tubes when I was in the States earlier this year. It's popped up in Australia now, and you can TRY IT FOR FREE by filling out a very short survey. For me, this is the pick of the creams. It creates a nice, dry, powdery feeling finish that means your thighs just slide along each other without rubbing. Again – it wears off, and the second application doesn't hold as well, but I find it more comfortable than either the Body Glide or the 3B.
If I'm going to be out for the whole day, if it's particularly hot and humid, or if I just want guaranteed comfort I'll wear a second layer. In winter it'll usually be pantihose, but in summer I like to wear bare legs which means either leggings (which I wear all the time because I actually quite like the look of them peeking out from under a skirt) or "comfort shorts".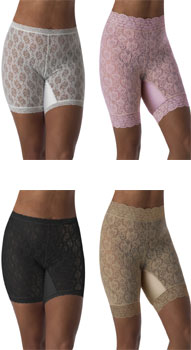 Luvees Panty Cover-all… I haven't tried the "Thigh Cover-alls" because they look so darn weird, and I've got to say that the Panty Cover-alls aren't exactly the most glamorous items either. They're a sheer stretchy lace with a slinky satin panel between the legs that (obviously) gets rid of chafing, and also the annoying "whsk whsk" sound you get with pantihose. They are cool and breezy, and easily my favourite hot-weather item. I wear them over panties, but you can wear them by themselves if you feel the urge. I'd recommend getting the longer leg styles (the pink and the nude) because I've found the shorter styles have a habit of riding up between the legs. And look, I'll be honest, they're not very attractive on. They look tired and worn-out after a few washes (though they last for AGES) and I've heard the customer service at Luvees is pretty dubious (I bought my two pairs off eBay, so I can't comment one way or another). Also the lace can show under tight fitting skirts, and give an unflattering dimpled appearance. But they are as comfortable as all get out. They're not constricting at all, and don't muffin-top you, and they're cooler and breezier than another of the other "comfort shorts" or leggings I've worn.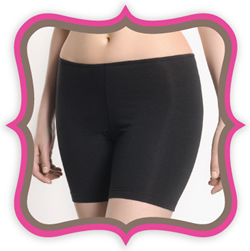 I had thought that Thigh Society might be the more discreet and less embarrassing alternative to Luvees. As you can see they're a little bike-short styled pair of briefs made out of an extremely soft bamboo fabric. They're a little more hip than their lacy alternatives, but still cool and breathable, and again they don't suck you in. Customer service was great and shipping was fast. I ordered according to hip size, and I think it was pretty OK size-wise, though I found that by the end of the day the seams of the legs (which had been tight enough to cut in a little at the start of the day) were loose enough to allow the shorts to ride up. I'd like to see them with a little hem of lace, and maybe a little longer, and have been thinking I might remix them myself to do that. To be honest, you could probably buy a pair of cotton leggings, and hem them shorter for the same effect. though the bamboo fabric's pretty delicious.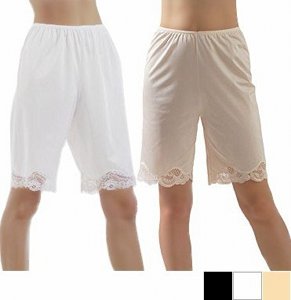 Petti-pants. Otherwise known as a split-shift. These are basically the shorts version of a half-slip. They're rarer than hens teeth in Australia, so I ended up going online and finding a vintage one on eBay. They're a little more attractive than my Luvees, and the slinky fabric means that fabric doesn't catch the way it does does on leggings, Luvees and Thigh Society shorts. The lace rubs a smidge, meaning I'm always a little aware of them, and for some mysterious reason the crotch always seems to hang around my knees, so for these to actually be effective against "chub rub" I have to wear the waistband somewhere around my bra strap. That said, they fit in with my vintage-inspired wardrobe, they don't look to bizarre if a surprise wind blows my skirt up, they're nice and breezy and they don't ride up. Because there's a bit of volume to them, they're not perfect under slim fitting skirts, but under everything else they're pretty good.
So, what do you all think? No more excuses not to wear skirts and dresses. I hope it's given you a bit of food for thought, and I'd love to hear if any of you have other recommendations.