T-shirt: Luxx (similar available here)
Shoes: Comfortview "Regina"
I've just come back from a week-long visit to Sydney, attending the Reed Gift Fair for work. I was so tired when I got home that I managed to leave my keys in the front door, so I'm very much looking forward to this weekend and the opportunity to relax and recuperate.
I managed to pack everything I needed for the week into one little carry-on suitcase, which I feel pretty smug about. I guess it's all about versatility, and finding items that can multi-task with different pieces.
This "Breathtaking Tiger Lilies" skirt from Modcloth is one of the pieces in my wardrobe that gets a really good work-out because it's versatile, easy to dress up or down, appropriate for the office, but also fun and casual enough for the weekend. I'm on the hunt for another skirt in this gorgeous goldenrod mustard, because as much as I love this one the fabric's not the best quality, and it's developing a few runs and loose threads that I've had to ease back into the weave. I spotted this one on Asos, but vacillated too long, and now it's out of stock in my size. Let me know if you spot anything similar, OK?
 Meanwhile this Fifi Lapin print t-shirt is so old now that it's well and truly losing its shape and the side seams are gradually becoming front-and-back seams, as always seems to be the way with cheap tops. I've salvaged it umpteen times from the "donate" pile (this is why it pays to clear out your wardrobe in a two-step process), and every time I do I remember how much I like it.
The blues pair rather nicely with the mustard skirt, and coupled with blue heels, and a blue belt (because you know how much I like the matchy-matchy) I think it's a fairly successful outfit.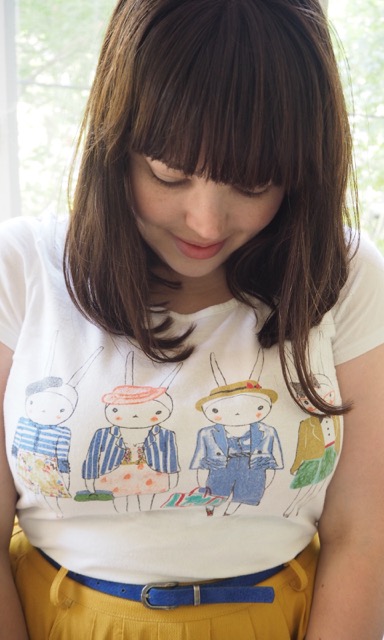 So, in other news, I'm excited to tell you that I've been invited to attend this year's Curvy Couture Roadshow in Melbourne as part of their contingent of official bloggers. If you remember my run-down from last year's event you'll know why I'm so thrilled to be part of such an important occasion: it's easily the biggest plus-size fashion event in the Australian calendar, a combination of runway show (profiling some of the greatest established and up-and-coming designers) and a market where you can buy directly from the stores and designers. I'm delighted to see that my pick of 2013's Full Figure Fashion Week – Huudaverti – are making an appearance, as well as some of my firm favourites like Sonsee Woman, Harlow, and The Professor's Daughter.
Tickets are on sale right now if you're interested in attending, and make sure you say "hi!" if you spot me in the crowd!