Last Sunday was a pretty exciting day in the world of plus size fashion in Australia.
Though similar events have taken place elsewhere in the world (such as Full Figure Fashion Week, and British Plus Size Fashion Weekend ) the Curvy Couture Roadshow is the first of its kind in Australia: a one day festival to celebrate all that is amazing in the world of plus-size fashion.
I'm so excited to see that the visibility of plus size women and plus-size fashion is growing  globally, and I was delighted that some movers-and-shakers in the industry here are bringing us up to date with the trend.
Unlike FFFWeek the Curvy Couture Roadshow seemed to be much more orientated towards the general public, and less towards the media. I thought the marketplace was a genius idea – a great opportunity for people to see a number of plus-size indie brands and stores (some of which would otherwise only be available online).
I recognised most of the brands on offer, but some were new to me including Silvana Tedesco: whose gorgeous bridal gowns were breathtaking; and Meri By Design who presented a line of flowing, voluminous pieces in buttery silk.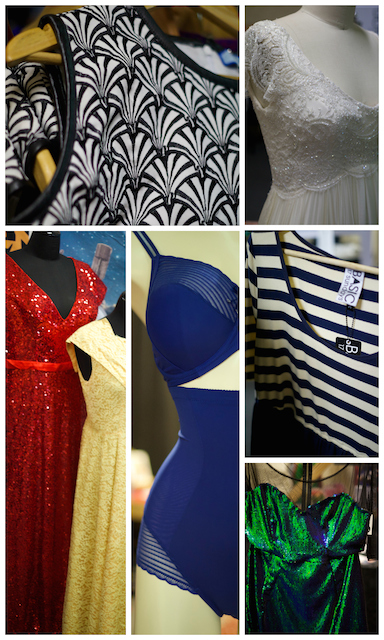 (clockwise from top right: Silvana Tedesco, 17Sundays, Misty Belvidere, Miss Scarlet Did It, Bombshell Vintage, The Professor's Daughter)
At the Market place I snapped up a gorgeous vintage woollen skirt from A+ Market, and a creme brûlée from one of the many food trucks. It was also a good opportunity to catch up with some friends, and meet a couple of readers! (I LOVE meeting readers, so thank you everyone who stopped to say Hi!).
The afternoon was planned around four themed shows: Beachwear, Contemporary, Lingerie Vintage and Retro-inspired, and Active, Edgy and Vintage.
I've pulled together some of my pics from the day, but for a more complete look at the shows check out the Curvy Couture Roadshow Facebook Page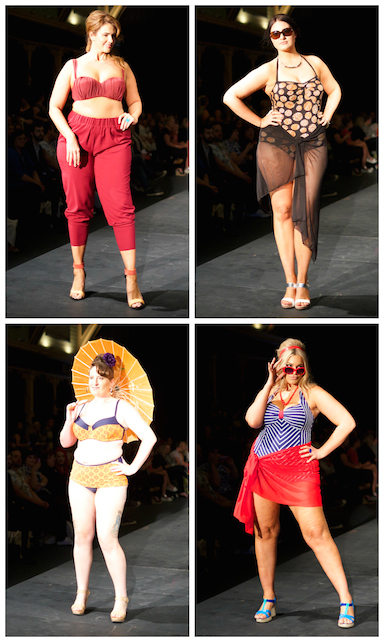 The two swimwear lines were from Robyn Lawley Swimwear and Beyond The Sea Swimwear. I particularly like Beyond The Sea's vintage vibe, and the Boyleg Maillot (on the bottom right) was totally adorable.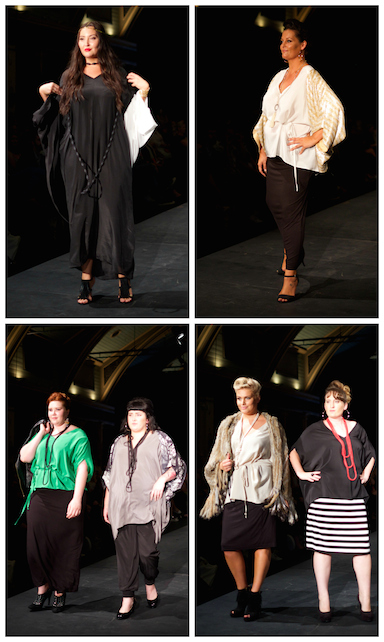 Meri By Design came next, and included an absolutely killer sequinned jacket that host Casey Donavon wore to ring the show in. I tried the voluminous black maxi on in the Marketplace afterwards, but didn't quite have the height to pull it off 🙁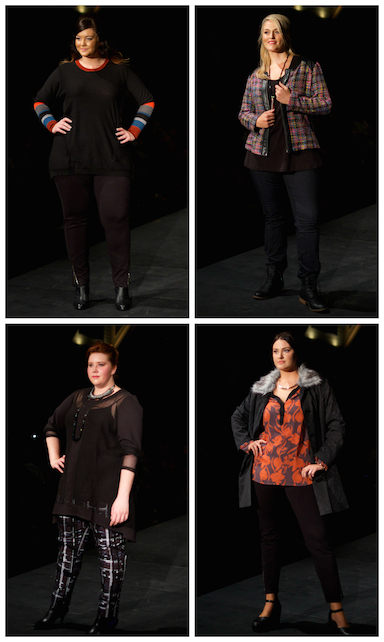 Lucabella is a brand I haven't paid that much attention to in the past. They're a NZ-based company who've always seemed to play it safe with their styles. They exhibited a couple of pieces that made me think that maybe I've been overlooking them. I really liked the striped cuffs on the top left, and the tweedy jacket on the top right was a gorgeous fabric.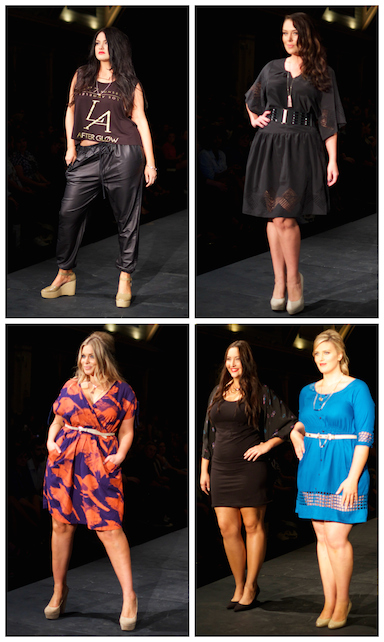 After a quick break we kicked off the second show with 17Sundays. I thought the laser cut top and skirt on the top right was particularly gorgeous, and I loved the tulip shape of the red and blue dress (plus, POCKETS!)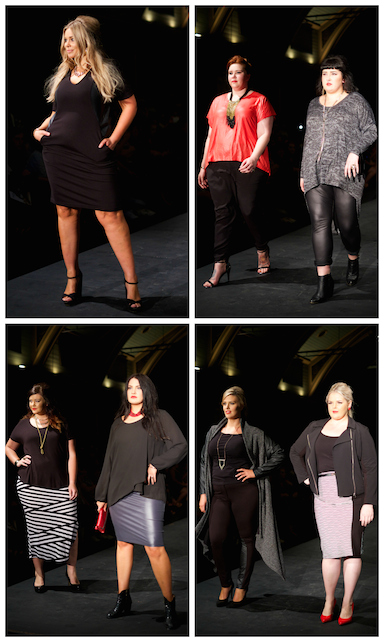 Harlow is doing some really cool things this season. I particularly love Kerry's slouchy harem pants, and the long layered cardigan with the "leather" sleeves is a great piece.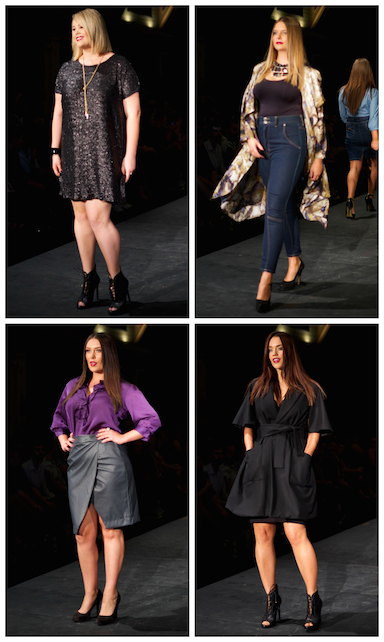 My favourite premium denim brand, Embody, did not disappoint; teaming Natalie's signature denim pieces with luxe fabrics and classic ensembles. I adored the black sequin minidress that Sam walked the runway in, but the real stand-out for me was the gorgeous belted coat with the cropped sleeves and deep pockets. So elegant, but versatile, and it looked as good undone as it did belted.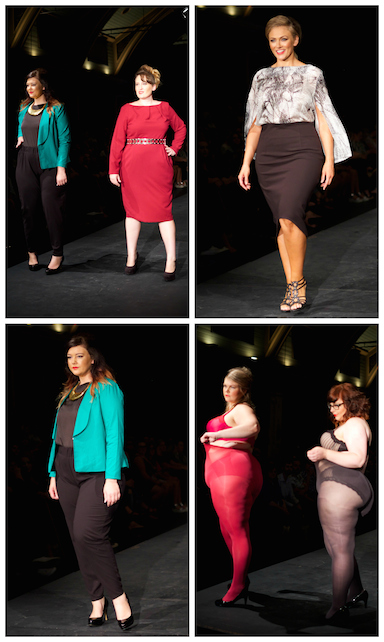 I never thought I'd say this, but I have a favourite Kardashian: Christine Kardashian is another brand that I don't have any first hand experience of. They're designed and made in Australia and cater specifically for the inbetweenies (size 12 to 18) who often fall into the gap between regular and plus sizes. I loved a huge amount of what I saw on the runway, but if pressed to choose a favourite outfit I'd probably have to say the scooped skirt and billowing sleeved blouse from the top right hand corner. Divinity.
My good buddies at Sonsee sent a couple of pairs of hosiery down the runway, too. I seriously can't get over how stretchy and comfortable their pantyhose are and I'm so happy to see them doing well and getting the recognition they deserve (and the plus-size community getting the decent fitting tights THEY deserve, too!)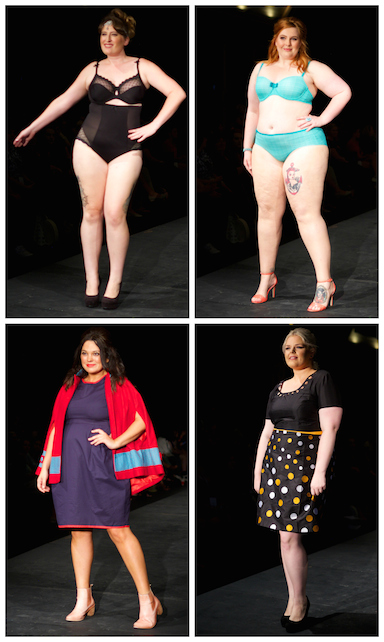 Miss Scarlett Did It is determined to get all women into properly fitting bras, and the models they sent down the runway certainly proved how good you can look in your underthings if you've been fitted by a professional.
Tragically, I didn't get nearly as many good pictures of the offerings at Professor's Daughter that I would have liked to. They're a line I came across years ago at a market that I went to with Jess from Miss Fairchild's Charm School (who incidentally was wearing a killer vintage-styled ensemble to the Roadshow, topped off with a hat that she made herself in her millinery course. Amaze.) Jess and I were both lamenting the fact that the label only went as far as a 14, and behold! Someone was listening! Please do check out her website, because her clothes are just so ridiculously fun. The black-and-white embroidered top with the deco-esque pattern in the top photo is one of hers, and is definitely on my Lust List.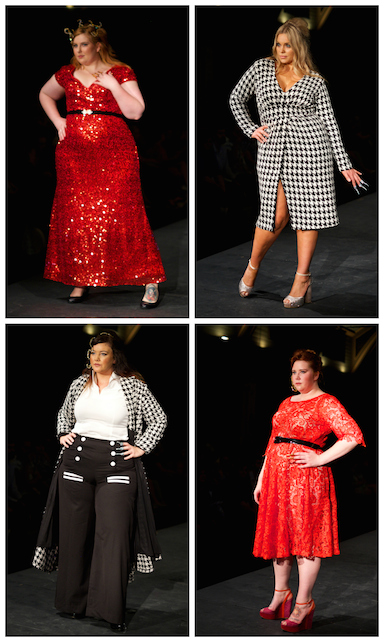 Bombshell Vintage finished up the third runway show with a fantastic range of vintage inspired numbers from the pretty lace tea dress in the bottom right (available in a range of colours) to the show-stopping Jessica Rabbit dress in the top left that, Oh My God, I want so badly even though I have absolutely no place to wear it.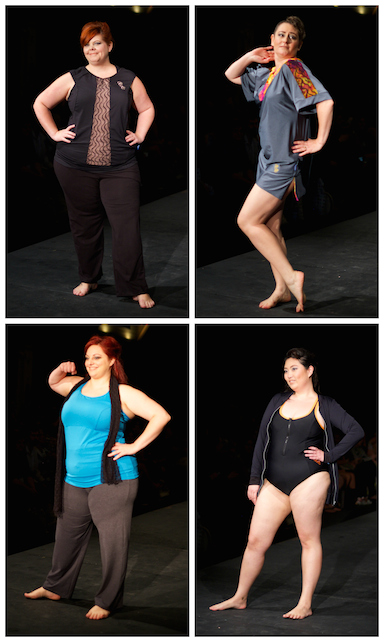 Plus size activewear is very very difficult to come by, so I was impressed to see the on-trend offerings at Curvy Chic Sports come down the runway in what was definitely the most fun and energetic segment of the whole day.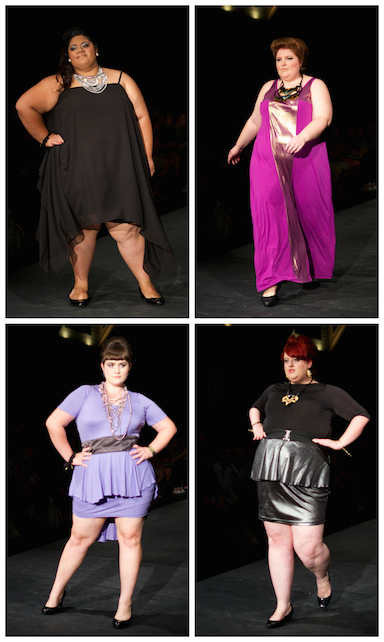 The fashion from Seraphim Clothing reminded me a lot of some of the more avant-garde designers that I was introduced to a FFFWEEK. They're actually a brand that includes some breathtaking jewellery in their store too.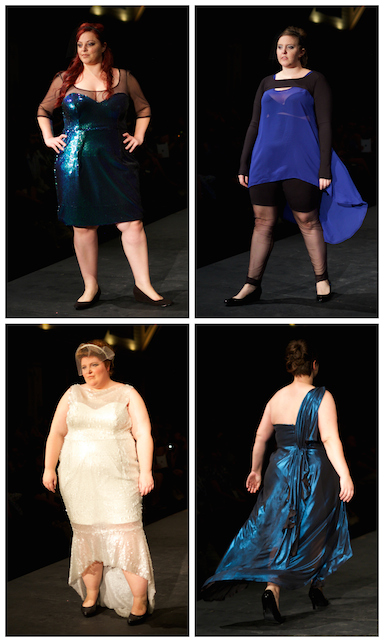 There's been a lot of buzz around Misty Belvidere's launch, and her "Mermadia" line certainly caused a stir. The stunning, stunning sequinned fabric that she used in her sheer-shouldered dress was like a beacon for people browsing the Marketplace. It helps that "Misty" is totally fabulous and moonlights as part of the Va Va Boombah Burlesque troupe here in Melbourne.
Marji and Jean run an Etsy shop, and their dresses are a combination of classic silhouettes in unexpected prints. The shift dress with the yellow tights is printed in a Wonder Woman fabric, and the full-skirted dress above it is cupcakes. As you know, I do love a good print!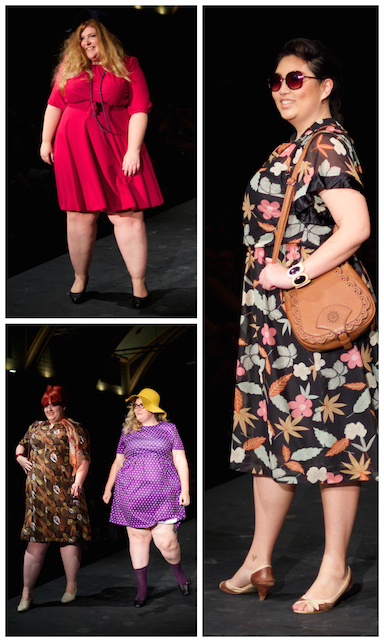 No-one accessorises like Hey Fatty. Seriously. Every time I see one of their shows or one of their styled photoshoots I just want to buy the whole outfit from top to bottom. I need to remember to stalk their website though, because vintage plus-size clothing is hard to come by, and it gets snapped up FAST!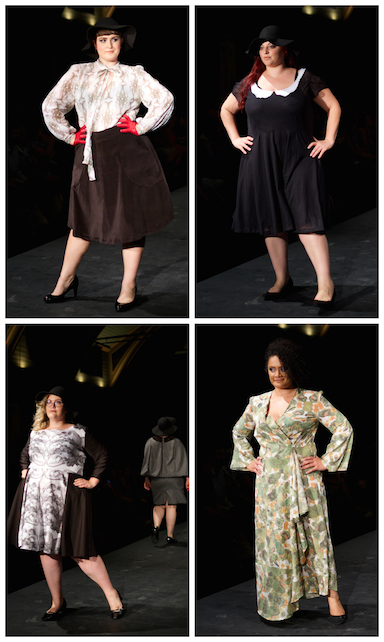 Last, but DEFINITELY not least, the whole day finished up with the fantastic new line from Fox Parse. I've been watching the development of this line virtually via Facebook, since Jessica started designing the fabrics last year. I was particularly looking forward to seeing her Nasturtium dress in person, and it's gorgeous – the photo definitely doesn't do it justice!
Phew! What a day!
Did you make it to the Curvy Couture Roadshow? What did you think?
ETA: To see my outfit for the day (and some of the other fantastically stylish attendees) check out Dani's blog here