With Only A Wink Dress: Modcloth
Shoes: Chie Mihara
The first time I spotted this dress on the Bettie Page Clothing website I dismissed it outright. I liked the shape, but the cage shoulders put me in mind of those terrible mesh tank tops of the 80's.
The next time I saw it it was being worn to devastating effect by the Rebel Wilson at the 2011 premier of "Paul". Just like that the dress hit my lust list.
By the time it showed up on Tanesha Aswhati of Girl With Curves it was a full-on dress-crush, so when I finally visited the Bettie Pages Clothing store in New York it was the first thing to go into the change room with me.
It's made of the familiar stretch bengaline that a lot of the "vintage" dresses from both Bettie Page and Stop Staring use. A mid-weight, but super stretchy fabric that looks like cotton but is perfect for wiggle-dresses and super-fitted silhouettes. The fabric doesn't crush, and it doesn't feel too synthetic-y.
 The skirt has the perfect amount of weight and fullness to flatter my figure without overwhelming it, and I love the little bow at the waist. The bodice is just a touch too long for my short waisted torso, which means that the bodice doesn't sit quite a tidily as it des on Tanesha (though it looks like Rebel has a similar issue. Short-waisted Aussies represent!).
The zipper at the back just goes up as far as the mesh, and then the dress fastens the rest of the way with those bloody annoying hook-and-eye whatsits that never seem to stay fastened but catch every strand of hair that ventures near them. I'm inclined to whip them off and replace them with little buttons, but I just haven't managed to build up the motivation yet.
The band around the arms have a bit of stretch, which is good news for the well-bicepped as they neither cut in, nor ride up.
I hate strapless bras with a burning passion, and by rights this dress needs one. When I'm wearing it for special occasions I'll suck it up and wear one, but for every day wear I'll just wear a nude bra and deal with the fact that my straps are showing: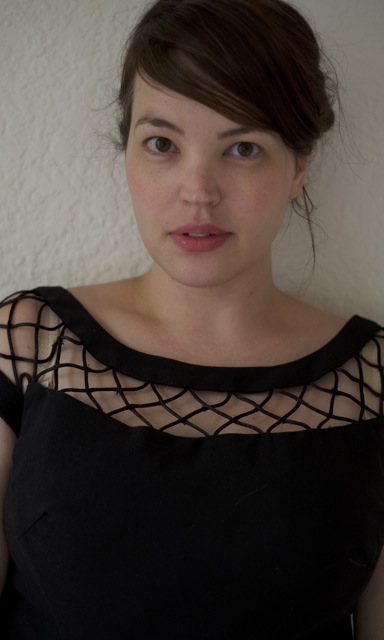 To be honest, the dress is such a showstopper that I don't think anyone notices the fashion faux-pas of the exposed bra straps.
It retails on the Bettie Page Clothing website for $150, but if you wanted to try one of the other colours (it also comes in red, navy, a lovely mossy green, and ivory) Modcloth actually sells it under the name "With Only a Wink" for $10 less.