Dress: Kayemkay
Shoes: Mel
Necklace: DIY
I've been sitting on this frock since early December, and shamefully am only just getting around to reviewing it now!
I'm a big fan of Kasey from Kayemkay – she made the pretty heart-back dress that I wore as my "going-away" dress a few years ago.
Since then her range of custom-made clothing has expanded into some really lovely pieces: there's peplum tops and strapless dresses, a clever blouse with a cut-out peter pan collar, and this trans-seasonal 3/4 sleeve dress.
It's wonderfully comfortable piece that's made from a light and airy crepe de chine fabric. I wore it teamed with a pair of tights and a cardigan in New York over winter, but it's a thin enough fabric that it works for Melbourne's warm days that edge into cool evenings (and cool mornings that grow to be warmer days.)
The vintage-styled dusky blue-grey print teams well with the coral necklace, though I'm aware these are entirely the wrong shoes for this outfit (my collection is sadly reduced after moving house so many times last year). The dress looks really sweet teamed with yellow and mustard accessories as well.
The waist ties in the back, and can be worn loose or tighter depending on how you prefer.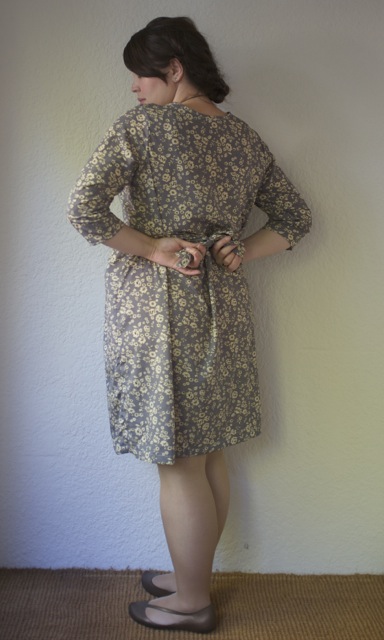 Kasey's workmanship is excellent as usual; the dress is tidily finished and the fit spot-on.
It's such a treat to find custom-made dresses from independent designers for less than $100 (including shipping to Australia, y'all!) and I like supporting craftspeople rather than big corporations.
SPEAKING of independent designers….
Did you know that the very lovely Kate (from Bombshell Vintage), Kerry (from Harlow), and Jess (from Fox Parse) have banded together with some other lovely ladies to bring us a premier Plus-Size fashion event during the Melbourne Fashion Festival?
The Curvy Couture Roadshow is the first plus-size event to ever be included in the Melbourne Fashion Festival and will showcase some really exciting labels, like Embody,  The Professor's Daughter, Christine Kardashian, Marji & Jean, even wedding dress designer Silvana Tedesco, and my favourite hosiery gurus Sonsee.
There's also going to be market stalls at the event with plus size fashion up for sale. It's taking place on the 30th of March from 12 midday to 5pm at the Arts House Meat Market, 5 Blackwood Street North Melbourne, and tickets start at just $15, so pop on through to the website if you want to snap one up before they're gone!
You'd better believe I'm going to be front and centre at the event – I can't wait to see what's on offer. Say "hi!" if you spot me!