Dress: Vintage, via Miss Modular Vintage
Shoes: Melissa
On February 28th, the US president Barack Obama declared March 2014 to be Colorectal Cancer Awareness Month; and today, March the 7th 2014, is "National Dress In Blue Day". Our own antipodean bowel cancer awareness month is in June (with Red Apple Day landing on June the 18th this year) but I didn't want to pass up the opportunity to raise awareness and support for a disease that touched my family too closely in the last couple of years.
In July 2012 my baby sister Mae was diagnosed with stage four bowel cancer. It was an inconceivable shock to the family and rocked everyone who knows her to the core. There was no family history of bowel cancer, no symptoms to watch out for. Her diagnosis was a fluke, and it almost came too late. Such is the danger of the silent killer that is bowel cancer.
The survival statistics for sufferers of stage four anything cancer are appalling. The statistics for sufferers of colorectal cancers even worse. Early diagnosis could mean the difference between a 74% chance of surviving 5 years, and a sobering 6%. But despite being one of the most prevalent and deadly cancers, it's still one of the least discussed and receives very little fundraising attention and support.
In Australia bowel cancer is the second most commonly diagnosed cancer, will hit one in twelve people and is the second biggest killer behind lung cancer. On average Australian sufferers have a 5-year survival rate of just 66% which lags well behind the 90% for patients of the more media-friendly cancers of breast and prostrate, and while 90% of bowel cancers can be successfully treated if diagnosed early, less than 40% actually are.
I'm wearing blue today to support Mae in her battle, but also to encourage my readers to get behind their local bowel and colorectal cancer organisations. Here are the links for UK, for America, and for Australia.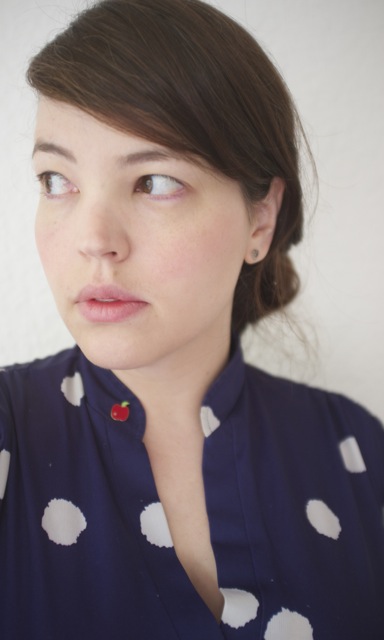 And I'd encourage you all to buy yourself one of the red apple pins from Bowel Cancer Australia and wear it proudly.
As far as Mae goes, you can follow her journey on her own blog MaeBeHere, but I wanted to share her personal words with you:
Now… a year later…. and I am still here, against the odds. Still fighting. One year in remission. One year respite from that evil disease. 20 months since diagnosis. My health has came back. Last week I moved house, lifted boxes like a normal person… this is a big deal given that just a year ago even lifting the cat was too hard. My heart has come back. My passion. I am back to following my dreams. I changed jobs, changed lives… enrolled in uni. Started vet school. I am determined to spit in the face of my diagnosis. I will NOT go quietly. Today, I am not a stage IV cancer 'sufferer'… I am a stage IV cancer survivor.
I love you, Mae.