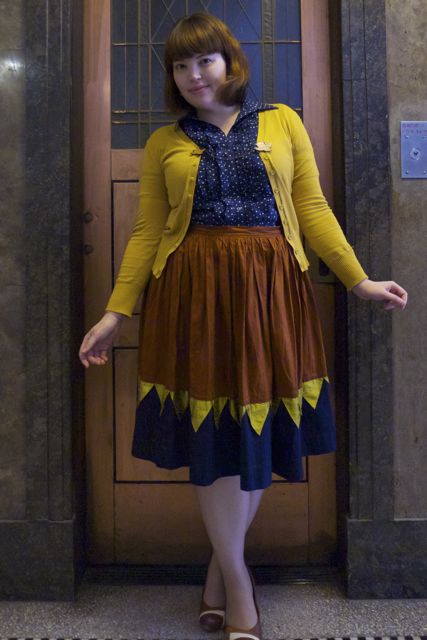 Cardigan: Glassons
Blouse: Victoria's Secret
Skirt: Gorman (remixed)
Shoes: Chie Mihara
Brooch: CatRabbit
I don't normally frequent stores that don't want to know me. It's easier that way; otherwise I find myself mooning over their shop windows cursing my boobs, my hips, my full thighs and thicker waist. And that's not healthy. I try to remember my mantra: It's not that I don't fit the clothes, the clothes don't fit me. And these days, with the internet and Etsy and plus-size fashion blogs, it's not like I have to walk around naked. There's plenty of good clothes out there for me. It's just not clothes from Witchery/Cue/Jigsaw. Or Gorman.
Sigh. Gorman.
Of all the labels in Australia that I wish would extend their sizes, Gorman is the one that I would most like to get my hands on. I don't love everything that they do, but every so often something just hits the mark for me so well that it hurts to know it won't fit.
When I first moved to Melbourne Gorman had a range of items made out of a fabric that looked like it had come out of the pages of an Eric Carle Book. I wasn't familiar with the store (they didn't have any shopfronts in Canberra) and I didn't know what their size range was. When I found out they stopped at a size 14 I was incredibly disappointed.
These days I don't pass by the stores very often. They don't cater to me, so I've developed kind of a blind spot. But every so often something penetrates. Like this dress: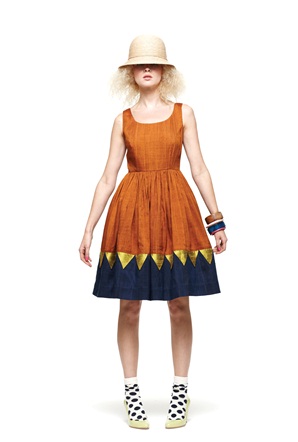 The textured raw silk fabric, the coppery orange and deep blue colour blocking, the fifties silhouette and bunting detailing. Perfection.
When I saw it for $80 (down from $329!) at the Gorman clearance centre I couldn't resist going in to try it on. It had a full skirt… maybe it would fit.
Not a chance.
To start with, they didn't have a size 14 and the 12 didn't even come CLOSE to zipping up.
But I, er, bought it anyway.
It was cheap, OK.
Here's what I did:
Step 1. After turning the dress inside out I carefully unpicked the skirt from the bodice and loosened the gathers. Then – with some trepidation since every dress-to-skirt tutorial I read said not to – I cut the zipper about an inch above the new waistband. If you're doing this remix make sure you don't cut the zipper with it still done up. You need to have the zipper foot at the bottom of the zip!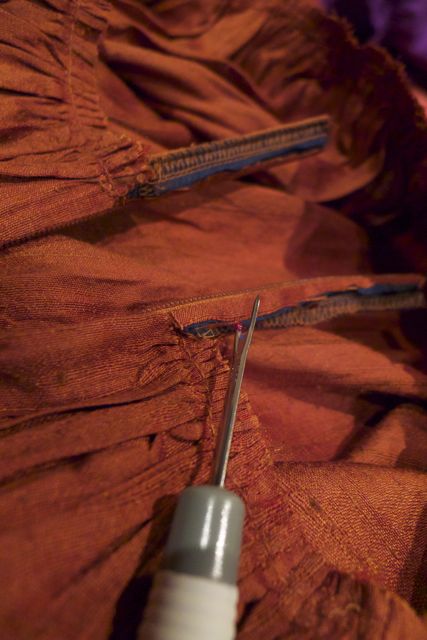 Step 2. The bodice was fully lined, so I unpicked the lining, and cut the pieces of the bodice up to make enough single layer fabric to assemble a waistband.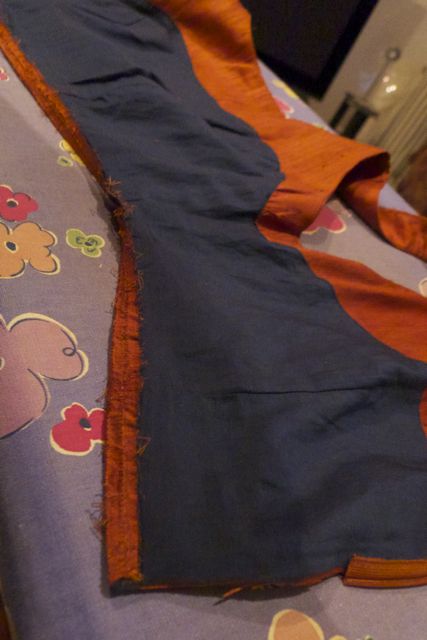 Step 3. I pinned the individual pieces of bodice together, then sewed them together until I had one long strip.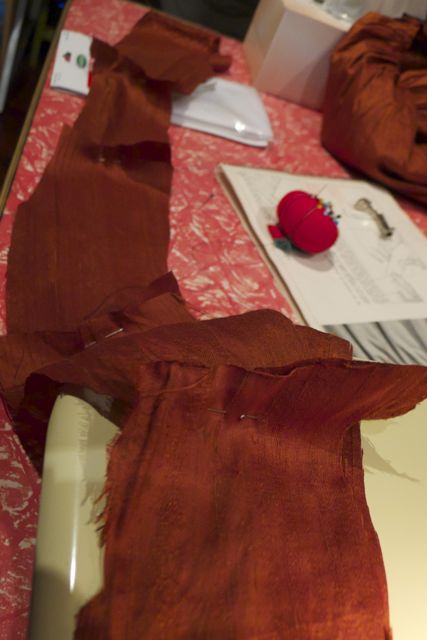 Step 4. I ironed on some interfacing, then trimmed the edges. Instant waistband!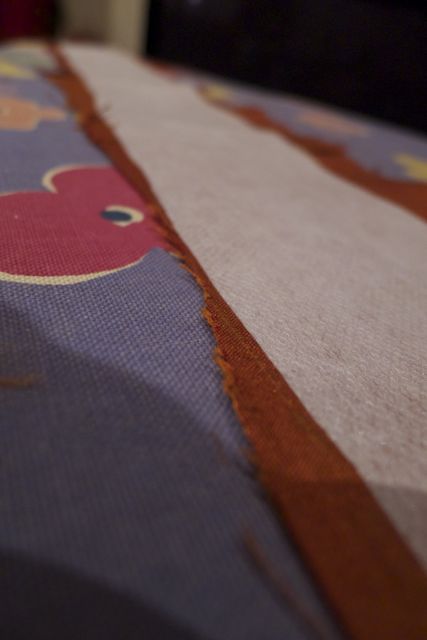 Step 5. I regathered the waistband of the skirt (no pics of this step! Sorry! Check out the instructions here) then right-sides together I sewed the waistband to the skirt. Then I folded the waistband in half (with the skirt fabric sandwiched between the two sides) and gave it a press.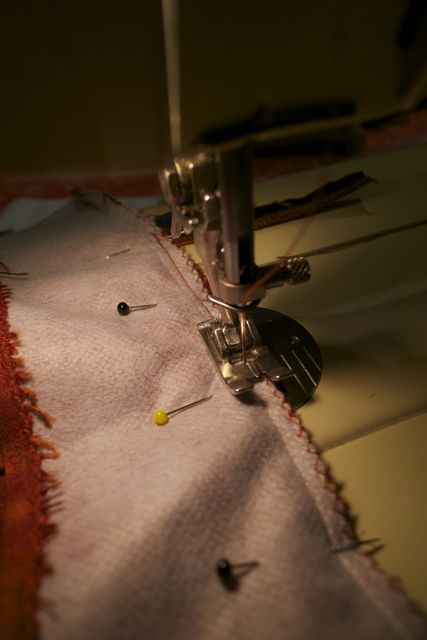 Step 6. A second seam around the waistband to secure the second side. I tucked the extra inch of the zipper into the waistband, and left an extra inch of waistband on one side for the hook & eye fastening.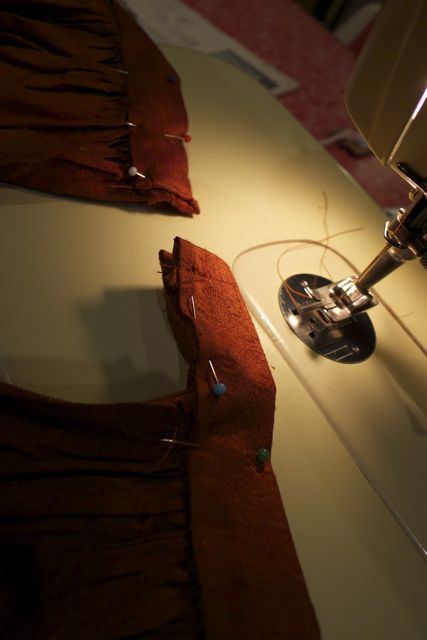 Step 7. I hand sewed a hook and eye fastening on the end of the waistband.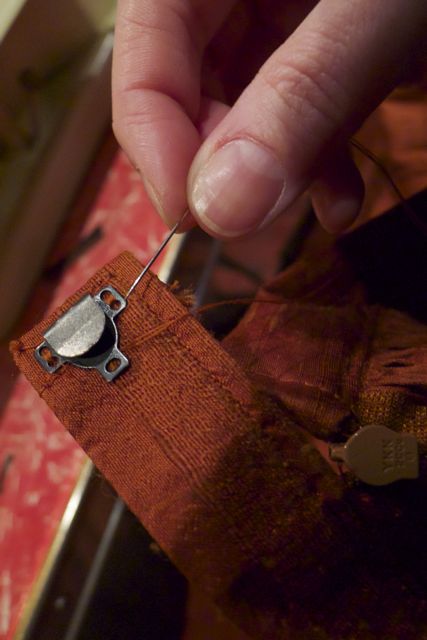 Step 8. And here's the finished result!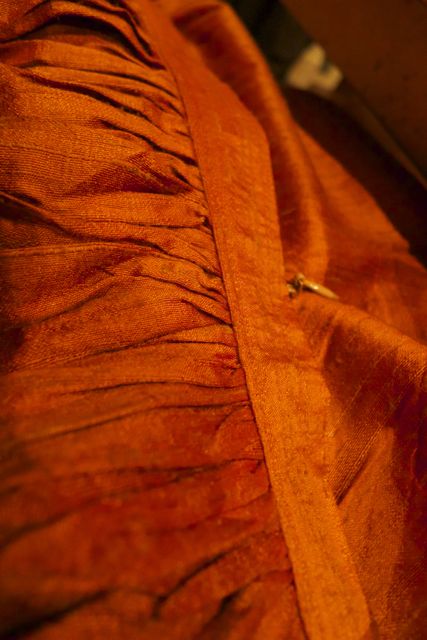 Amazeballs! I don't think I've ever been happier with a remix project. And now I finally have a piece of Gorman clothing all for myself.