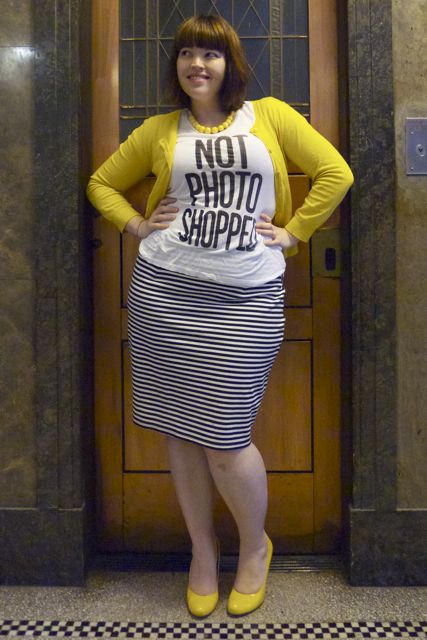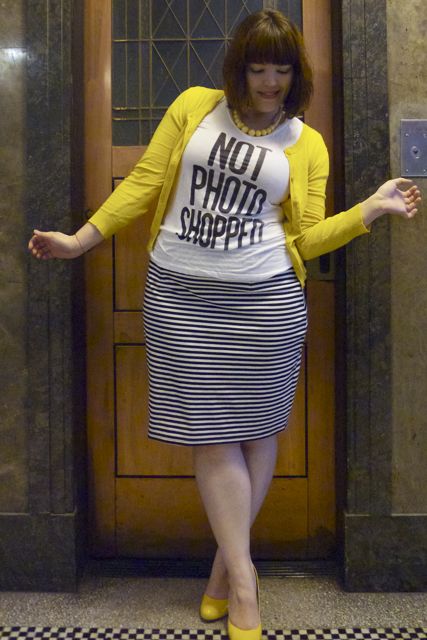 T-shirt: Feel More Better
Skirt: City Chic
Cardigan: Cocolatte
Shoes: Milu
I'm a pretty easy-going individual. I don't have many soapboxes that I like to get up on, but I am a fierce believer in body positivity.
It's pretty hard to feel positive about yourself when you're surrounded by a media that tells you every day that you're not tall/petite/thin/curvy/white/tanned/sporty/busty/flat-chested/hairless enough to be seen out in public, and presents you with countless images of "perfect" women to prove how utterly inferior you are.
But, of course, even those "perfect" women have flaws. They've got pimples and wrinkles and folds of skin, just like the rest of us. The image that is sold to us is non-existent. And unattainable.
This dearth of real women (and I'm not using "real" in that excruciating way that some people use it, i.e. "REAL women have curves") in the media is one of the reasons I started reading – and eventually became – a blogger.
I don't get my fashion inspiration from magazines anymore, because I prefer to know how something is going to look on a human body that hasn't been pushed and pulled and stretched and airbrushed into oblivion. (Just for kicks and giggles, check out Jezebel's hall of photoshop shame). And I have never, never, never photoshopped an image on Frocks and Frou Frou.
This is why I was so delighted when I was invited to take part in Feel More Better's "Not Photo Shopped" campaign.
Nearly thirty bloggers will be wearing this t-shirt proudly today to promote transparency in advertising and legislation that will require advertising and editorial that meaningfully changes the human form through photoshopping to label the image as such. It doesn't hurt that for every tee purchased from Feel More Better they donate a book to an underprivileged girl. I work in publishing; childhood literacy is another of my soapboxes.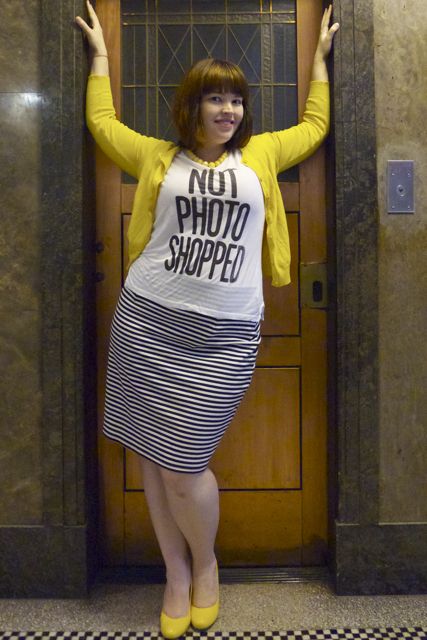 So here I am, in all my non-photo-shopped glory, looking exactly the same as if you saw me walking down the street. And proud of it.
And just to push the message home a little more, check out this wonderful little glimpse at the one product you'll ever need to look like a covergirl: