Skirt: Remixed from 17 Sundays dress
Shoes: Seychelles
You may remember this dress, which I bought from 17 Sundays back at the start of the year. I wasn't particularly happy with the fit of the bodice – it was short-waisted and baggy with armholes cut too deep, and it didn't suit my figure at all. Belted and worn with a cardigan it was okay, but it was definitely one of those one-hit-wonder style outfits, which meant it spent most of its time languishing in my wardrobe.
Last week I finally mustered up the energy to remix it from a dress into a skirt, using the same process I did all those years ago when I altered a too-small Gorman dress I'd splurged on (you can find the tutorial here).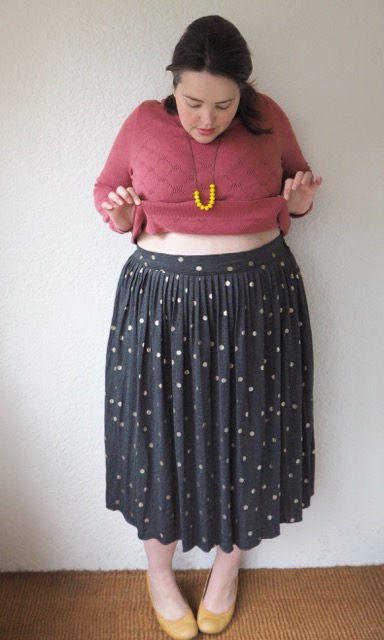 It was a fairly easy remix – the bodice had enough fabric in it for me to cut two waistband strips, which I interfaced for stability as the fabric itself is a soft and stretchy jersey. Because the skirt already fit well around the waist I was able to salvage the pleats by basting them in place before I removed the bodice to Frankenstein it into a waistband.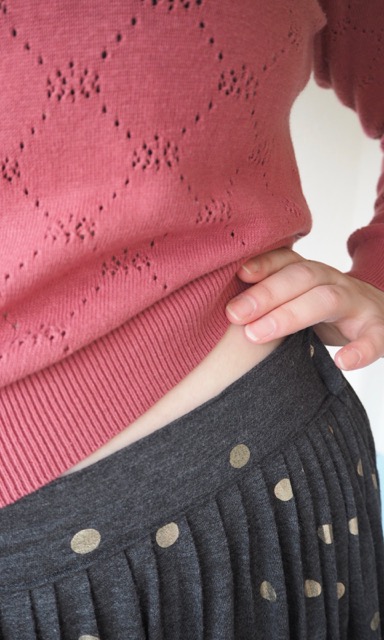 I'm really happy with the result, and I'm getting a lot more use out of the dress as a mix-and-match separate that I can wear with a variety of different tops including this pretty rose-pink sweater from Princess Highway.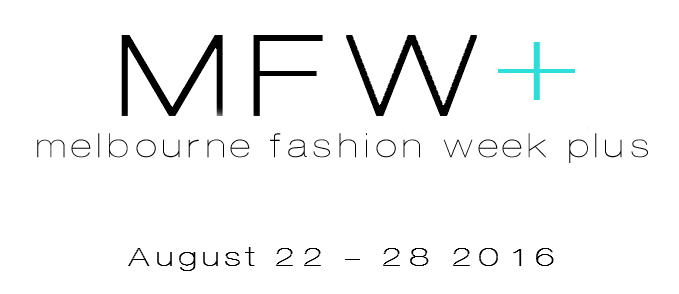 MEANWHILE!
I'm hilariously excited about Melbourne Fashion Week Plus, which is taking place 22-28 August. There's a slew of events taking place, including four – count them, FOUR – runway shows, and a variety of panels on everything from feminism, to the state of the plus-size industry.
The organisers are keen to ensure that it's an event that promotes everything about plus size culture: design, discourse and body positivity.
The runway shows include several new designers that are new to me, as well as some of my long-time favourites, and I'll definitely be attending all four, so hopefully I can bring you news of some brilliant new local and international names to add to your lust-lists – If you're in Melbourne I'd thoroughly recommend you check the event out yourself (and if you need another excuse to visit Melbourne and would like to make a weekend of it A+ Markets have scheduled their next market for the 28th, too)
You can find tickets for MFWPlus here.