Blouse: Dorothy Perkins
Skirt: Eliza Parker (remixed)
Belt: DIY
Shoes: Marks & Spencer
I feel like I should apologise for how lax I've been with replying to comments for the last two posts! I'm really sorry – I love getting them, and I usually try and reply to everyone personally, but with the packing, and the selling, and the moving, and the back-at-working it's one of the jobs that's fallen by the wayside somewhat
Let me say thank you to everyone who takes the time to leave me a comment. Hopefully I can get a bit back to normal again soon, and it won't be so one-sided.
This outfit looks a bit incomplete and unbalanced… I really needed a navy blue bead necklace to wear with the peter pan collared shirt, but ALAS the one that I strung around my neck suffered a critical failure and broke, sending beads helter skelter around the apartment as I was dashing out the door.
I left Suki knocking them under chairs and tables as I was running late, and didn't collect them until the afternoon, which is why I'm sans necklace in todays outfit post.
Anyhoo, if I'm not looking entirely delighted with myself, it's for that reason!
For what it's worth I am still loving this skirt, and I'm so glad I made the decision to have it remixed from the original dress. The print on it reminds me a little of Jackson Pollock; his wonderful, exuberant, splashy paintings have a similar feel. It also reminds me a leeeeeetle of this dress, which I spotted in the Asos Curve range and decided I loved. It looks like it might have a petticoat attached ("layered skirt". Means layers, right?) and the length's quoted as being 37.5″ long, so it might be another case of the stock photo being crotch-flashingly short, while the hem of the real deal is actually much more friendly to the knee-shy. It's happened before.
On that basis, I'm OH SO tempted to buy it, even though I have enough dresses to last a lifetime, and I'm moving in a matter of weeks. But guys! Wouldn't it look great with a bright yellow cardigan? I have one of those… all I need is the dress!
I won't try to bulldoze you all into trying to convince me to buy it (oh, go on then) so maybe someone else could buy it instead, then wear it with bright yellow accessories, and I could like vicariously? Yes?
Off topic, sorry. Meanwhile, did you see my belt? I made another ribbon bow belt just like the turquoise one, except this belt has a double bow.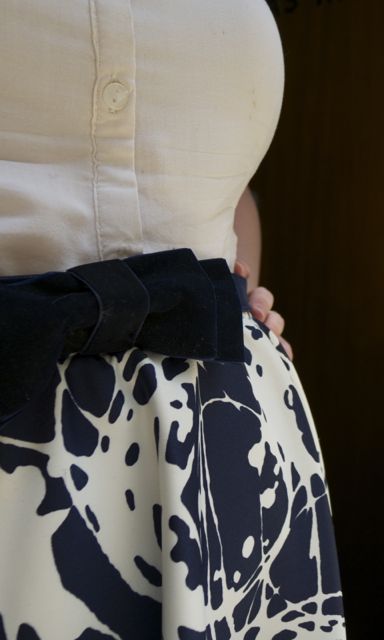 I've been toying with the idea of making them to order and selling them online in an attempt to supplement my pay check, since I'm trying VERY HARD to save up the money for a trip to New York some time in the Not Too Distant Future. I feel a bit squicky asking people to pay for my amateur fumblings at sewing, but I'm getting a bit more practiced at these belts now, and I'd probably pay money for them myself if I saw them at a craft market.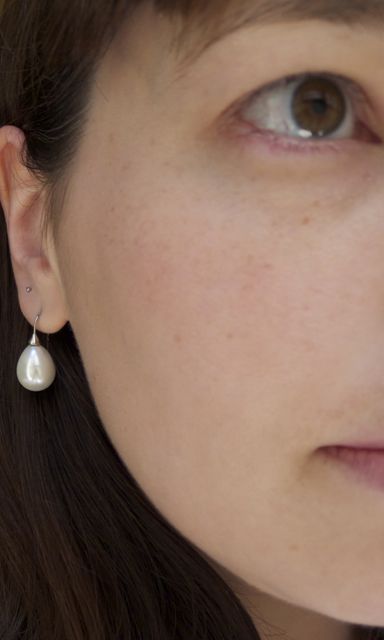 My earrings were a Christmas gift, and I LOVE them. They're almost identical to a pair I gave the gifter last Christmas, and every time I saw her wearing them I wanted to snatch them from her earlobes and run down the street before she could catch me, so when she asked me what I wanted for Christmas I sheepishly admitted I wanted earring Just. Like. Hers. To my delight they suit me nearly as well as they suit her, and if they weren't already in my earlobes I'd feel like performing a snatch-and-run on myself.