Dress: Bettie Page Clothing
Shoes: Wittner
Belt: I Will Fly
This dress is the only piece of clothing I have left from my trip to America in 2010. It's weathered wardrobe cull after wardrobe cull and it's still one of my favourites.
Bettie Page Clothing do some great dresses, though admittedly they sometimes push the envelope too far into "period costume" territory for my own comfort. At the moment I've got my eye on their Alika Dress, which Rebel Wilson wore to devastating effect at the premiere of Paul in 2011. It seems like it's a similar shape – perhaps a little fuller in the skirt – with that delicious bow at the waist taking it from "nice" to "niiiiiiiice!"
It's the details that seal the deal for me with dresses. This one? It was "nice" when I saw it on the rack, then I turned it around: "niiiiiiiiice"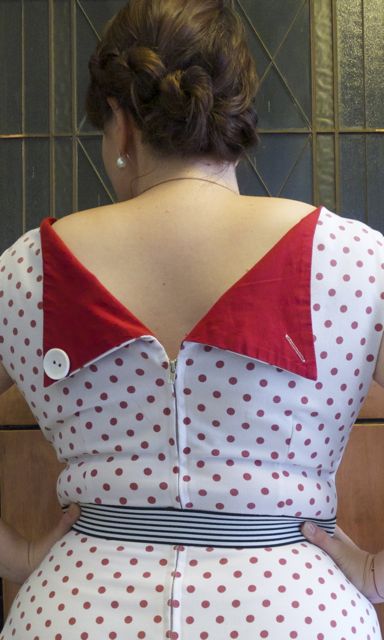 I'm such a sucker for a feature back.
Originally it came with a plain red belt, but I thought I'd give it a go with the elasticised heart belt that I bought from I Will Fly on Etsy.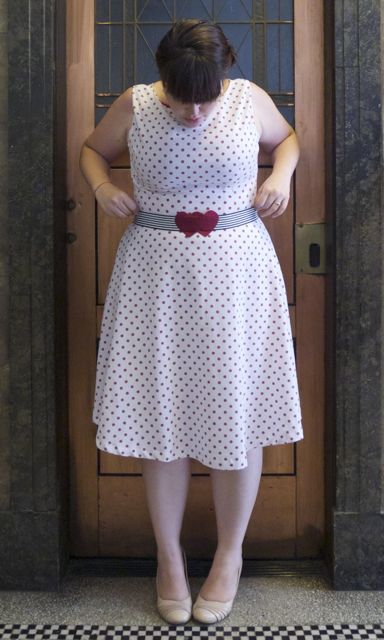 Quite successful I thought, but in retrospect I would have liked this outfit better with some bold accessories: red shoes, some bangles, a headband or something. The dress – red polkadots on white – looks a little washed out without the extra colour.